Pregnancy affects women in various ways. Some may feel drained of energy during the first months, while others take part in physical activities without a problem.
You can go caving during pregnancy. You may have less stamina than before you were expecting. After 4 months into your pregnancy, aim your belly at the biggest gaps instead of your chest, whichever is biggest. Avoid caving after 37 weeks of pregnancy because of the chance of going into labor.
If you've never been caving before, it's probably best that you enjoy a walk-through, guided tour as opposed to anything where you have to squeeze through tight gaps and dangle from climbing ropes. There are many caves that offer an amazing site seeing experience without the need to exert yourself too much.
If you're ready to get started caving, be sure to read my Beginners Guide and check out my recommended gear section.
There are some cave sites that choose to restrict pregnant women from caving if they're late into their pregnancy. Contact the cave officials to make sure they're ok with the situation.
According to healthline.com, about 1 in 4 births occurs at 37 to 38 weeks, which is why I suggest taking it easy from that time onward. It doesn't sound too risky to some people, but contractions aren't something you want to deal with deep inside a cave.
Having said that, if you feel the first contraction of labor while caving, you'll still have many hours before the actual birth. So you'll be able to make it out without rushing. These contractions usually last 60 to 90 seconds, so you'll have to stop and wait them out between getting back to the surface. They usually occur 15 to 20 minutes apart, so you have a good amount of moving time before the next one comes. Reference: webmd.com
If you're caving 38 weeks into pregnancy, your chance of going into labor is very high. Most births occur after 38 weeks and your GP should have a very specific estimate for the baby's arrival. You should take these last 2 to 3 weeks of your pregnancy to rest and prepare to meet your baby.
Caving During First Trimester
The 1st trimester is the first 12 weeks of your pregnancy. At this stage, many women experience high levels of fatigue, so you may not want to go caving. If you push through and get yourself to the cave, you may find your energy level depleted far quicker than before.
Other symptoms that may complicate your caving experience include nausea, heartburn, and frequent urination. -reference onhealth.com
However, there's no guarantee that you will experience these symptoms. If you don't feel well on the day you were planning for, just reschedule.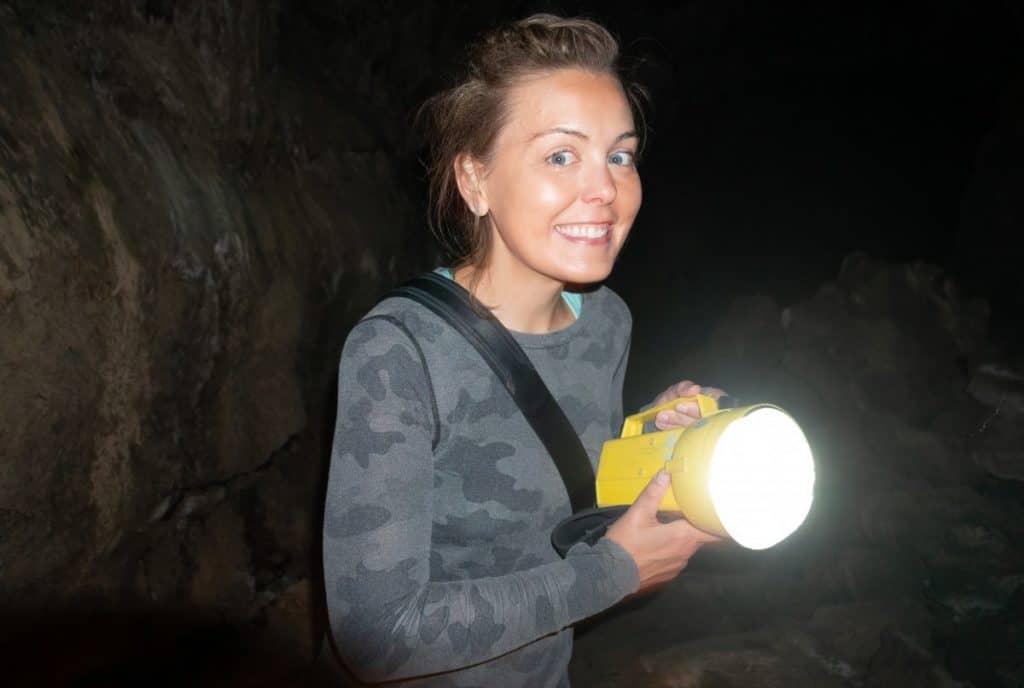 Caving During Second Trimester
Week 13 to 28 is your second trimester. This stage of pregnancy is when your tummy starts growing fast. When your abdomen becomes larger than your chest, you may need to reevaluate ways to get through certain gaps in the cave.
Unfortunately, there are some symptoms of the 2nd trimester that might slow you down. Stomach, back, thigh, and groin pain are fairly common. You may also develop swollen ankles and fingers.
The good news is that most women experience less fatigue and nausea during the 2nd trimester. There are plenty of cavers that still enjoy caving all the way to the 37th week, so don't let any of these warnings scare you. -reference onhealth.com
You'll start feeling your baby move as you near the 28th week, so don't be alarmed if you feel movement in your belly while squeezing through a tight space. Your baby is safe inside and if it's not your first time caving, you'll know how far to push yourself without risk of injury.
Caving During Third Trimester
The 3rd trimester is from 29 to 40 weeks. During this time, especially after week 37, you may experience real or fake contractions. You might not even enjoy a walk-through caving experience because of the extra load your ankles have to support.
You will most likely have to urinate frequently, which isn't an ideal situation when you're inside a cave. The baby is so big at this stage and some women experience difficulty breathing.
It's at this time that you will be at your biggest, so navigating your way through the cave can be tiresome.
How Long After Giving Birth Can I Go Caving?
As a general rule of thumb, you should be able to go caving 6 weeks after giving birth. This will give your body enough time to heal and get back to more strenuous activities. -reference parents.com
Take it easy on your first trip back. At first, you won't be as fast as you were before, but after a few more weeks, you'll be in peak condition once more.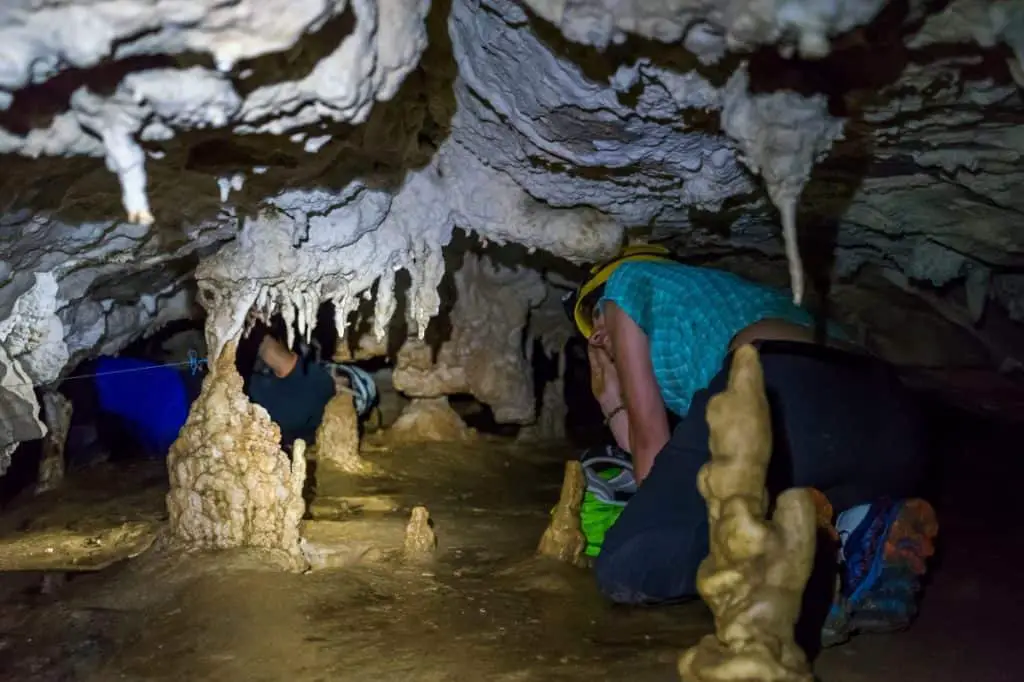 At What Age Can Kids Go Caving?
Kids can go caving from the time they walk. Of course, you'll have to keep an eye on them. I suggest buying a lead for children this young. Guided walk-through tours are best for young kids.
At 5, your child should be able to navigate their way around a cave with you, through gaps and other dry obstacles.
Depending on your child's experience with water, they can start moving through small amounts of water in the cave. But they won't be able to go deep into water as the minimum age for scuba diving is 18 in most parts of the US.
Conclusion
You can go caving while pregnant. There isn't anything within a cave that's harmful for unborn babies or their mother. The air is normally clean and there isn't anything toxic that can harm the baby.
Many women go caving while pregnant, even up to 37 weeks of pregnancy. After 37 weeks, it's best to relax and wait for your baby's arrival.
You can go back to caving around 6 weeks after giving birth, at which point you should feel fit and energetic again.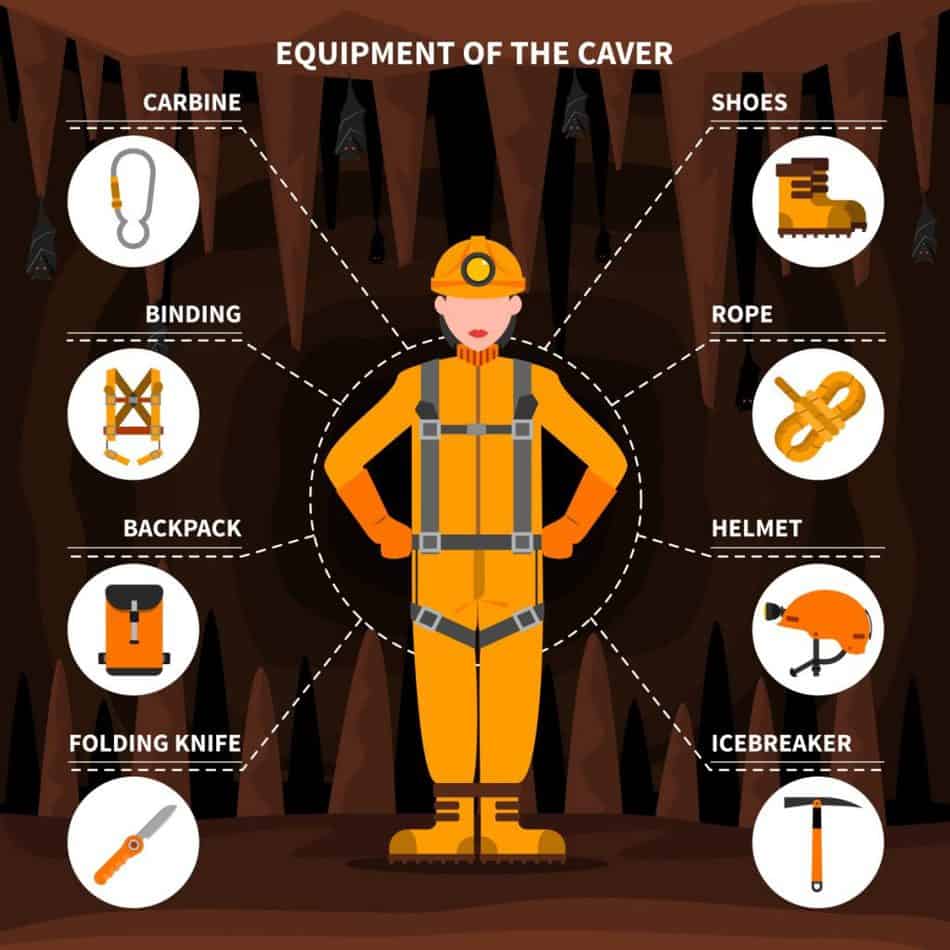 When you're ready to get started caving, be sure to read my Beginners Guide and check out my recommended gear section.