These are the Top 3 Caving Action Cameras for 2020:
Why I Picked the Olympus Action Camera
Once you do the research and compare the GoPro with the Olympus, it's pretty surprising how good it holds up. The most important part for me is durability, and the features are just great. The Olympus is:
shock proof up to 6 feet (2 m),
crush proof up to 200 lbs or 100 kg,
water proof up to 100 ft or 30 m,
freeze proof up to 14°F or -10°C,
all without any casing,
… making it superior to the GoPro and Sony in every aspect. And it has some other special features that are a big plus for caving:
It has 5-axis image stabilization, which handles any caving movement pretty well.
The Olympus does well with little light. It also has a built-in LED light for night shot, which I find a HUGE advantage. Sony does OK in the dark but not as well. The GoPro needs additional lighting.
It has 5 built-in sensors to track your adventure: GPS, compass, accelerometer, thermometer, and barometer. I don't use these because they drain the battery, but I imagine this is a nice feature for big-data-cavers.
To me, I really like the design. It looks just way better than the Sony cam and the GoPro.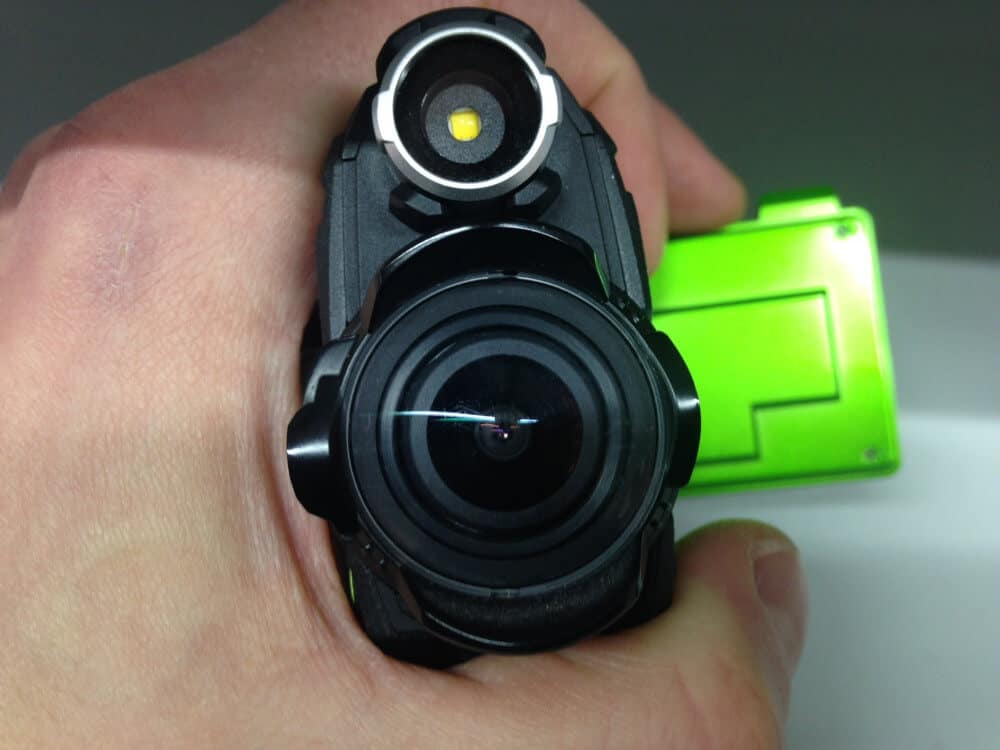 But How To Mount It?
There are a couple of drawbacks however. The Olympus is handheld: it can't be mounted on your helmet. This got me thinking – maybe wearing a cam on top of your helmet might not be a good idea in the first place. Because one day you will ruin your camera by smashing your head into some rock formation.
You also don't want it to take your headlamps place (big no-go for me). The Sony cam mounts on the side, which is better. But perhaps a combination of handheld + harness mount is the best way to go. Luckily there's a trick to mount it to a GoPro chest harness mount.
You can also get SteadyGrips for a fair price if you want to use it handheld.
Another disadvantage is that it's the largest and heaviest – it's about 50% heavier than the others. Though it can be a nuisance for some people. I don't mind. I'd rather have a cam that's a bit bigger … if it really is more sturdy in every single way. Which it is, so I belief it's a fair trade-off.
Features to look for in a quality caving helmet cam:
Good resolution – The future is here: definitely get a 4K cam if you can. 1080p has left the building
Durable – Especially for caving it should be pretty tough. The tougher the better in my mind. If it's shock and crush proof, that's definitely a plus
Waterproof – Water resistant or water tight isn't good enough. It should be able to handle full emersion up to a couple of meters at least. Anything that isn't won't keep up
Image stabilization – Without it your footage will be useless
Anti fog lens for wet caving
Rechargeable batteries
Good audio quality
Good mounting possibilities – Ideally you have multiple mounting options: chest harness, helmet, and handheld
Full specs of all three action cams:
So, to sum it up, here are the specifications of all three cams lined up:
| GoPro Hero 7 | Sony FDRX3000 | Olympus Tough TG |
| --- | --- | --- |
| Best video quality | Best bang for buck | Best buy |
| 118 g | 114 g | 180 g |
| 4K video up to 60fps | 4K video up to 30fps | 4K video up to 30fps |
| 12MP stills | 12MP stills | 8MP stills |
| Waterproof: 30ft – 10m | Waterproof: 200ft – 60m | Waterproof: 100ft – 30m |
| Battery 1 – 3 hrs | Battery 2.5 hrs | Battery 1.5 hrs |
| + good image stabilization | + good image stabilization | + toughest cam around |
| + helmet mount available | + helmet mount available | + built-in light |
| – expensive | + works great with low lighting | + inexpensive |
| – unresponsive screen | – needs casing (included) | – bit heavy |
Here's a great clip of the kind of footage you can expect from the TG Tracker:
How to mount your Olympus Tracker Action Cam to a harness:
Conclusion
If you're looking for the best action cam for cavers, I recommend the Olympus Action Cam (click to check it out at Amazon). It doesn't provide the video quality of the GoPro, but it will outperform it on every other aspect – and outlast it for sure.
If you're looking for the best overall action cam, I suggest the Sony cam. If you just want the best video quality possible and like the brand, you should definitely get yourself a GoPro. I personally wouldn't overpay for just the brand.
If you're looking for good quality caving gear, I have other articles like this one. You can check them out on the recommended gear section of this site. It has all the caving gear I love most.