What are the best shoes for caving? Pure rubber boots (Wellies). Most professional cavers use these. In my opinion, you get the most Wellie for your bucks with the Baffin Enduro PT Rain Boots (link to check the price on Amazon). They are mid-priced, which I gladly payed for the quality of rubber and soles. I'm also very pleased with the high shaft, and they're surprisingly comfortable.
The second part of the answer is: if you like to wear something that provides better support, you can also wear leather boots. Though I don't recommend to use them for wet caving. I also encourage you to treat and maintain them properly. Don't use your nice $ 300 hiking boots. They will definitely be ruined.
Instead of sacrificing your perfectly fine shoes, I encourage you to get one of these three pairs:
Best Quality: Muck Chore Boots (click to check the price on Amazon)
You can be done for as little as a couple of tenners and go as high as $150 – any of these will do fine. I wouldn't pay more than $150 for a pair of boots, since I feel like you pay the first hundred bucks for quality of materials used, etc. – Everything above that is paying for the brand, which I don't care about.
Best Buy: Baffin Men's Enduro PT Rain Boot
In my opinion this is the best bang for the buck. Very waterproof, great traction, stiff double sole and all rubber. Also, not too expensive and comes with a removable insole. I found that it was worth replacing this with something more substantial. Only flaw is the somewhat loose fit (for my feet). I went with the Enduros, and am still glad about it – they serve me well.
Best Quality: Muck Chore Boots
Muck is the best-known boot brand and I think they make the best caving boots. The Chore model is a classic and a best-seller on Amazon. Though I yet have to spend the bucks and get a pair, these will without doubt become my next boots. Neoprene and mesh lining offers best of both worlds: warmth and comfort, while also keeping dry (the neoprene is waterproof right up to the top). They also have a good solid rubber sole with good traction and enough stiffness. These are by far the best (and most comfortable) boots you can buy.
Budget: Tingley 31151
A boot as simple as its name: this is your budget option. Made from PVC instead of rubber, these are a bit stiffer, and less comfortable, but they aren't all that bad. A friend of mine owns these, and says the soles provide the best grip he's had. The 51144 is also good, though a bit more expensive (and for that price, I would get the Baffins). Wear (as always) with thick socks and insole, and you have simple but fair boots.
Runner-ups: Servus XTP and Dunlop Pricemastor
Servus XTP PVC (click to check the price on Amazon) – The Servus XTP is a well-known boot among cavers. It strikes the right balance between traction, durability and price. XTP stands for Xtra Traction Performance, making it suitable for oil rigs, so it should keep up in wet caves as well. It's actually pretty similair to the Enduro (also comes with an insole), though the XTP is made from PVC instead of rubber. The Enduro also looks better in my opinion. The XTP is supposed to offer a bit better traction, which could be do to the stiffness of the PVC. They have one flaw: the rubber puts pressure on your shins while climbing.
Dunlop Pricemastor PVC Wellies (click to check the price on Amazon) – Dunlop is a reputable tire brand, which sort of guarantees they'll provide good quality rubber products. These boots are solid, have a thick sole with good traction, and don't cost a whole lot. Overall, I regard them as a safe pick. Battle-tested by many cavers already (which is why I've included them), although I think you can get better value for your money.
Models for Women
Baffin Women Prime Rain Boot (click to check the price on Amazon) – Unfortunately Baffin doesn't make the Enduro's for Women. The Prime is a good second place, but it doesn't seem to have the sturdy sole of the Enduro.
Muck Chore Boots Women (click to check the price on Amazon) – The same great classic with the same features, but this model's designed for optimal support of the female foot shape.
I'm afraid Tingley doesn't offer gender-specific models.
The Servus only offers a women specific model of the MAX, which provides less traction than the XTP. Though it's also a bit cheaper, and should still make a decent caving boot.
The same Dunlop Pricemastor is both being sold as a men's and women's model, so my guess is this is a Unisex model.
Why I Also Wear Rocky Alpha Force Waterproof
I personally prefer leather combat boots over rubber boots (I much prefer something warmer, and a tighter fit). So I have a second pair of boots which I wear to (modestly) dry caves. I find the Rocky Alpha Force Waterproof boots great for both (moderately) wet and dry caving. But I have to agree: in wet caves it's better to use low-maintenance rubber boots.
The Alpha Force is a 100% leather shoe with rubber sole.
I think its the best sole you'll get in this price range.
I like the stiffness, which gives good support while climbing.
Rocky gives a full waterproof guarantee, though I wouldn't take them up on it (I haven't tried them in a wet cave).
Great ankle support and very good threading, so they should last me a couple of years.
Please note that these boots can be uncomfortable for people with wide feet.
Women can wear the same Rockies as men, since it's a universal fit. As a woman, you'd probably want to go for the narrow model. If so, be sure to select an M-size.
They look great as well. You can check out what the Rocky Alpha Force Waterproof look like on Amazon.
What to Look for in Caving Boots?
Caving boots are arguably the most stressed pair of boots on the planet. They need to dig into mud and grip onto hard rock. They need to satisfy a nearly impossible combination of needs.
Good traction – Most important feature, as sliding can be dangerous in a cave.
Thick and stiff sole – A stiff sole provides better traction and protection from sharp rocks.
Ankle support – Reduces wear on your ankle in rough terrain. Important for climbing and pushing as well.
Easy to clean – Important to prevent the spread of diseases like White nose-syndrome (link to Wikipedia).
Warmth
Good fit – You don't want to loose your footwear in a squeeze.
Price – Price is important as you could end up having to replace your boots regularly.
Rubber sole and rand – Boots should at least have a rubber sole. If you choose leather boots, you might want a rand to protect the leather.
What you don't want for your boots:
Bad hardware or threading – If you go the combat boot way, you shouldn't bother with bad hardware or threading: it won't last very long. Consider spending a bit more on a premium brand that offers military-grade boots.
Steel toes – This might seem like a good idea, but steel toes will add weight, and your feet will get cold.
What Material Should You Choose?
Unfortunately, no one pair of boots meets all of these factors. As said, we can go three ways: sweet and simple with rubber, cheap with PVC, or old-skool with leather. All have there advantages and disadvantages, depending on the conditions.
The difference between rubber and PVC is simple: PVC is cheaper, stiffer, and more light weight. All pros for caving. So you can definitely go with cheap PVC, no problem. In general rubber is more comfortable and a bit more durable than PVC.
For deep and wet caving: pure rubber boots (unlined). These dry out quickly if you get any water in them. In combination with neoprene socks, you'll stay dry enough.
For dry caving: you might consider getting some sort of combat boot for better support and more comfort.
Below I've listed the clear difference between rubber and leather:
| Rubber Wellies | Leather Combat |
| --- | --- |
| no lining | padded |
| not comfortable | very comfortable |
| very little ankle support | good ankle support |
| excellent grip | reasonable grip |
| thin sole | thick sole |
| dries quickly | holds water |
| waterproof | not watertight |
| lightweight | heavy |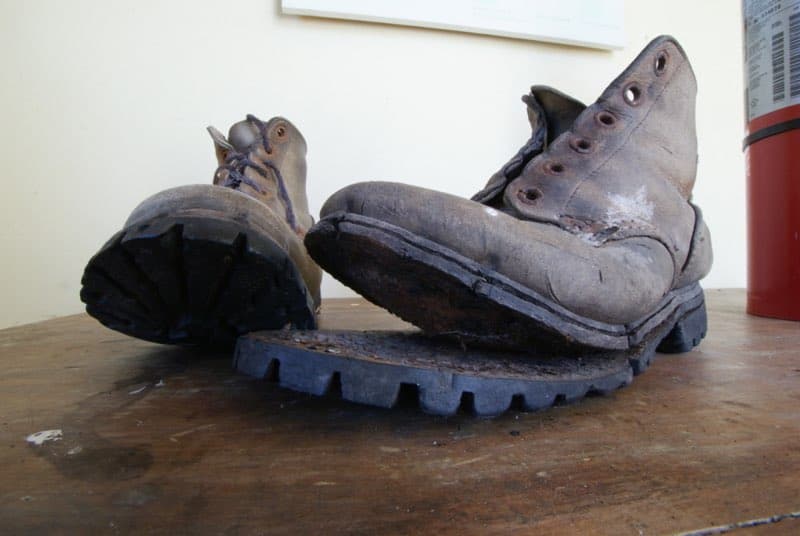 The Trouble with Waterproof
Waterproof is good in caving, right? It really depends on the type of cave. Waterproof boots are as good at holding water as they are at keeping it out. In wet caves, water WILL come in. An all-rubber boot dries out quickly, while a combat boot with lining stays wet forever. So that's something to consider.
What Socks to Wear?
Nearly as important as your boots are your socks. The right fabric makes a world of difference when you get wet and cold. Wool or Neoprene are the battle-tested fabrics for caving, with Neoprene being the preferred. Neoprene stays warm when wet, which is of course a huge advantage.
If you suffer from blisters, you might consider using Thorlo socks. They were of great help to me. Thorlo socks use very dense padding, which prevents blisters. I think they also have full money-back guarantee.
Maintaining & Getting The Most Out Of Your Caving Boots
Treat leather footwear with Sno-Seal or any similar protection film spray. This ensures that they remain somewhat waterproof.
Use insoles to make your rubber boots more comfortable. Good ones can be a bit expensive but last a long time, and with the right socks you will be amazed at how comfortable wellies can be. Make sure any insoles you use are watertight.
Clean them after each trip and let them dry out completely, but slowly (not on top of your heater).
Don't leave them out in the sun, as this will dry out the leather.
Seal the edge of your sole with Aquaseal (urethane rubber sealant) to protect your leather boots. Apply on dry leather. It's messy stuff so make sure to work in a newspaper. You can get it in dive shops, or order it from Amazon here.
Conclusion
There are a lot of good boots out there, and you can really spend any amount you like. The consensus among cavers is: go cheap. I like to add: … or go with quality. A good pair of boots really add to your caving experience, and there are boot makers out there that are worth the extra buck – but I wouldn't go over $150. So now you know what to look for in a pair of caving boots: go kick ass.
If you're looking for good quality caving gear, I have other pages like this one recommending my favorite helmets and headlamps on the recommended gear page of this site. It's all the battle-tested gear that I love.