You need a good quality backpack to survive the rugged environment of a cave. So strength is a priority, size is another crucial factor. As dramatic as this may sound, a quality caving pack can mean the difference between life and death.
Swaygo makes the best caving packs because the material is the strongest. The bag has a very low profile for maximum mobility while wearing it on your back. It's also the most water-resistent. If you need something bigger than the Swago Sink, Petzl has the best solutions.
For something cheaper, Gonzo Guano Gear packs are great value for money. I'll go through all of these brands in more detail further below.
For most cavers, a day pack only needs to have around 1000 cubic inches of packing space, or around 10 to 25 liters. It's only once you go on long trips, like rigging and digging, that you'll need a pack with about 3000 cubic inches of space. This roughly translates to a volume of around 45 liters.
A good cave pack is durable, water-resistant, and has enough volume to carry the essentials, but not so big that it gets in the way while crawling through tight spaces.
Caving backpacks also need to ‌function even if they're muddy. Normal back packs don't work well for caving because the material is too weak. Therefore, many cave explorers used military bags before caving backpacks were commercially available.
A low-profile backpack is required for caving to avoid having to drag it behind you all the time. For this reason, cylindrical shaped packs are very popular among cavers.
You'll need to drag your caving backpack along rocks and gravel when navigating through tiny spaces. So the material needs to be extremely tough to survive very long.
There are some well-made caving backpacks besides Swaygo that meet all these requirements. If you need to carry a lot of equipment, you'll also need something bigger than a Swaygo.
So here are a few of the highest quality caving backpacks available.
If you are ready to get started caving, be sure to read my Beginners Guide and check out my recommended gear section.
Swaygo Back Packs
Swaygo packs have been known for their extreme durability since 2003. This is because they're made with polyurethane, which is far stronger than PVC in terms of abrasion resistance. The exact material is polyurethane impregnated and coated 840-denier, balanced weave nylon.
These caving backpacks are stronger than any other, which is why they cost around twice the price of backpacks made from PVC. This material doesn't absorb any water, which means it won't get heavier as you make your way through a wet cave.
These packs are very water-resistant and use a tuck and roll closure design. So make sure not to fill the bag up so much that you can't roll it closed. These backpacks have the lowest profile compared to any other in this article.
The large part of the pack hangs around your lower back to ensure that it doesn't take up space behind your shoulder blades. This also helps to keep your center of mass around the center of your body.
The seams are radio welded, which makes them stronger than parts of the bag that aren't welded. Radio welding uses the same type of energy that your microwave uses. Swaygo packs use carabiners to close the ends after you've tucked and rolled them. This is much stronger than clips or buckles.
Swaygo packs come in three sizes: small, medium, and large. The small size is called the Push, the medium is the Pit, and the large is the Sink.
Swaygo Push
The Push is the perfect size for small caving excursions or day trips. It has a volume of 740 cubic inches for you to keep only the most important items. The Swaygo Push is 14 inches wide and 25.5 inches in height.
Swaygo Pit
The Pit has a volume of 950 cubic inches, so you can fit a few extras like duct tape or a larger backup flashlight. It's 16 inches wide and 26.5 inches tall.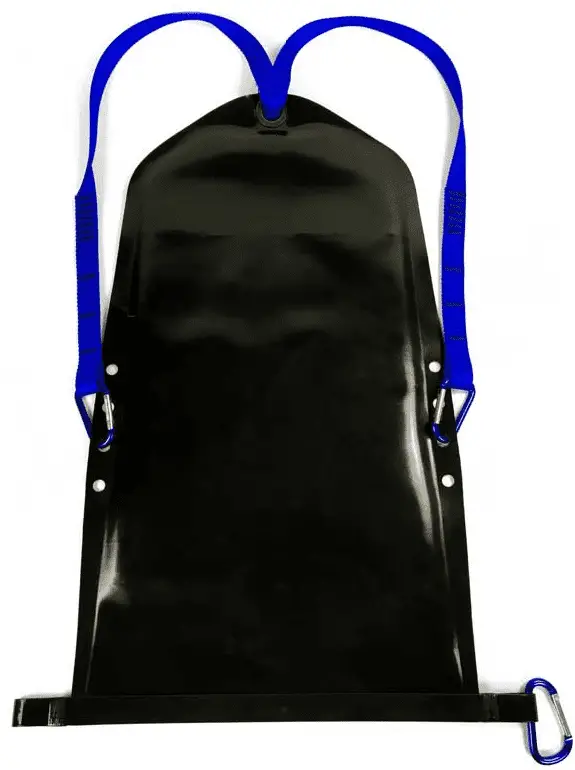 Swaygo Sink
The Sink is the favorite size for many cavers because of its 1200 cubic inches of packing space. You can fit everything you need without bulking up your back. Obviously, you can't fit bedding or much extra clothing in it for long trips, but it's big enough for most caver's needs.
This Swaygo pack still has a lower profile than most other caving packs, even though it has such a large volume.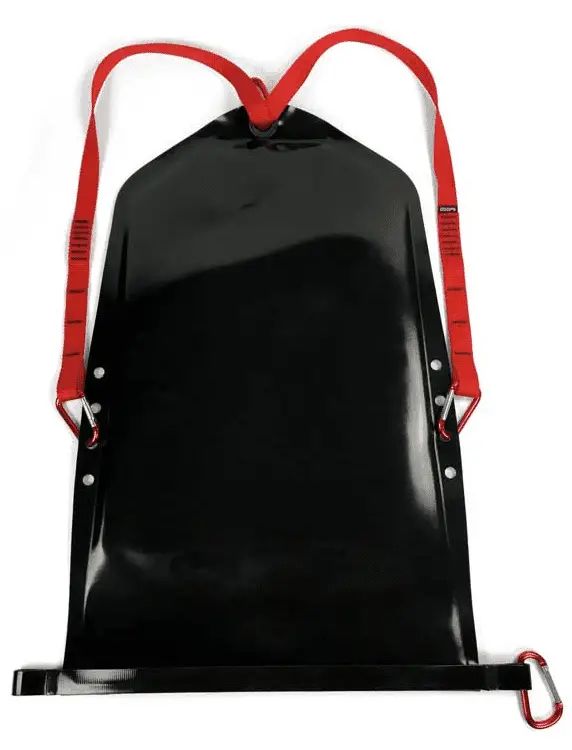 Petzl
Petzl caving packs are made from very strong TPU "Thermoplastic polyurethane". The material is smooth, flexible, waterproof, and elastic, making it perfect for caving. These packs are PVC free. It closes up with a drawstring at the opening which makes it immune to jamming up when it gets muddy.
There are four options and each one of them has unique design elements.
Personnel 15L
This is the smallest Petzl caving pack and has just over 900 cubic inches of packing space. You can fit a good amount of items in it, but it's not as low profile as the Swaygo bags. Having said that, you can always drag it through narrow passages when needed.
Although the TPU material is waterproof, the pack is not, meaning water can still get in at the opening. So it's a good idea to keep a waterproof bag inside to store electronics.
It has a molded handle on the side and straps attached near the opening for carrying or dragging purposes.
Classique 22L
The Classique boasts 1300 cubic inches of space. Its design is the same as the Personnel but is 6 inches taller, making it 23.6 inches in height.
Portage 30L
With just over 1800 cubic inches of space, the Portage is the size at which things change a bit in the design. The straps on the back are padded to make the weight more bearable. There are also extra compartments for small items. A flap covers the top after tightening the drawstring to help protect against water and other debris from falling in.
Transport 45L
This is a massive pack with a storage volume of 2750 cubic inches. Besides the padded back straps, it also has a waist belt to distribute the weight more comfortably. This is not the type of bag for beginners. It's more appropriate for extremely long caving trips or for carrying lots of electronics and spare items.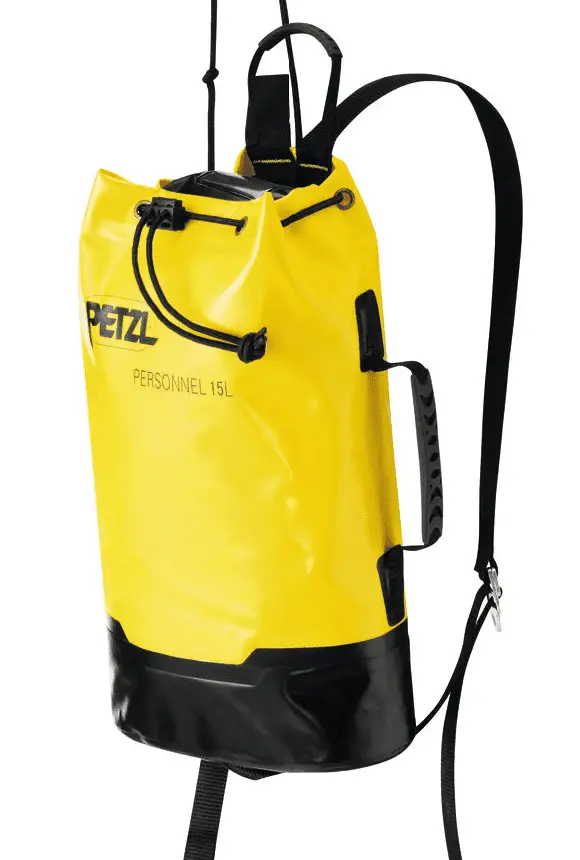 Gonzo Guano Gear
GGG caving packs are made from either 18 oz. PVC-coated polyester or double thick Cordura. Cordura is the stronger of the two materials and is therefore slightly more expensive. The top-loading GGG packs have a tuck and roll system much like the Swaygo packs but instead of using carabiners on the sides, these bags have a side release buckle at the top to secure the rolled portion.
These packs are far more affordable than Swaygo and Petzl but they won't last as long.
The shape is cylindrical like the Petzl bags and there are large drainage holes for water to escape quickly.
There are quite a few GGG caving pack options, here are the most suitable for caving.
The Personal Pack
This is the smallest GGG option with just 925 cubic inches. This translates to 15 liters of volume, which makes it just big enough for basic caving excursions.
GGG Batpacks
The Batpack range from GGG is my favorite because it has plenty of space for packing and the material is tough enough to last long if you don't drag it around too much.
Side-loading GGG caving packs have a wetsuit-style zipper on the side. They also have a flap that protects the zipper from debris and jamming.
Expedition Camp Duffs
These are the biggest options from GGG and they work well for carrying extra electronics or clothes and bedding if you're sleeping over. The Cheve Duff and PEP Duff have 2500 and 4775 cubic inches of packing space, respectively.
With bags of this size, the adjustable waistbelts and extra padding help to make the carry more bearable.
For more information on these caving packs and others, check out Gonzo Guano Gear's official website.
Use A Dry Bag
For electronics and other items that need to stay dry, don't rely on a caving pack alone, not even if it's a Swaygo. Water will find its way in over time, so you need to store those items inside a dry bag and then put that inside your backpack. Here are the most popular dry bags on amazon.com.
Caving Pack Contents
To help you decide on the size of the caving pack you'll buy, here's a basic overview of items you'll be packing into it.
Water
Spare batteries
Extra flashlight
First aid kit
Waterproof matches
Candles
Map
Food
Conclusion
For most people, Swaygo packs are the best choice because they're the strongest, have the lowest profile, are the most water-resistant, and have enough space in them to store everything you need for 99% of day trips.
Long expeditions where extra clothes, water, food, and other supplies are needed will require a caving backpack larger than the Swaygo range has to offer. So in this case, I suggest going for one of the Petzl options. The Transport 45L is more than twice the size of the biggest Swaygo and is exactly what you need for extreme caving expeditions.
Swaygo and Petzl are both quite expensive because of the material and workmanship that goes into the product. But if you don't have that kind of budget, go for something from Gonzo Guano Gear. They are made with less expensive, slightly weaker material, and are around half the price.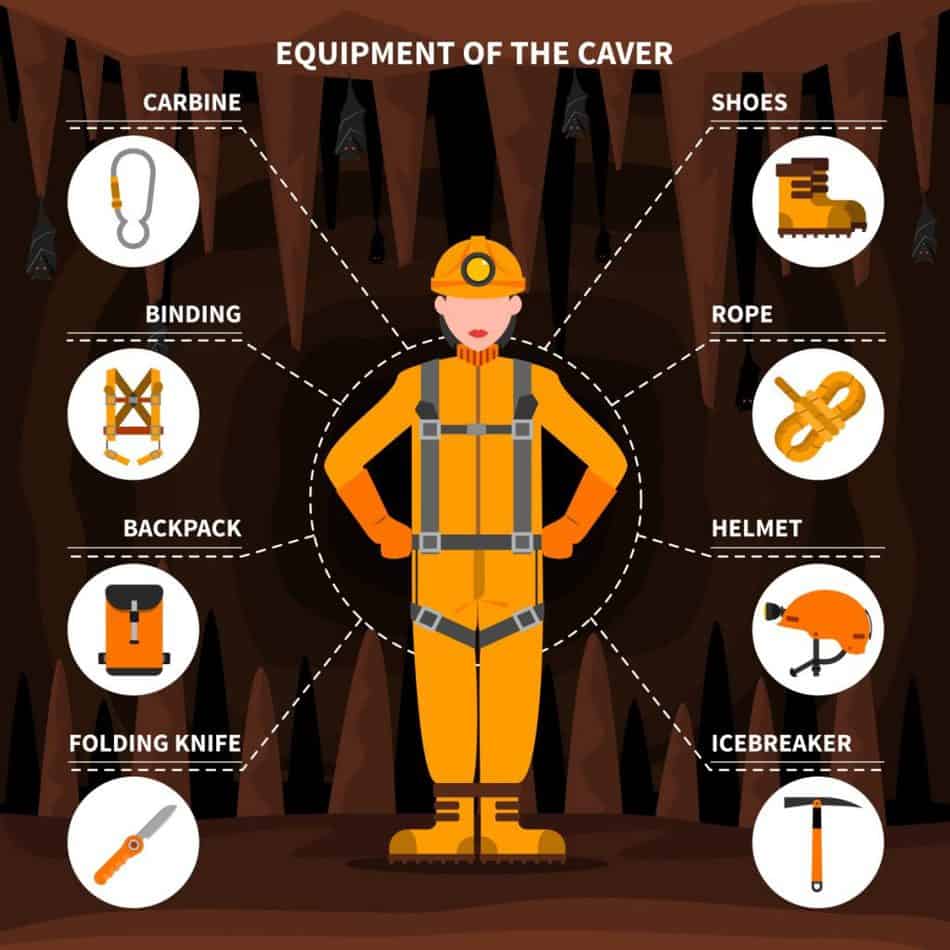 When you're ready to get started caving, be sure to read my Beginners Guide and check out my recommended gear section.