Exploring the caves of Oregon is an extraordinary way to get a glimpse into Oregon's geological and cultural past. Many of Oregon's caves showcase Oregon's volcanic past as well as its Native American heritage and history.
What are the best caves to explore in Oregon?  Oregon contains many sprawling cave systems, all of which will bring Oregon's history to life.  These are our favorites: 
Oregon Caves
Arnold Ice Cave
Lava River Cave
Skylight Cave
Redmond Caves
Fort Rock Cave
Derrick Cave
Boyd Cave
Skeleton Cave
Sea Lion Caves
These cave systems are home to bats, bugs, and rats, and they house fossils and geological wonders you cannot find anywhere else.  We have historical and geological information on each of these.  Once you set off, you might want their coordinates, and we have those also.
If you're ready to get started caving, be sure to read my Beginners Guide and check out my recommended gear section.
Oregon Caves
Location: (42° 5′ 44″ N, 123° 24′ 21″ W)
Sometimes referred to as "the marble halls of Oregon," the Oregon Caves are a preserve as well as a national monument. They are managed by the National Park Service in southern Oregon, and you can only see them through ranger-led tours.

The National Park Service provides a range of tours: the discover tour, the candlelight-cave tour, and the off-trail tour. All these tours are highly informative and take you through beautiful caverns, all while providing uniquely different experiences.
When visiting the Oregon Caves, the National Park requests you not wear any clothes, shoes, or items that have been in other caves or mines (where bats live.) Harmful spores can remain on personal items that can make their way into The Oregon Cave system.  These spores can then infect the bat population with white-nose syndrome, which is a tragic and deadly disease that kills bats (it can wipe out entire populations).
Maps
You can access the Oregon Caves National Park online maps and broachers here: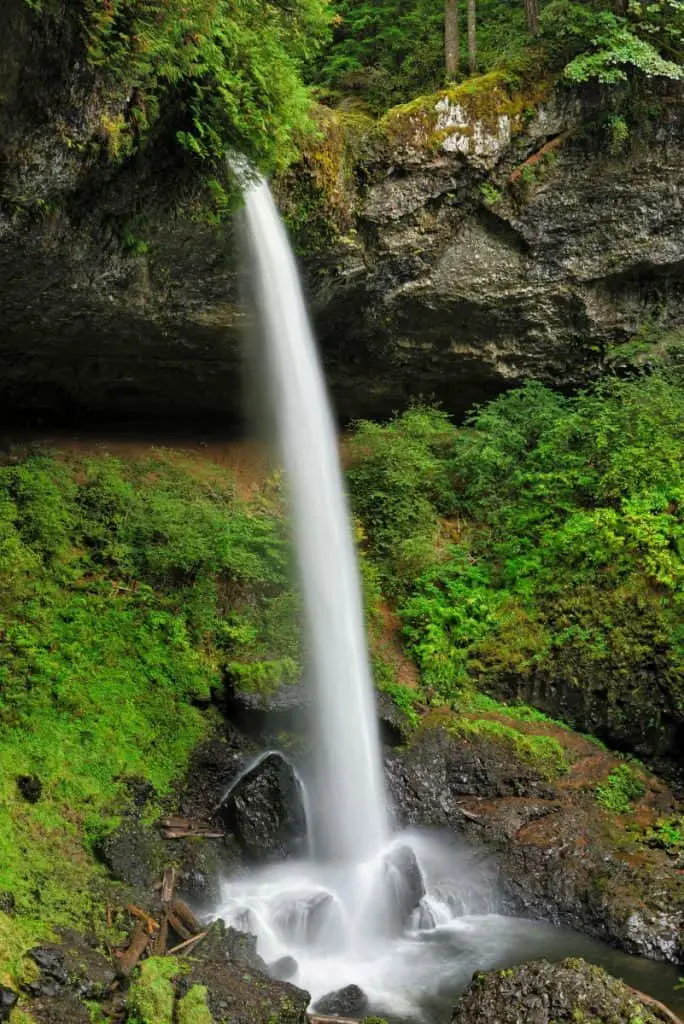 Oregon Caves Tours
The Discovery Tour
A close look at the geology, fossils, and cave life–the Discovery Tour of the Oregon Caves provides an in-depth look at some of the country's most geographically intricate cave systems. Follow your ranger into the Siskiyou Mountains, where you will discover ice-aged fossils and interesting cave life.
This tour is great for the whole family, though children must be at least 42" height or taller to participate in the cave tour. All children must be accompanied by adults. Adults and children must be able to bend low at certain points of the tour, as some of the ceilings in the cave systems are exceptionally low. The tour itself is rated moderately strenuous due to these low-ceilings and steep stairs throughout the cavern tour.
Cave tours are not recommended for those with heart or any other critical health conditions.
The Candlelight Cave Tour
This tour allows you to experience The Oregon caves the way the first cave explorers would have decades ago – by the light of a flame. You will use a candle lantern to follow the guide through the cave. The guide will talk in-depth about early exploration and the cave's impressive geology. The tour lasts about 60 minutes and is limited to 12 people per group tour. Children must be ten years or older to go on the candlelight tour.
The Kids & Family Tour
The Oregon Caves offer a tremendous kid-centered tour (13yrs of age and younger.) It is an energetic experience with engaging content that is 100% family-friendly. The tour is roughly 90 minutes, limited to 15 people, and only available in the summertime. Children must be 42" tall to go on the tour.
The Off-Trail Tour
For those cavers who like a more rugged and genuine experience, this Oregon Caves tour takes you down into the dark and wilder parts of the cavern trails. Experienced off-trail cave guides will teach you proper caving techniques and etiquette. You will climb over boulders, belly crawl through ultra-low ceilings, and squeeze through tight spaces as small as 11" high and 19" wide. The tour lasts roughly three hours. You have to be 15 or older to take the Off-Trail Tour, and it is only offered in the summertime (specific dates are announced mid-May.)
This is a strenuous tour, not suitable for individuals with heart conditions, back problems, or other physical ailments that could cause you to be unable to crawl through spaces less than 12 inches wide. Obviously, individuals with claustrophobia or panic attacks should not take this tour.
You must bring your own ankle protective boots to join the tour. They provide everything else you need (helmet, headlamps, gloves, kneepads, elbow pads, and bandanas.)
2. Arnold Ice Cave
Location:  (43° 49′ 12″ N, 121° 7′ 12″ W)
As the name implies, Arnold Ice Cave is a cave filled with ice! Located southeast of Bend, this is one of the most popular cave systems in Oregon. The ice located inside Arnold Cave comes from groundwater that seeks in through porous lava rock and consequently freezes in the chilly underground caverns. The main cave most people visit runs 4.5 miles long and can be explored from the end of April through late October.
The Arnold Ice caves were created roughly 80,000 years ago from lava flow (from the Newberry Volcano). The lava tubes were created as the top layer of the flow was exposed to air, which caused the lava to cool and slow down as it began to solidify into rock. In the lower chambers of the cavern, the lava flow's temperature remained as high as 2,000 degrees and flowed like a river of inferno below its hardened exterior crust. Once the lava drained away, an empty tube was left in its place.
On your caving adventure, you'll see stunning ice stalagmites that decorate the cave's rocky bottom floor as well as Native American artifacts that are carbon dated as far back as 1370 A.D.
There are 19 caves total as part of the Arnold Ice Cave System. One of the most notable is Wind Cave, which is almost 4,000 feet long.  To protect the bat population, you cannot visit it.  However, the Pictograph cave, which is a third of a mile long, is accessible.    
3. Lava River Cave
Location: (43° 53′ 43.43″ N, 121° 22′ 8.1″ W)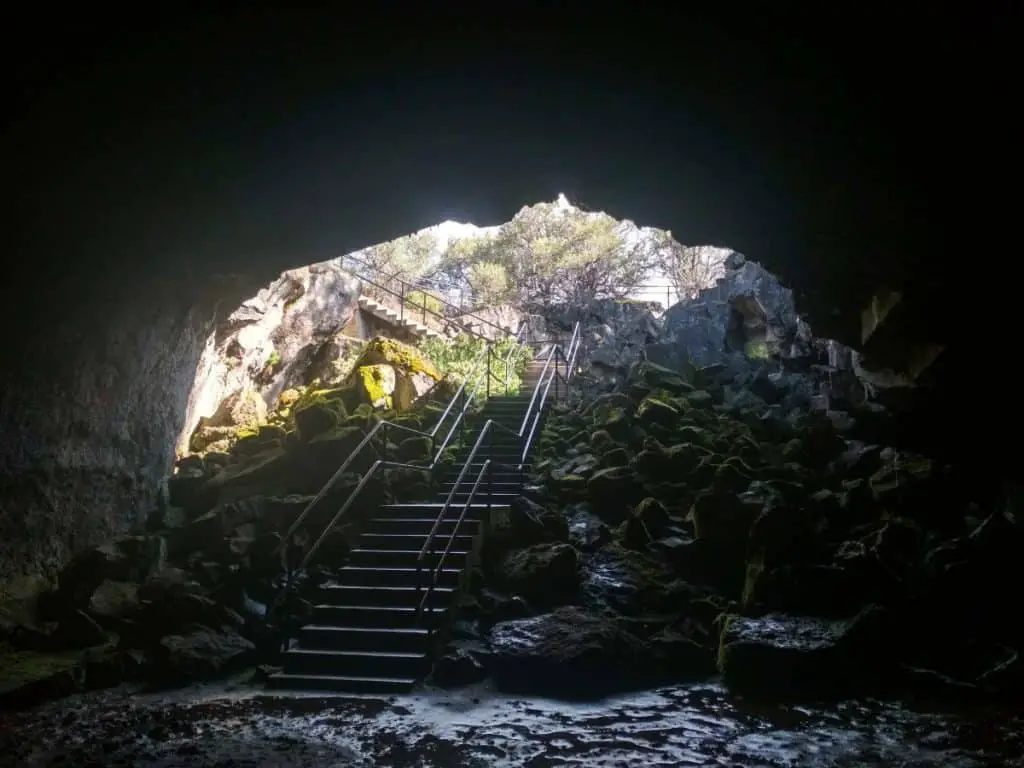 Another exceptional example of an ancient lava tunnel is, of course, the Lava River Cave. By far, one of the more popular caves in Central Oregon, this cave system is part of the Newberry National Volcanic Monument (managed by the U.S Forest Service.) This self-guided exploration starts with a stairway that leads down into the lava tubes.  You will encounter boardwalks and other uneven surfaces as you journey through the cave.  
It is rather chilly inside this cave system, as the temperature holds at a constant 42 degrees.  For this reason, we recommend you wear warm and comfortable clothing.  When you go, the staff will strongly urge that you have light sources.
The Lava River Cave is open between early June and late September.
Map
You can download the map & brochure for the Lava River Cave systems here.
4. Skylight Cave
Location: (44° 20′ 54″ N, 121° 42′ 57″ W)
The stunning Skylight Cave of Oregon is a lava tube that was created thousands of years ago by flowing molten lava. To enter Skylight Cave, you take a ladder down through an opening where the roof once collapsed. Once at the bottom of the ladder, you may either turn left or right. To the right of the ladder, the cave looks rather low until it opens into a large room where three 25-foot roof openings allow for light to shoot through. The cave gets its 'Skylight' name because of these openings.  
Once you get past the ladder, the cave slopes downhill ever-so-slightly. Its roof varies in height slightly (from 6.5ft to 3ft).  
Skylight Cave is beautiful but not big (it is only about 900 feet long). The most difficult part of exploring Skylight is climbing the ladder. We recommend you wear warm clothing since the cave's temperature is around 40 degrees Fahrenheit. It is smart to bring forms of light as well (flashlight or phone with a light) for the sections of the cave that don't provide a skylight.
This cave is open from early June to late September.
Map
You can download the PDF map and directions for Skylight Cave here.
5. Redmond Caves
Location: (44.247534 N, -121.177689 W)
The Redmond Caves are a group of six lava tubes located in Deschutes County, Oregon, within the Redmond City limits. The collapse of one single tube created the caves. Caves 1, 3, and 4 are accessible and have several different passages to explore. Caves 2 and 5 are quite small and shallow.
The caves inside the Redmond Cave System are part of the Horse Lava Tube System. The lava flow that created the Horse System and the Redmond Caves starts at Redmond Dry Canyon and ends near Crooked River Ranch. The lava tubes are estimated to have been formed about 80,000 years ago.
Unfortunately, this particular cave system has been vandalized repeatedly over the years, but a huge clean-up effort has helped to restore this unique and historical set of caves.
If you choose to explore these caves, be advised that there are no facilities, pets are not allowed, and you need to keep an eye out for rattlesnakes. 
All of the Redmond Caves are open year-round.
6. Fort Rock Cave
Location: (43°22'21.9″N 121°03'57.5″W)
Fort Rock Cave has an immense amount of cultural and archeological significance. The site was discovered by archeologists who found several pairs of sagebrush sandals (believed to be 9,000-11,000 years old!) These artifacts were covered in volcanic ash from the Mt. Mazama eruption that formed Crater Lake.
The overall property of Fort Rock serves as a precious reminder of Oregon's Native American history. For this reason, Fort Rock is a National Heritage site and is operated by the state parks. Because of the culturally and archeologically sensitive nature of this cave system, the cave is only accessible via a dozen or so ranger-led tours each summer.  To make it harder to find the cave, the location is not available on the official website. 
It is wise to book the tour far in advance. You can do so here.
7. Derrick Cave
Location: (43° 31′ 21.36″ N, 120° 51′ 56.16″ W)
The Derrick Cave is a 1,200-foot-long lava tube named after the pioneer rancher H.E. Derrick. It is located near the Northwest corner of Lake County, Oregon. Another classic lava tube structure, it was formed from the volcano Mt. Mazama. While the age of the eruption that caused the creation of Derrick's Cave is unknown, it is estimated that the Derrick Caves are somewhere between 6,845 years-13,000 years old.
There are several striking features within the Derrick Cave, including its well-developed lava tube and vents, in addition to a section featuring skylights. The cave is also comprised of multi-levels and has a unique sandy floor. It is one of the more remote cave locations in central Oregon; it takes quite a long time to drive there. However, it is a remarkable cave system and is worth the time it takes to get there and start exploring.
Camping used to be a bonus to visiting the Derrick Cave. However, it is no longer permitted. The cave is open to the public year-round.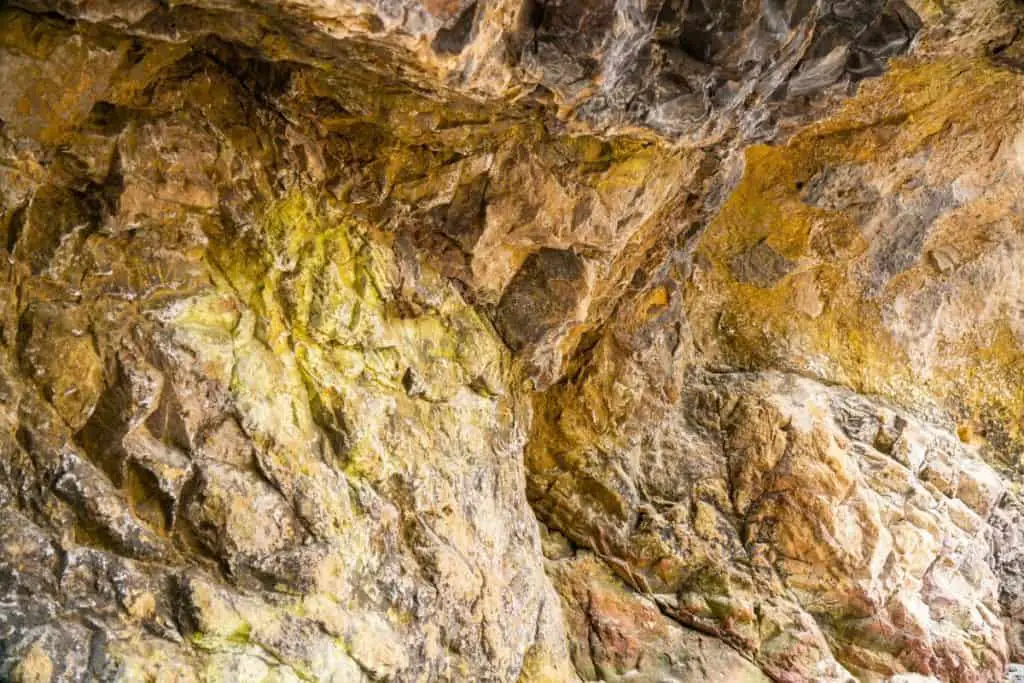 8. Boyd Cave
Location: (43° 56′ 31.85″ N, 121° 11′ 53.99″ W)
The Boyd Cave is somewhere between 75,000-400,000 years old (wow, what an undetermined and LARGE gap of time!) Boyd Cave is like Skeleton Cave in that it is a well-preserved lava tube that showcases the extraordinary pahoehoe flow along with the structure of its' walls.
The Boyd Cave is about 1,880 feet long and can be found near the Southwest of Bend, Oregon. It is one of several caves located off China Hat road. The cave is only accessible through a set of metal stairs that lead through the small opening of the cave roof (only 10 feet in diameter.) The inside of the cave is very thin in sections, sometimes only 3 feet thick in certain parts.
It is another chilly cave, kept at around 42 degrees Fahrenheit year-round, so dress accordingly!
The Boyd Caves are open year-round, and you can receive a guided tour through Wanderlust Tours, as they are the only company allowed to give tours of the Boyd Caves.
9. Skeleton Cave
Location: (43° 57′ 0.96″ N, 121° 10′ 38.28″ W)
Named accordingly, the Skeleton Cave once housed a wide variety of animal bones, including bones of a horse and a gigantic bear. Unfortunately, due to the fragile state of the cave environment (and due to past damages), the cave is only accessible through guided tours provided by Wanderlust Tours.

The range of bone fossils found includes bear, deer, elk, fox, horse, lynx, rodents, wolf, and a hyena-type dog.

The Skeleton Cave is 2,900 feet long.  Humans have "rediscovered" it numerous times, but it was named in 1924. Some scientists question the appearance of the many skeletons found in this cavern. They believe the fossils fell into the cave via cracks in the cave's ceilings, created by earthquakes.   Scientists can not fathom why any animal would make its way into this spooky cavern–as it most certainly meant death.

The Skeleton Caves are available to explore via guided tours during the spring and summer months.
10. Sea Lion Caves
Location: (44° 7′ 20.64″ N, 124° 7′ 39.36″ W)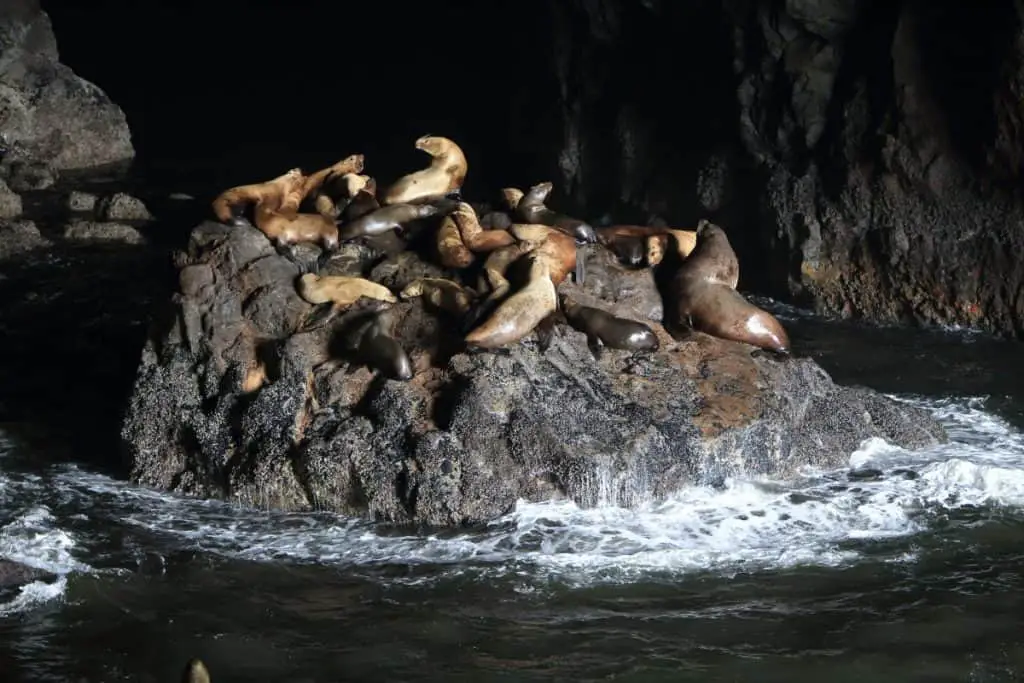 One of the few sea caves on our list is the Sea Lion Caves. They are a stunning feature off the Oregon coast and are as big as a cathedral. As the name suggests, the caves are home to many sea lions. The cave is located at sea level, and ocean water continually washes into the main cavern floor.
The south part of the chamber contains a low passage that runs around 1,000 feet long, leading to a sea-level opening. This passage floods in high tide and is free of water during low tides. The west side of the cave is short with high passages, which the ocean swims through freely at any given type of tide. The Sea Lion caves are home to lots of wildlife, sea lions and sea birds the most common inhabitants.
The Sea Lion Caves are one of the most extraordinary natural grottos in the world. It has been commercialized and is accessible from an elevator located in the gift shop, which is right off Highway 101.
The Key Take Away
Exploring the caves of Oregon is not just for expert spelunkers! Caving can be a family-friendly experience. There are a variety of caves that provide a more rigorous and physically demanding experience, while others offer a more leisurely adventure. No matter the choice of the cavern, you can guarantee you will learn something new about Oregon's history, as well as experience the awe of the natural world and all its wonders.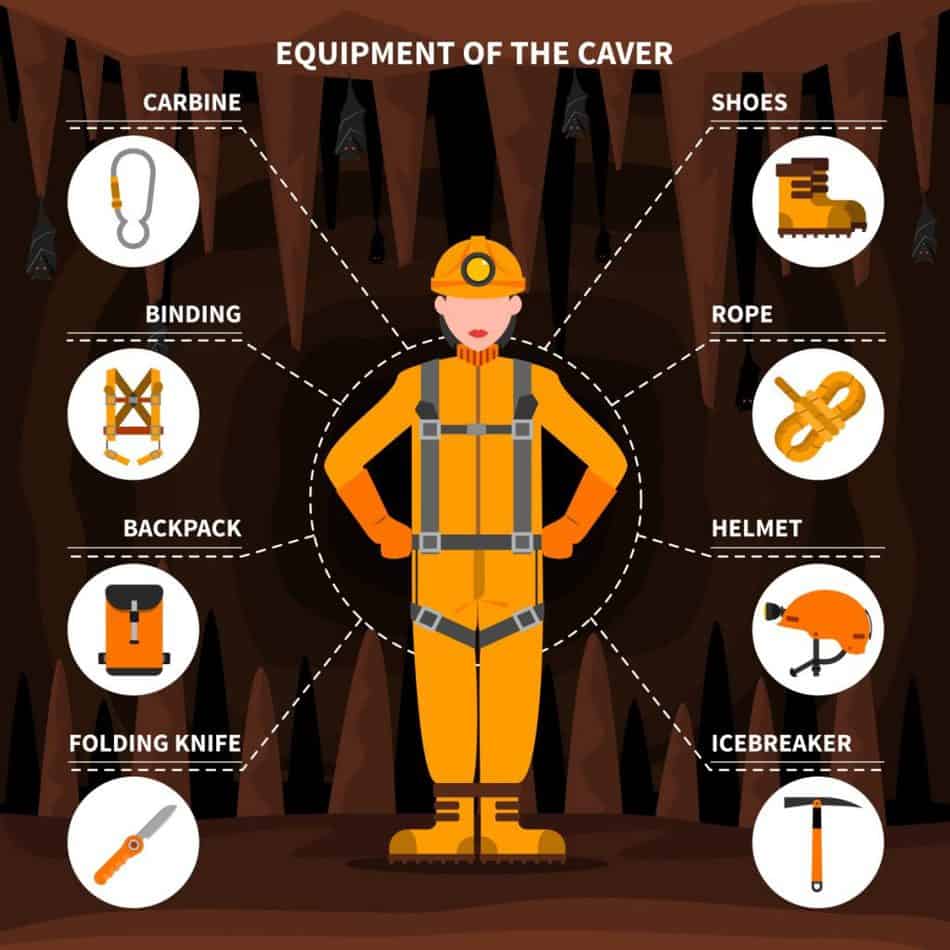 When you're ready to get started caving, be sure to read my Beginners Guide and check out my recommended gear section.