Have you been brooding on thinking up some good caving gifts for this Holiday season, but is it hard to make up your mind? Try some of the suggestions below.
It can be frustrating thinking up gifts for people with unusual hobbies. Cavers definitely belong to a category of people of remarkable taste. But there's actually an upside to it … they like caving. So that narrows it down quite a bit. After all, everything else isn't really that important. By merely focusing your efforts on caving alone – which, in all fairness, is the greatest extreme sports around – you have already won their hearts.
No worries: before you bury yourself under tons of caving bonanza: we're here to help. In this post, I'll give you some solid suggestions for all occasions: from a stocking stuffer to a complete Christmas tree raising plateau.
So let's dive in. Here's my caving gift idea list:
Get the Cave Geology bible
Cave Geology by Arthur N. Palmer is a classic, and somewhat of a religious text among cavers. In it, you'll find everything there is to learn about geology in respect to caves. If your caving friend is in any way scientifically inclined, he will very much enjoy this very thoughtful gift. Second hand is fine, we don't mind – Pickup the book here.
The Ultimate Stocking Stuffer: New Socks
What better to stuff a sock with than with another pair of socks? Good quality Neoprene socks are always welcome, and you can get them literally everywhere. These are the best selling Neoprene socks on Amazon and they're good quality at a nice stuffer price. (Make sure to get the Hi Tops.)
A Tactical Headlamp
Whatever the amount of headlamps they might already own, and whatever they might tell you, cavers can always use an extra headlamp. (Especially the flashoholics among us.) Be it to use as a spare flashlight, second headlamp, or a new main one. If you want to know what to get, check out my recommendation here.
A Spare Flashlight
If you don't want to spend as much, you could consider getting a very solid tactical flashlight for him or her to use as a spare. It's said to be the most durable flashlight there is (they boil it in water). It's waterproof and provides 1,200 lumen (which is a lot). It also looks pretty cool I think (link to product page).
A Subscription to Descent
The best Caving magazine out there. Will be posted through UK postal services, so depending on your location, it can take up to six weeks to get delivered. So order in time! You can subscribe for as little as $60.
Good Quality Rubber Caving Boots
Helmets can be tricky, as there is so much personal preference involved (though you could definitely do it). But boots … you only have to know their shoe size. And it doesn't even need to be very precise. You can't go wrong on boots as long as you're sure they're using them.
When people start out caving, they usually buy a cheap pair of rubber boots for about $30. But any caver would REALLY like to have a good quality pair of rubber boots. There's a fail-safe option. It's a bit more expensive, but I promise you … this gift will make you a friend for life.
They're called Muck Chore Boots and you can simply order them on Amazon.
Most boots are rather large, so be sure to order a size that's slightly smaller than you'd be otherwise comfortable with.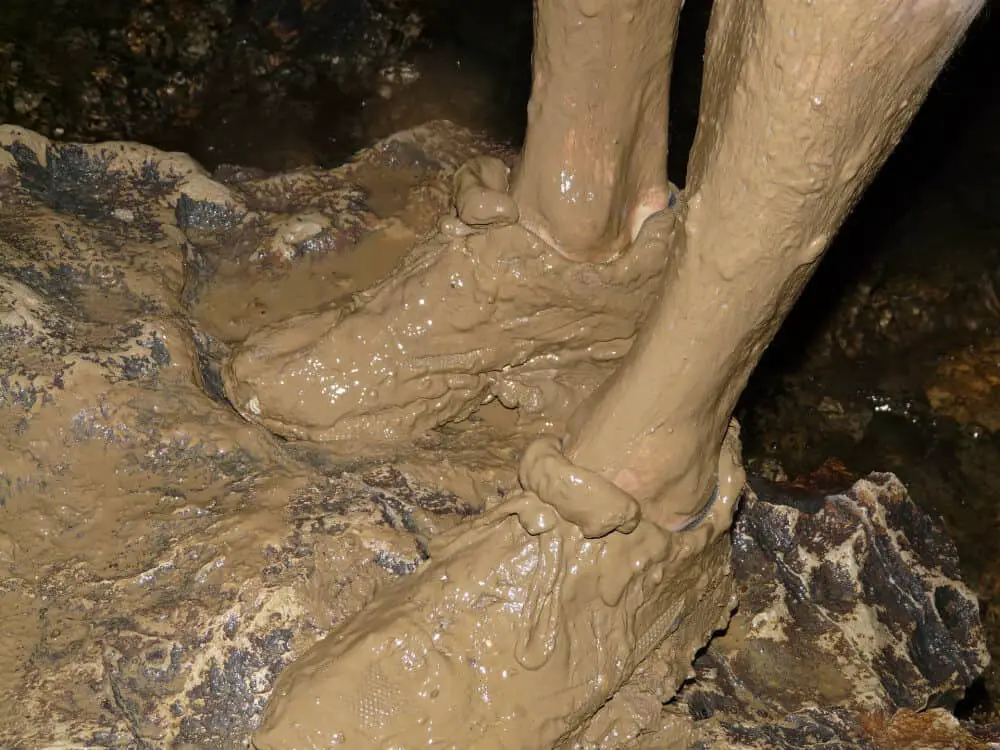 Gift Vouchers for Inglesport
Or any other outdoor shop for that matter. Admittedly, cavers can be picky about their gear, so maybe letting them pick something themselves … But there are plenty of cooler ideas on this list.
Ice Caving Trip in Iceland
If you really, really like the person, you should definitely consider giving them an ice caving trip in Iceland. If you play it smart, maybe you could come as well and enjoy the hot springs?
Check out the arrangement here (link to Extreme Iceland Tours).
After arranging this present, please reach out to me, we should get to know each other.
Action Helmet Camera
This is actually the best present there is (apart from Iceland). If you are considering getting one, and want to pick the right one for the job, I have an article that goes in-depth on buying an action cam specifically for caving. Check out my recommendation here.
All-In Caving Trip to a Local Cavern
If you're prepared to put in some effort, you could also set up an all-in caving trip for your favorite spelunker (don't call them that). All you need to do is find a cool cave (inquire gracefully), book a hotel (and maybe a flight), a restaurant, (maybe a spa for yourself?), and your set. The cool thing is that you can make it as expensive or complicated as you like, but the effort WILL be very much appreciated.
To find a cool cave, you could also inquire with your local grotto, or on a Caving forum or Facebook Group. The caving community will gladly help out.
Caving Pack
A good caving pack should be heavy-duty, waterproof, and preferably light as well.
The top caving packs to consider are:
Swaygo Caving Pack (no longer available, but the absolute best – maybe check eBay?)
Petzl Personnel or Transport Pack
Gonzo Guano Gear PVC Top Loader
New Coveralls
For wet caving: Lost Creek Type, Meander
A trip to V.axess, Salt Lake City
A caver's wet dream, Petzl is the global leader in caving gear and technology. At the Petzl Institute they do their research & development. It's not exactly open to the general public, but if you can pull it off, you make one happy caver.
New Polypro Undergarments
No joke. We wear long-sleeved Polypro underwear, all day long. If you're good at guessing sizes, this is a practical, but still a well-considered gift.
Custom Helmet Stickers
If you want to literally mess with his or her head, make some custom helmet stickers. Give them a great nickname, or print their blood type on it. But don't be rude, and please don't ruin their helmet with a bad design. Cavers are pretty uptight about their helmets.
Good Luck with your Gift Hunt!
So I hope you have some good ideas on gifts for cavers. Whichever one you choose, or whatever you come up with yourself, I'm sure the effort will be much appreciated. Happy Holidays!