These are the Top 3 Caving Headlamps for 2020:
Why I picked Zebralight H600Fw MKIV
I'm a novice caver, and I wanted to do a decent amount of caving before committing to a $400+ investment. The Zebralight offers the best value for money, though the best caving headlamp all-round is more likely to be a Petzl, Scurion, or custom brand. Though, the Zebralight gets so close at a fraction of the cost … it's ridiculous.
The Zebralight is unbeatable for the price, and it's been for a long time (we're at MKIV now, the first model is from 2011). At around hundred bucks, it offers great value for money, since it surpasses many premium brands in durability and runtime. If you invest in a good 18650 battery and charger pack as well, you're practically set for life.
Also, if I decide to buy a premium headlamp, the Zebra is perfect to use as a spare flashlight, since it's very compact, and has a regular flashlight shape without the strap.
It's the best beginner headlamp: it's more versatile then the Petzl DUO, and nearly as functional.
Offers a great floody beam, allowing you to cover both distance and your direct surroundings.
At 970 Lm It has one of the highest lumen outputs out there. The Petzl DUO provides 'only' 130 Lm more.
It's LI 18650 powered, making it rechargeable, very reliable, and light weight. As said, if you invest in a battery pack, you can go on for years without natural light.
It has a maximum runtime of > 2000hrs on lowest luminosity settings (from a couple of weeks up to a couple of months – which is a comfort if you get lost).
It has a beacon strobe mode for emergency signaling.
It automatically steps down energy consumption when the battery gets low.
It has an aluminum unibody, making it incredibly sturdy. It feels like you can drop this thing a 100ft without a problem.
It can withstand wet caves easily, with an IPX7 waterproof rating (up to 2 meters for 30 minutes).
Spare parts are available at Zebralight at low costs (the silicone holder costs just $2.95).
Video footage of the light beam:
Top Headlamp Brands to Consider
Zebralight – They have made some very good lamps for underground use; their H600 series is beloved by many cavers for versatility and light weight. Also, their lamps look good.
Petzl – The Petzl DUO is the most used headlamp by cavers, which makes sense, since they offer a good and proven lamp for a fair price.
Nitecore – They offer a very affordable alternative to the Zebralight and Petzl, with a red light feature and USB charging port. Though what can break, will break when caving, I prefer the Zebralight lamps when on a budget.
Nite Lite – Originally a manufacturer of hunting gear, their Extreme LED from 2007 has everything a caver would wish for.
Scurion – This Swiss company holds the world-record for brightest LED head lamp, with a measured 1,450 lumen. Quite impressive. They're widely used by army professionals and rescue and emergency services.
Phaethon – Produces professional caving lights, which are quite expensive, but very bright, very durable, and very robust.
Little Monkey Caving – Custom built caving lights from the UK. Their lamps have a Mad Max feel to them, since the circuit board remains visible.
El Speleo – Custom built caving lights made by Doug Warner (Montana USA), who is an experienced caver. Very cool and proven lights, though pretty expensive. Are very similar in design to the lamps by Little Monkey Caving.
Fenix – it's on nearly every caver's list. The reason
Features to Look for in a Quality Caving Headlamp
Battery type. The type of battery determines the running costs and reliability of the headlamp. It's cheaper to carry a couple of AAs (and also more light weight) – though a Li-Ion could be a more reliable energy backup. Best practice are good quality 18650 batteries.
Runtime. More runtime is always better when underground.
Brightness. For us cavers, the maximum output (in Lumen) is very important. The number of lumens you need depends on the type of caves you explore. If your region has high ceilings, you require extra lumens for sure. Some manufacturers also offer a red light feature, which is nice if you don't want to ruin your night vision (though useless when inside a cave, since there's no light at all, so night vision won't work). So how many lumens do you need?
Beam type. This depends on your caving style. But in general, a flood beam is the best for caving.
Weight. When wearing a lamp on your head, you soon discover light weight lamps are great.
Material of the casing. Figures, the materials used on the casing greatly impact the durability of the lamp.
Waterproof or not? Also dependent on the materials used; almost all headlamps provide a waterproof IP rating. Any light that travels underground should be waterproof to some extent.
Mount type. If it's gonna be your main light source, you want to somehow be able to attach it to your helmet, for sure. Don't be a flashlight caver.
Light color. CCT means Correlated Color Temperature. The higher the CCT value, the warmer (more yellow) the color. More of an esthetic choice, though a warmer light is less bright, which may affect range of sight. Also, brighter lights tend to need more energy.
Possible upgrades and options. Some lights can be upgraded with alternative color temperatures, energy sources, mounts, and beam types.
Warranty. Caving pushes your equipment. Somewhere along the line your helmet will smash into a ceiling. Some manufacturers offer lifetime warranty on your lamps, offering to replace it when you break it, which is great value for money.
The Best Headlamp for Cavers, period.
A Carbide lamp. Period. Best light quality and durability. Available on Karst Sports here.
If you want LED: the Rude Nora by Little Monkey Caving (UK). Among cavers in the UK universally proclaimed the best headlamp period. Very pricy, very custom, very cool-looking. The reason it didn't made my top 3, is that their Rude Nora 3 isn't widely available. You can't get it on Amazon; it's not even internationally available from their own Monkey Web Shop (great name though).
Also, the lamps by Scurion are very good. They are also incredibly expensive. Definitely consider them if you're a professional, but for recreational cavers, this might not be a viable option.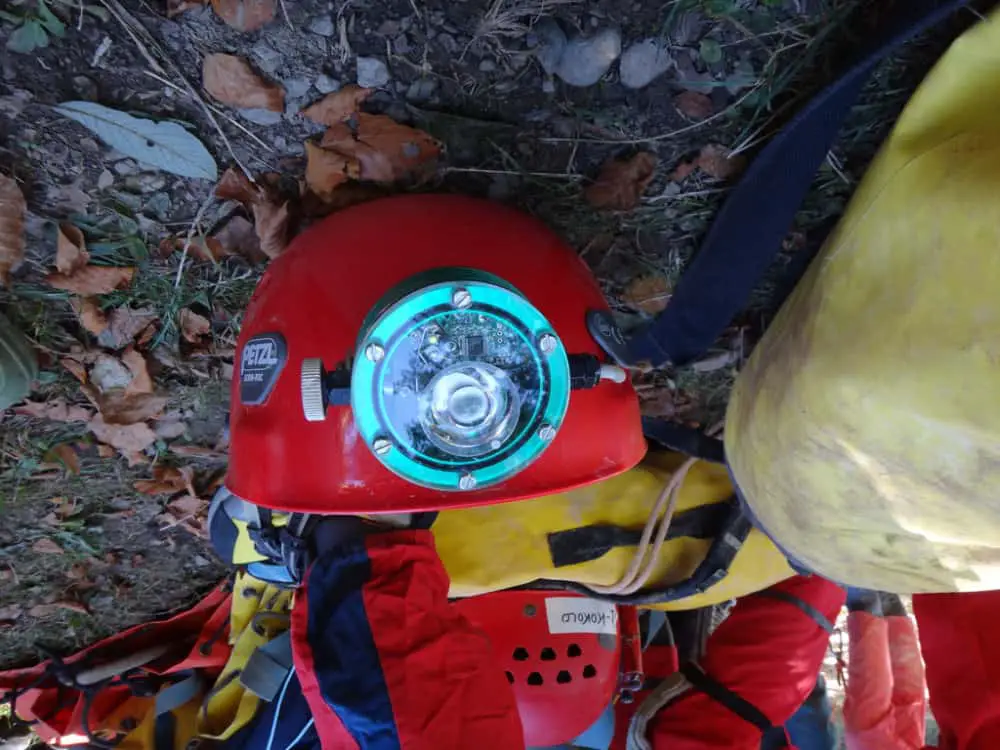 So what happened to the Petzl DUO?
The Duo used to be the standard for caving for two decades (1998 – 2018). Notorious for low light output, they can be upgraded by getting the Custom DUO upgrade from Little Monkey Cavers. For this to work, you want the pre-2018 DUO. The new DUO Z2 is not upgradeable since it is completely sealed (and also a less suitable headlamp for cavers).
With the DUO Z2, Petzl aims to serve a broader (industrial) audience, and while understandable, by doing this they somewhat ended their reign by their own hand.
The main reason is that the light can only be mounted on the Petzl Vertex and Alveo helmets, which aren't great for caving. We much prefer a universally mountable lamp to a specific mount.
Also, the older DUO's outperform the Z2 on every aspect, from luminosity to durability. A good alternative to the Duo is the Petzl Ultra Wide, though it's more expensive.
About Caving Headlamps
Why not just buy a cheap $35 LED lamp on a head strap? Well, your most important resource underground is light. If you're stuck without lighting, you won't get out. That's why it's so important to do your research and pick the best headlamp for your specific caving conditions. You want best value for money, but without compromising on reliability, EVER.
I recommend buying the best lamp you can afford, leaving all bargains on the table.
If you want to be safe, go with the premium brands only. But there are some great budget headlamps out there, which have proven themselves over the years, such as the Zebra and the Princeton.
Importance of battery quality
One thing to keep in mind is battery quality. Your light is only as good as the battery pack, so I again recommend buying the best batteries you can afford. Even the most expensive Scurion lamp is worthless if the battery pack fails.
Also, always bring at least two fully charged back up battery packs, and two back up light sources.
For spare lights, I recommend buying something you would consider putting on your helmet as your main source. Anything you wouldn't use as your primary light source, is definitely not good enough as a backup. Simply because whenever you need the backup, you need it badly.
You may consider getting the most durable flashlight out there (their website has a video where they literally boil it). Waterproof and 1,200 lumen (impressive), and it looks cool. Check it out here.
How Many Lumens is Enough?
For confined spaces, everything above 10lm suffices. Preferably, you have a lamp with variable settings, of around 20lm – 50lm – 100lm. For large cavities, you'd want to have around 100lm or up. Anything above that is eye-blinding, but nice if you're caving alone. If you're with others however, make sure you have alternative modes, so you'll still be able to talk without sun-spotting your partners.
More isn't always better. With very high lumen output, you burn through batteries very quickly, and you can also blind yourself when up close to a wall.
More important is the beam shape. A spot light, like a MagLite can create tunnel vision, which doesn't allow for easy navigation. You'd want something of a flood beam. A spot with strong spill will work nicely as well.
Conclusion
While you don't have to spend a lot of money on a good headlamp, it's probably wise to spend a little extra and get a reliable lamp. Spend anything between $50-$150 and you're set for the foreseeable future. If you pay close attention to the sale season, you could get a good discount on a good quality lamp as well.
Don't forget to set aside some money for an extra battery pack, and also make sure to buy two decent backup lights. You never know when you're going to need them.
If you're looking for good quality caving gear, I have other pages like this one recommending my favorite helmets and headlamps on the recommended gear page of this site. It's all the battle-tested gear that I love.
Photo courtesy of Roberto Lumbreras – CC BY-SA 2.0 license