Indiana is home to some of the most beautiful geologic features, including numerous caves that you can explore. Here you will find a comprehensive guide on exploring the caves in Indiana.
Where can you go caving in Indiana? Most of the caves in Indiana are located in the south-central region of the state to the south of Indianapolis. Some of these caves have walking tours, some have boat tours, while some have guided tours that are more physical.
When you think 'subterranean adventure,' Indiana might not be the first state to come to mind. But you will be surprised at the unique geologic features and rare wildlife you can find at some of the destinations we'll cover below.
| Cave | Location |
| --- | --- |
| Spring Mill State Park | 3333 IN-60 E, Mitchell, IN 47446 |
| McCormick's Creek State Park | 250 McCormick Creek Park Rd, Spencer, IN 47460 |
| O'Bannon Woods State Park | 7234 Old Forest Rd, Corydon, IN 47112 |
| Marengo Cave | 400 East State Rd 64, Marengo, IN 47140 |
| Bluespring Caverns | 1459 Blue Springs Cavern Rd, Bedford, IN 47421 |
| Squire Boone Caverns | 100 Squire Boone Rd SW, Mauckport, IN 47142 |
| Indiana Caverns | 1267 Green Acres Dr SW, Corydon, IN 47112 |
If you're interested in caving, be sure to read my Beginners Guide and recommended gear section.
Caving Indiana
At some caves, you will have the opportunity to be your own guide. In this guide, we will dive into the most popular caves in Indiana. We will also discuss which cave tour best fits your skill and experience level, so you can thoroughly enjoy your next spelunking adventure.
Where Are the Caves In Indiana?
Southern Indiana is layered with Karst topography characterized by carbonate strata such as limestones and dolostones at the surface.
Over time rainwater has dissolved parts of the strata creating sinkholes and caves, among other common features characteristic of karst topography in a process explained in more detail the IU-Bloomington.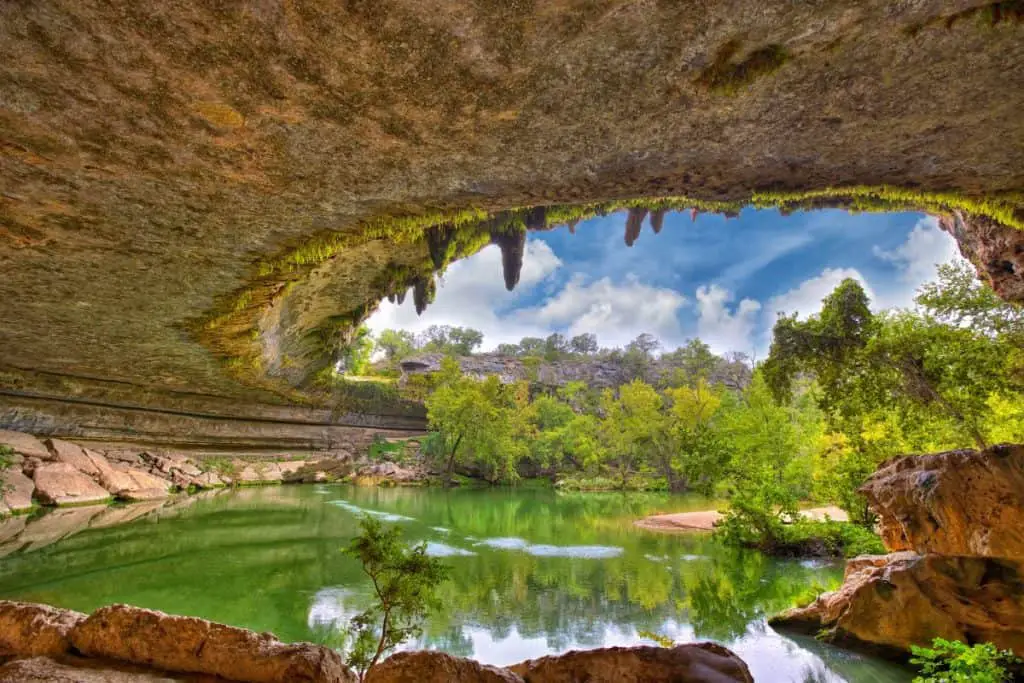 Most karst topography in the Northern two-thirds of the state is buried underground, where it cannot be accessed. However, you can observe some karst features along with parts of the Wabash River, which flows across the central part of the state and then southwards.
State Parks With Caves
Some of the places where you can explore caves in Indiana include:
This park located on the Mitchell Plateau in south-central Indiana features many of the caves, springs, and sinkholes characteristic of the region.
It's just under 2 hours south of Indianapolis.
Select Caves are open with limited access for self-guides recreation groups who must register in advance with the Indiana Karst Conservancy.
Prospective explorers also take online training regarding how to avoid spreading White Nose Syndrome, which is a disease afflicting bats in large numbers.
You can also take the Twin Caves Boat Tour, which only accepts same-day reservations. More details can be found here.
On the Twin Caves Boat Tour, you may be able to see the endangered Blind Cavefish. It has been reported as a common sighting along the tour.
The Twin Caves tour is a great option for those with children since the minimum age requirement for the tour is only 3 years old. The tour is also relatively short and doesn't require explorers to traverse difficult terrain.
Some Tips for this Park:
The Donaldson/Bronson caves in the park require that all participants in the tour are at least 16 years of age.
You will be standing in water for the entirety of the tour. It is also recommended that you bring a personal flotation device.
Though you will be ankle-to-knee deep in water the vast majority of the tour, there are at least two sections where the water will likely be deep enough to require a short swim or float.
Prior to committing to a trip, make sure to check in on how much rain the park has been getting lately and what weather is forecasted since the cave can flood easily.
This state park located just an hour southwest of Indianapolis in south-central Indiana.
includes Wolf Cave, a small cave located on the less-crowded side of the spectrum.
Though the cave is small, you will be able to see hints of an underground stream that initially formed the passageways you will be crawling through.
The cave is free to access and is a self-guided experience.
This park is located in far southern Indiana bordering the Ohio River, just over 2 hours from Indianapolis.
The park is famous for being the home of Wyandotte Caves.
The tours of the caves are guided and come with a fee.
Tours are offered on Weekends (including. Friday) and Holidays from Memorial Day until Labor Day.
The caves are consistently 52 degrees Fahrenheit.
Check here for current pricing.
The Big and Little Wyandotte Tours
The Little Wyandotte Tour The shortest trip offered is the Little Wyandotte Tour.  In this 30-45 minute trip, you will be able to see numerous flowstone and dripstone formations.
The Big Wyandotte Tour – Those hungry for a longer and more rugged trek will find pleasure in the 2 hours long Big Wyandotte Tour. This tour comes with a minimum age requirement of at least 6 years.
The Big Wyandotte tour includes a 1.5-mile headlight/helmet trip designed for those up for the physical challenge of navigating many stairs and steep terrain.
If you take the Big Wyandotte Tour you will be able to see:
Rare cave formations called helictites

Helictites are known as the most delicate of formations. They grow at angles that make them seem as if they are defying gravity.

They form from a combination of seeping water and capillary action rather than dripping water

They look like oddly-shaped straws with intricate designs

You will also see gypsum, epsomite and prehistoric flint quarries
Privately-Owned Show Caves In Indiana
Marengo Cave
This cave is the most popular cave to visit in Indiana and has been designated as a National Landmark.
Located just over 2 hours south of Indianapolis in south-central Indiana
All tours are along lighted pathways and are led by guides
The Dripstone Trail and Crystal Palace trails are cool at 52 degrees Fahrenheit
The Crystal Palace tour lasts 40 minutes and features major flowstone deposits
The Dripstone Trail tour lasts 60 minutes and features totem pole stalagmites and  soda straws
You can view current pricing here
The cave is open year-round, outside of holidays. Reservations are not required for you to participate in the tour. You can also camp in the park.
Bluespring Caverns
This privately-owned park is located in south-central Indiana 1.5 hours southwest of Indianapolis. The cave system runs for 21 miles.
The cave tour is an hour-long boat tour where you may be able to see a blind cavefish or blind crayfish.
You can find current tour rates here.
Tours are cool at 53 degrees.
The cave system contains the longest known navigable subterranean river in the United States at 3 miles.
The tour runs from March to October
Call before you go to make sure the cave is not flooded out, which may happen if there has been a lot of rainfall in the area.
Squire Boone Caverns
These caves are located 46 miles west of Louisville, KY, in far southern Indiana. 
The guided walks of the caves last 1 hour.
The walkways are lighted
Sights along the tour include:

Giant stalactite and stalagmite formations

A large open central cavern

The Rock Of Ages formation that is 40 feet tall and estimated to be more than a million years old

The largest rimstone* formation in North America.
At the end of the tour, you will see the coffin of Squire Boone, a famous soldier, and explorer who was the brother of Daniel Boone
*Rimstone is also commonly called gours and is formed when calcite and other minerals build up into pools. The result is a beautifully crafted formation that often looks like a set of stairs.
This cave is located in far southern Indiana 33 minutes west of Louisville, KY. It is the 7th largest cave in the United States and the longest cave system in Indiana.
The tour includes an underground boat ride
The cave tour features a large variation in heights and depths
The tour also includes a waterfall
Ice Age fossils in the cave system date back to at least 40,000 years

Tracks and claw marks can be seen today

Plan on being at the cavern for 6 hours total from arrival to departure
The trip lasts 3.5-5 hours
The trip is known for being physically challenging. Visitors must be prepared to scale a 93-foot ladder on belay to reach the remote lower level.
The cave is only closed on Thanksgiving and Christmas Day
Be Your Own Tour Guide At Sullivan Cave
Sullivan Cave is located approximately 10 miles south of Bloomington. You can access the cave by reaching out to the Indiana Karst Conservancy cave patron, whose contact information can be found here. Sullivan Cave is the 4th longest in Indiana, with a mapped passage length totaling 9.63 miles.
In Sullivan Cave, you and whoever is in your caving party will be your own guides. There are no lighted pathways, making this trek suitable only for those who are familiar with the ins and outs of cave exploration.
Since the cave is considered a natural and wild cave, "no improvements for the convenience of visitors will be allowed or desired," according to the Indiana Karst Conservancy. The trek can be treacherous. The cave includes features such as the aptly-named  "Backbreaker," an extended passage with a low ceiling.
You will likely need to obtain a permit in order to explore the cave. Upon entry of the cave, you will perform a short series of climb-downs into the waterfall room.
Other notable features of Sullivan Cave include:
The "Mountain Room" which is 60 feet high and 100 feet across
The largest room in The Sullivan Cave called "The Colossus," totaling 120 feet in height and 200 feet in length
Wildlife including a small population of bats, both surface and cave crayfish species, and salamanders
Make sure that you have a good idea of where you are going when you are in the cave.  Exploration in teams is encouraged.
Explore The Caves At Hoosier National Forest
Hoosier National Forest is located 1.5 hours south of Indianapolis and covers an area of  200,000 acres.
In 2018, the forest reopened its caves to the public after keeping them closed, going back to 2009 in order to combat white-nose syndrome in bats.
The caves are open to the public from May 1 through August 31 each year. There are more than 165 different caves scattered throughout the forest. The caves of Hoosier National Forest are known to contain over 54 different troglobitic (small, cave-dwelling) species.
Where Can I Learn More About Cave Exploration In Indiana?
The Indiana Karst Conservancy is a great resource for those looking to learn more about cave exploration in Indiana. You can also learn more about cave exploration in Indiana with these books:
A Guide To Caves And Karst Of Indiana: This guide, by Samuel S. Frushour in conjunction with the Indiana Geological Survey, includes explanations of how caves are created. It also has descriptions of the various geologic features and wildlife you can find in Indiana's caves
Authored by Gerard Fowke, this is a great resource for those looking to explore caves in the central region of the United States. This guide provides detailed archaeological and geologic histories of more than 180 different caves in the Midwest
What Type of Gear Do I Need to Bring With to Cave in Indiana?
Gear requirements will vary by cave, so make sure to check in with the company or agency responsible for providing tours of the cave.
As an example, the cave tours of the Donaldson/Bronson tours at Spring Mill State Park require that all participants arrive with a great proper helmet with a chin strap, a water-proof helmet-mounted light, and clothing that is appropriate for full immersion in 55-degree water.
If you're interested in caving, be sure to read my Beginners Guide and recommended gear section.
Even for the show tours such as Marengo Cave or Squire Boone Caverns, you will still need to bring:
Clothing warm enough to keep you comfortable as you travel through a cave that is consistently 50-55 degrees
Comfortable athletic shoes are also recommended since you will be walking through moderately difficult terrain including many steps
Sandals and flip flops are not suitable for exploring caves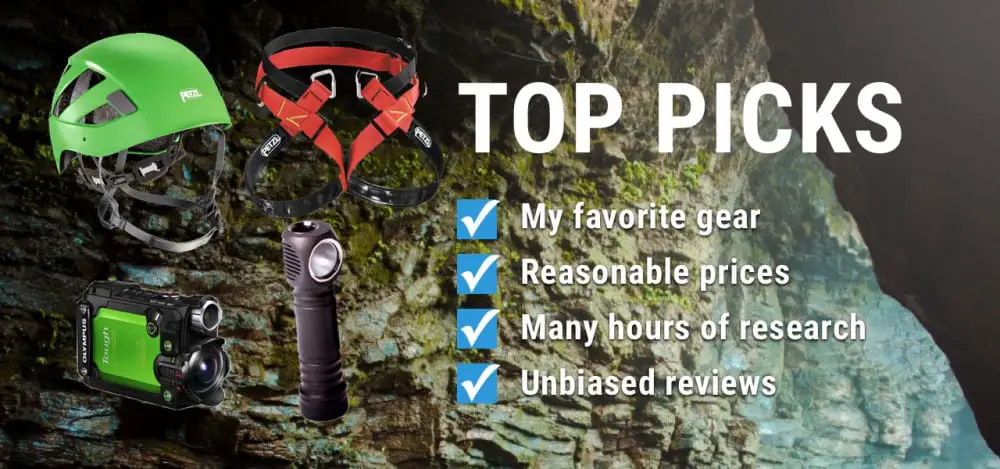 Is a Cave Tour a Good Group Activity in Indiana?
If you are looking for something fun to do as a large group of friends, taking a cave tour can be a viable getaway for your group.
Some caves, such as Marengo Cave, have discounted group rates. Marengo Cave has discounted rates for groups of 12 or more.
Bluespring Caverns also has discounted group rates for groups of 12 or more. You can also add special group activities such as a Karst sink tour for a discounted rate.
How Safe Is It Go Caving in Indiana?
Caving is a perfectly safe activity in Indiana as long as you follow the recommended guidelines found here.
If you are inexperienced at exploring caves, it is highly recommended that you stick to guided tours such as the ones offered at show caves such as Marengo Cave, Indiana Caverns, or Squire Boone Caverns among others. These guided tours come with clear lighted pathways.
Once you become more familiar with cave exploration and the gear required, you can set out on exploring unimproved and unguided caves such as Sullivan Cave.
Here are a few guidelines to follow when exploring caves that are unguided:
Always go in groups.
Wear a quality helmet with a chinstrap.
Wear a water-proof helmet-mounted light.
It is highly recommended that you carry at least three sources of light to stay on the safe side.
Give someone a detailed description of where you are going and when you plan on returning.
Make sure the leader of your crew is an experienced caver.
If all your lights fail, sit down and wait for help to come rather than trying to blindly stumble your way to the entryway.
Get up and practice short, rapid movements every once in a while, to avoid hypothermia.
Carry a small first aid kit such as this one with you.
What Is The Best Way to Learn What Caving Is Like?
Other cavers recommend that people who are interested in getting into caving as a recreational activity go on a tour at the Wyandotte Caves at O'Bannon Woods State Park to get their feet wet.
The walking tours at some of the commercial caves may not always give the novice caver a true sense of what caving is like.
Real caving is often claustrophobic and treacherous but also rewarding when you get to see beautiful geologic features such as rare Helictites. You also get to witness wildlife that you don't get to see at the surface, such as cave crayfish and blind cavefish.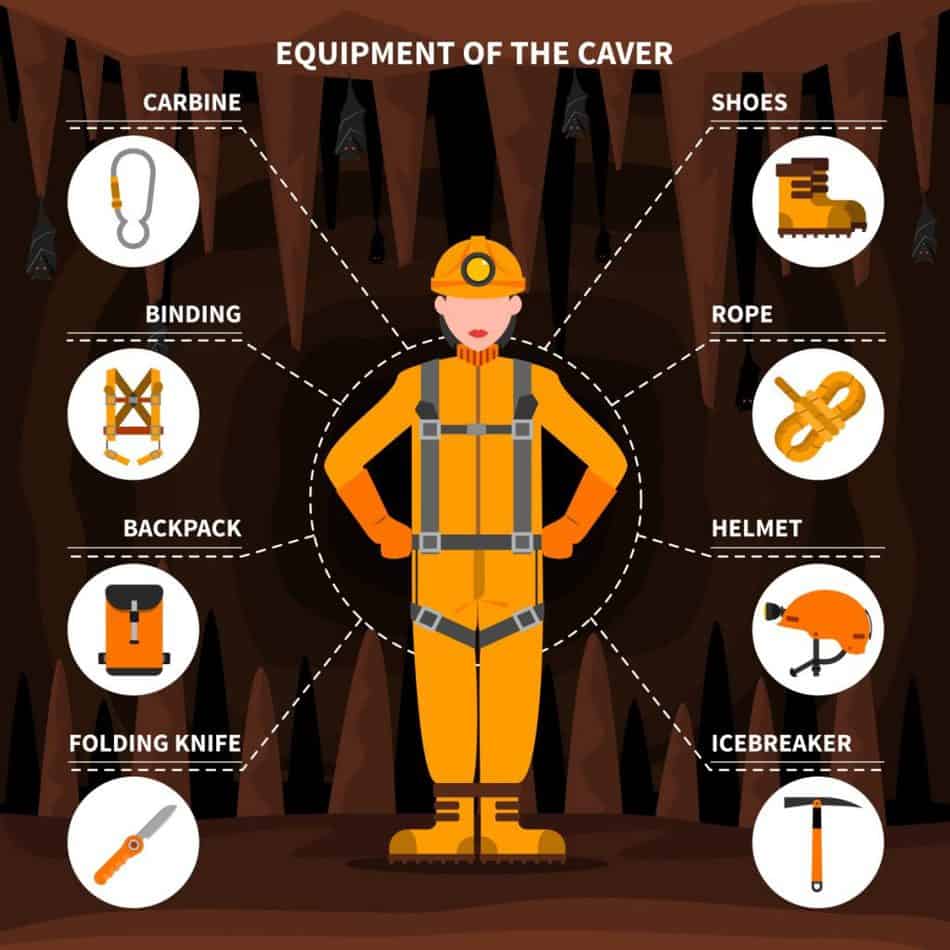 When you're ready to get started caving, be sure to read my Beginners Guide and check out my recommended gear section.