After considering a dozen or more helmets, I decided to buy the Petzl Boreo Climbing Helmet (link to check the price on Amazon) for caving. In my opinion, it has the best balance price, comfort, and quality. It's very durable. I find it very comfortable and it has the best headlamp clips. It's a bit heavy at 11 oz (300 grams). But overall I'm very pleased with it.
The main point of this post is that I strongly recommend to not cheap out on your helmet. Anything under $50 just isn't very good. I've tested some budget helmets but decided to go with a mid-priced one, as it's more comfortable and provides better protection.
A good caving helmet isn't very expensive. An uncomfortable helmet is one that you take off. Then, all the certifications in the world won't make any difference.
Top 3 Caving Helmets
What to Look For In a Helmet
Lightweight – Some helmets feel really firm with thick padding, but they will wear you down on long trips. Pick something that you feel comfortable with for longer periods of time, without getting a tired neck. The lighter the better I believe. If you can get an UIAA approved helmet that's comfortable of no more than 400 grams, you're set.
Comfort – Besides protection, comfort is the number one factor in choosing a helmet. With caving, you'll be wearing your helmet throughout the trip, which may mean multiple hours up to an entire day. Ever wore An uncomfortable helmet just takes the fun out of it.
UIAA approved – Your helmet should meet CE or UIAA safety standards. I'll explain these certifications later on.
Small and low model – Some of the newer Petzl models ride pretty high, which can be a nuisance when moving through tight passages.
Price – In my opinion, you shouldn't spend only $9.95 on your head protection, but you don't have to spend $100s of bucks either.
Looks – Buy something you really like, otherwise you might wind up waisting money by getting a new one within a year.
Stability – The helmet shouldn't roll off at the front or back of your head. It should be very stable, in case it gets struck, jammed, or caught. This is also called front-and-rear roll-off.
Optional: ventilation – I prefer good ventilation, so I make sure I have some holes. Though my head does get wet now. So that's something to consider
Features of a Quality Helmet
Headlamp mount – You can either buy a helmet with an integrated headlamp mount, or you can buy a lamp that can strap over your helmet. Either way, you'll want a way to mount your headlamp to your helmet: you'll want to free up your hands for traversing, squeezing, climbing, and so on. Make sure you can use a variety of headlamps with the mount or check in advance if you'll be happy with the lamp that goes with it.
4-point chin strap – The straps should go in front and behind (or over) your ear. This ensures your helmet will stay in place if things get rough, which is precisely when you want it to. It shouldn't be able to fall back or forward. I prefer the Fastex buckles.
Multiple hit resistant – Most helmets are designed to break upon impact, as the padding absorbs the blow. Good quality caving and climbing helmets are multiple hit resistant, which is something you'll definitely want in a cave since you will hit the ceiling multiple times.
Made from molded plastic material – Fiberglass helmets aren't any good for caving since they tend to break upon impact. Molded plastic doesn't crack, but use the head cradle to absorb impact. Which is less comfortable, but better for the life span of your helmet.
Picking the Right Size
Helmets usually come in one size only, so you don't need to worry about that. The helmets that are good for caving all have suspension. This is a sort of webbing inside the helmet, allowing it to take an impact. Most of the times this suspension has some sort of strap at the back to adjust the size. You can simply tighten or loosen the straps according to your head.
A tight helmet is uncomfortable, but also safe. Make sure you don't loosen the strap, simply for comfort. It needs to sit on your head pretty tight.
Top Caving Helmet Brands to Consider
Petzl – Petzl is the best-known name in caving helmets, with their Ecrin Roc, and their new models are nearly as good. They still make the best looking helmets around. Their Vertex Pro is the next best thing, but unfortunately not as good for caving.
EDELRID – Doesn't look as good as ie. Petzl or Black Diamond, but makes decent helmets. However, I'm no fan of their latest foldable designs, which might reduce protection.
Black Diamond – The Black Diamond Half Dome is a decent, lightweight and very good-looking caving helmet. It has a headlamp mount which can also carry your GoPro, and I found it very comfortable. It rides a little high though. This is your budget option.
CAMP USA – Their Storm is a strong, old-skool polycarbonate shell. It also has good headlamp attachment (almost as good as the Boreo) and is under 9 oz (250 grams). On paper a good buy, but I thought the tensioning system might annoy me when wearing it for long periods of times.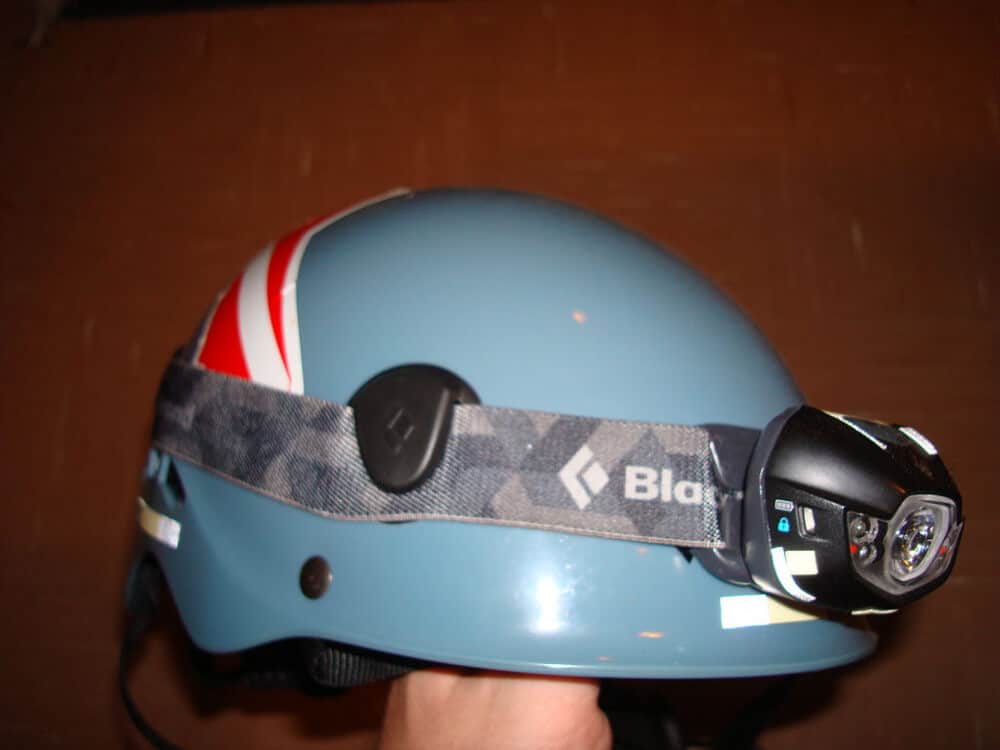 Safety Standards for Caving Helmets
Your brain bucket is the most important part of your gear.
All climbing and caving helmets should protect you from falling objects. To ensure your helmet is able to do this, you should check if it meets the EN 12492 and UIAA 106 standards. But in this business, you also want side protection, stability, suspension, a 4-point chin strap, no penetration, and multiple hit resistance.
That's why the International Climbing and Mountaineering Federation (UIAA) defines the safety requirements for all helmets. In the United States, you want to check for the UIAA standard. In Europe, all helmets must meet the CE standard (European Community).
Contrary to popular belief, the CE standard is only a minimum requirement for any items sold to European markets, and it's not very comprehensive. So U.S. products without CE-certification aren't bad helmets by any means. Also, CE-certification requirements are defined by the UIAA.
All good quality helmets will certainly meet the UIAA standard, which is more strict than the CE standard. So if you want to be safe, just check for the UIAA label.
The Legend: Petzl Écrin Roc
Somewhat of an icon among cavers, the Ecrin Roc is (unfortunately) no longer available. Though cavers united in a heroic attempt to bring back this perfect-in-every-way caving helmet by putting out a petition, which collected over 2,300 names.
Petzl didn't cave, and the Ecrin Roc was discontinued. They were, however, kind enough to replace the Ecrin with the SPELIOS (for recreational cavers) and Vertex helmets (for professionals).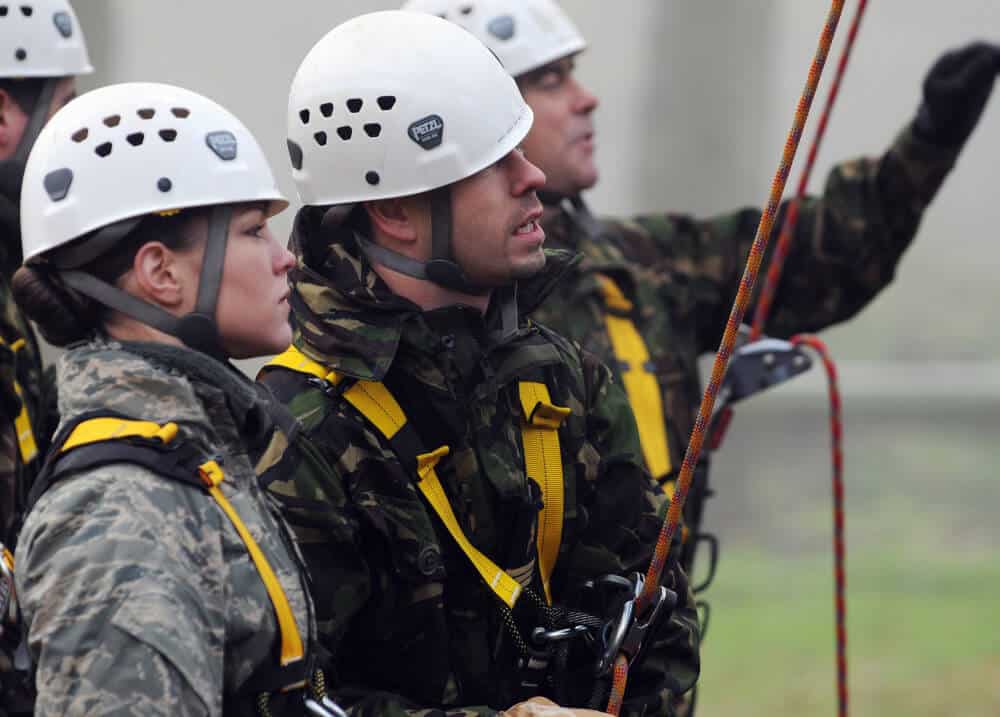 The caving community, however, didn't feel so good about these helmets. In a letter, they told Petzl:
The SPELIOS isn't stable enough – danger of jamming the helmet when one has to move through narrow areas)
Both models rank very high, making them unflattering to the wearer and unpractical
They are less comfortable to wear
They provide less side protection
Change to weaker material, from a polycarbonate shell to a polystyrene shell
The new helmets seem unsuited for caving and don't meet protective requirements.
If you want to be safe on your helmet choice, try and find a good used Ecrin Roc on eBay (I've already checked, and there are some available at a fair price (click to check current listings on eBay). You won't be disappointed.
When Do I Need to Replace my Helmet?
The life span of a plastic helmet is around ten years. Over time, the material wears, due to exposure to sunlight. So you want to make sure to replace your helmet at least every ten years.
Wait. Caving helmets don't get exposed to sunlight. Does that mean the helmet lasts longer? I've sent an email to Petzl and get back to you with their reply.
Update: Petzl replied to me. You should still replace your helmet after ten years. The shell and also the straps and suspension will wear gradually over time.
Also, most of the time you need to replace your helmet after a hard impact. If the helmet get's cracked, or it absorbs a severe blow, you SHOULD replace the helmet. Even if there's no visible damage, the internal structure of the material will be weakened, reducing future protection.
Can I Put Stickers on my Helmet?
Petzl states on their website that you shouldn't use regular stickers on your helmet, as the solvents may damage the ABS casing of the helmet.
Petzl does provide protective stickers for the sides of your helmet, which you can then use as a background for your own sticker.
Don't: DIY Caving Helmet
I would definitely NOT recommend making a DIY caving helmet. However, if you're only doing horizontal caving, and going on your first couple of trips, this could be a life safer (money-wise – I'm pretty sure it isn't capable of actually saving your life).
---
Photo courtesy of