Most cavers use helmets that are advertised as climbing helmets. Climbing helmets that are EN12492 certified provide protection from falling rocks and other potential impacts. But there are some key features that you should look out for when choosing the best helmet for caving.
The difference between caving and climbing helmets is that caving helmets have headlamp clips by default, while some climbing helmets don't. Most climbing helmets have ventilation holes to keep your head cool while some caving helmets avoid using holes in order to keep your head dry.
Climbing helmets with a lot of foam aren't ideal for exploring wet caves because as you dip through the water, the foam causes unwanted buoyancy and will make it more difficult to keep your head down. This is especially applicable to cave diving when you're trying to sink deep into the water to get to the next section.
To be clear, rock climbing helmets are used for caving but you should look out for certain features that make it ideal for caving. Here's what you want to look out for when choosing a caving helmet.
If you're ready to get started caving, be sure to read my Beginners Guide and check out my recommended gear section.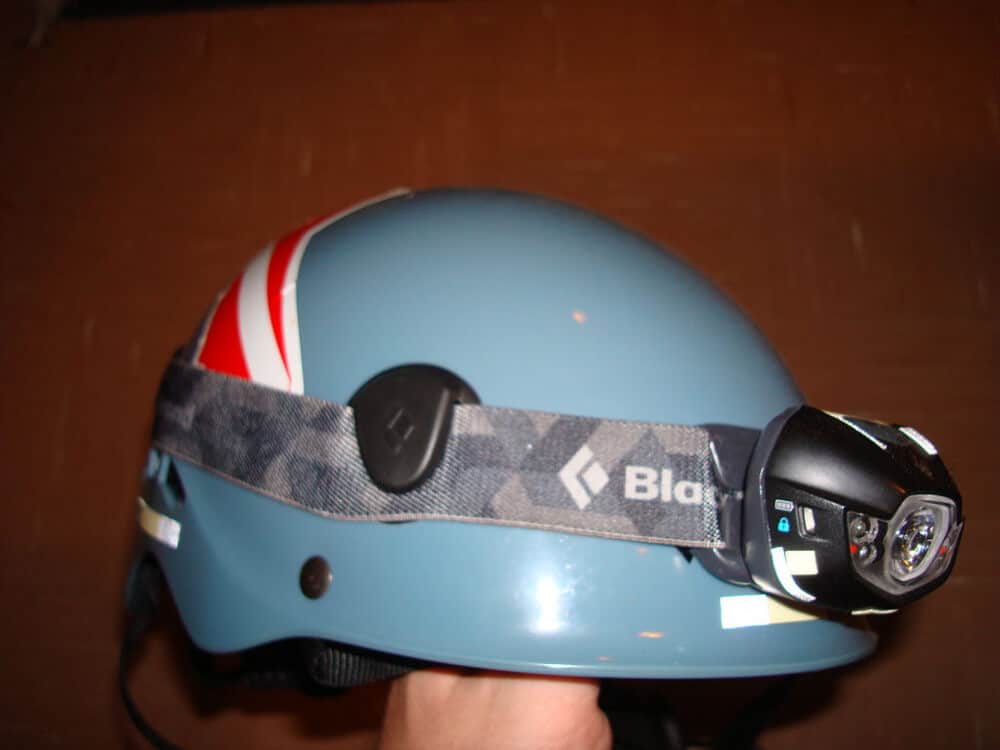 How To Choose A Caving Helmet
A caving helmet should be able to accommodate a headlamp by default. It's dark inside a cave and you'll need a headlamp for your primary source of light. Climbers usually climb outside during the day, so their helmets never used to have headlamp clips, but these days climber's helmets are being sold for climbers and cavers and the clips are fairly common.
You can strap headlamps on to almost any helmet, but they can slip off just as easily if it's not secured by a clip or slot to hold it in place.
Hard shell caving helmets have little foam in them, making them ideal for cave diving as they won't introduce too much buoyancy in the water.
Helmets that have a lot of foam in them won't last long for caving because you will bump it hundreds of times while making your way through all the different obstacles a cave offers.
Differences Between Caving And Climbing Helmets
| Caving Helmet | Climbing Helmet |
| --- | --- |
| Has clips or slots for headlamps. | Doesn't require a headlamp. |
| Minimal foam to avoid buoyancy in water. | More foam because water isn't an issue. |
| May have fewer ventilation holes for better insulation against falling water. | More ventilation holes to keep you cool in the sun. |
| Caving helmets are bumped frequently which deteriorates the material. | Climbing helmets are exposed to the sun which decreases durability. |
Safety Standards Of Caving Helmets
No matter the helmet you choose, just make sure it meets the EN12492 standards. The EN12492 safety standard confirms that the helmet provides sufficient protection against impacts and penetration that can occur while caving. My recommendations below are both EN12492 approved.
Other requirements of the EN12492 standard are that your field of view is not restricted while wearing the helmet and that it covers the top and sides of your head.
The helmet must have webbing to strap around your chin to keep the helmet on at all times, even if you're upside down. The straps are tested to make sure they're strong enough to stay on while also having a reasonable break-away point to reduce the chance of strangulation.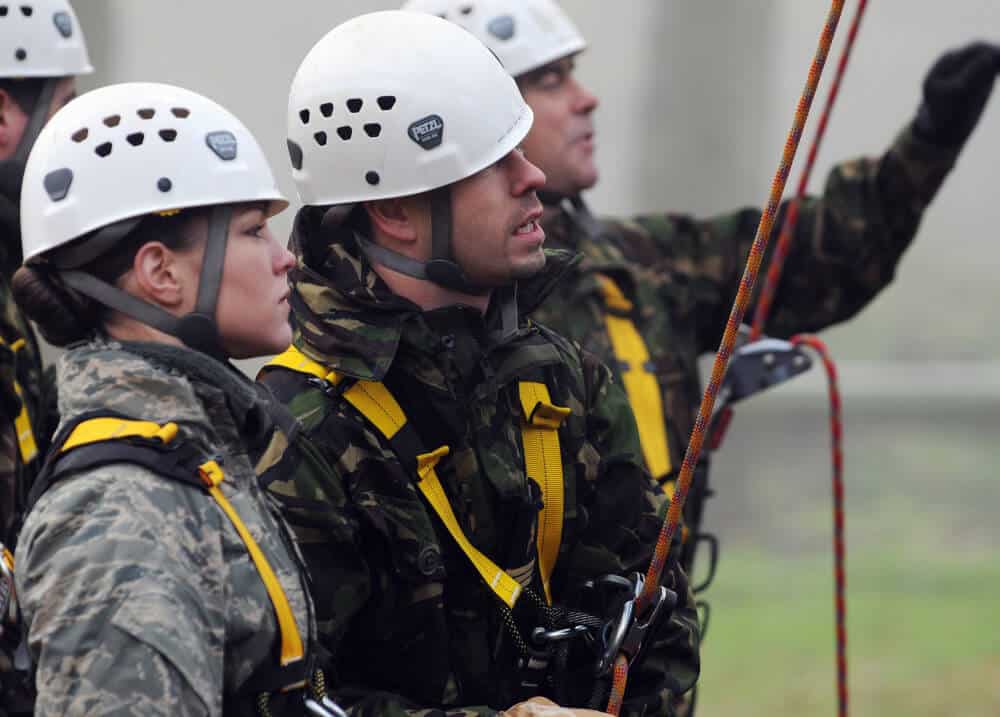 What's The Best Helmet For Caving?
One of the best-caving helmets is the VERTEX VENT by Petzl. It uses a suspension-type system with little foam against the shell. You can adjust the webbings to accommodate a head circumference of 53 to 63cm (21 to 25 inches)
It weighs 1.32 lbs and fits really well for most people because of its six-point textile suspension, CENTERFIT, and FLIP&FIT systems. Fancy jargon that means they spent time perfecting the way the helmet sits on your head, it doesn't move around and is very comfortable.
It also has clips for you to attach your headlamp to and other design features to allow for other accessories like hearing protection if you're using it while performing other tasks.
Good Entry Level Helmet For Caving
The Fusion Meka Climbing Helmet is a good entry-level helmet for caving. It has slots to put your headlamp strap through. It's a very durable helmet and only weighs 0.7 lbs.
It accommodates a head size from 20 to 24 inches in circumference, which should be sufficient for most people. There's plenty of ventilation to keep your head cool and features an anti-microbial inner foam that prevents bacteria growth and reduces moisture levels.
Even though the suspension straps inside the helmet aren't adjustable, it still fits snug for most people and won't slip around while you're caving. Having said that, at its price point, I believe it's perfect for beginners.
How Long Do Caving Helmets Last?
A caving helmet can last up to 10 years, at which time you should replace it, even if it's never been bumped. The material degrades from year to year and loses its durability.
Besides that, caving helmets will always bump on cave ceilings and other rocks while you navigate through narrow areas. With each bump, the helmet becomes slightly weaker and less protective. If your caving helmet has chips and scratches all over it, you probably need to replace it. Not because of the way it looks, but because the chips and scratches indicate frequent impacts with rocks.
If you see any cracks in the helmet, you need to replace it immediately because it's likely to break easily and put your head at risk.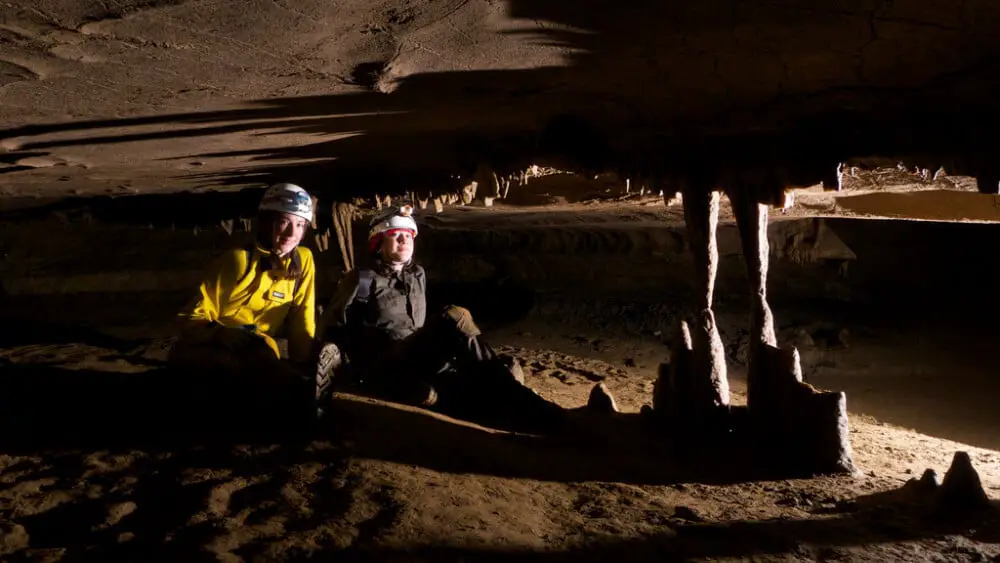 Conclusion
Although there are some differences between climbing and caving helmets, all climbing helmets that meet the requirements of the EN12492 standards are suitable for caving as well.
There aren't many helmets that are specifically advertised as "caving helmets" because rock climbing and caving are so similar in terms of the head protection you require.
When it comes to protecting your head, don't just go for the cheapest EN12492 helmet you can find. If you do, your caving experience might be ruined because your cheap helmet is uncomfortable or keeps slipping down your forehead.
Replace your helmet after any heavy impact, like if you fell and hit it on a rock. Even if it's not broken or cracked, the structural integrity could be flawed after just one forceful collision with a rock.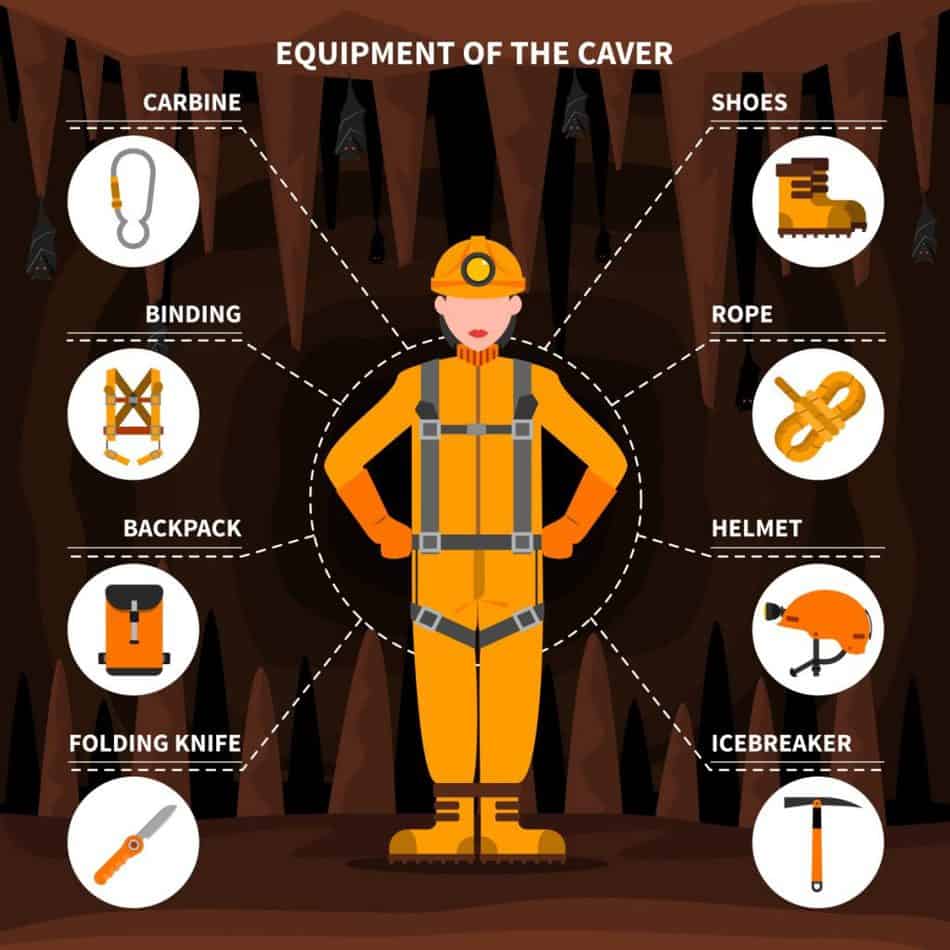 When you're ready to get started caving, be sure to read my Beginners Guide and check out my recommended gear section.