Whether you just started out caving, or you are planning to face unexplored depths, getting the proper permit is essential. Every national park has it's own regulations and procedure, but the basics are the same. In this article, we'll get into why permits are important, how much they cost and, obviously, how to get them. The latter might appear to be somewhat of a hassle at first sight, which is why I simplified the process in these three steps.
This is how to make any permit do your dirties:
Get in touch with the local municipality or national park
Make sure your equipment is in order
Plan ahead and be patient
What is a caving permit?
In order to preserve our beloved caves and keep us happy cavers, authorities have set guidelines that protect both parties – unique to every cave. In order to live up to these standards, it's important to keep track of how many people go in (and out?) and what they bring with them. By making sure everyone caving has the proper permit, we help preserve the caves we enjoy exploring so much.
Basically, a caving permit is a document stating these guidelines set by the national park or preserves. It acts as a license, permitting the owner to explore the cave, agreeing to the terms.
Why should I get a caving permit?
Caving is a beautiful way to explore nature, and in order to keep doing so it's important to preserve the caves we visit. Luckily, most cavers are known with the 'leave nothing but footprints, take nothing but pictures' principle. Although this goes a long way, there are other things to consider when descending into a closed environment.
For starters, a lot of caves are home to bats. Some bats hibernate, and waking them early can result in the bats dying from starvation. In the US, a lot of bats are sensitive to the fungus Pseudogymnoascus destructans which is associated with white-nose syndrome. A huge amount of bats have already died from WNS, which is spread by unaware cavers bringing in the fungus. It's of great importance to clean your gear every expedition, and some national parks even prohibit bringing in equipment bought before a certain year.
Every entry into a cave causes disturbance, to the environment or other cave explorers. Permits help authorities keep track of how many people have visited a cave and make sure it isn't too much. Besides being aware of environmental hazards, some caves require a fee to enter. Getting a permit will inform you up front, preventing you from any unwanted encounters with authorities resulting in surprise fines.
Permits are for people who:
Do not enjoy killing innocent, harmless creatures
Respect nature
Like to cave (for indefinite period of time)
Don't like paying fines
Does this – even remotely – apply to you? Then get yourself a caving permit.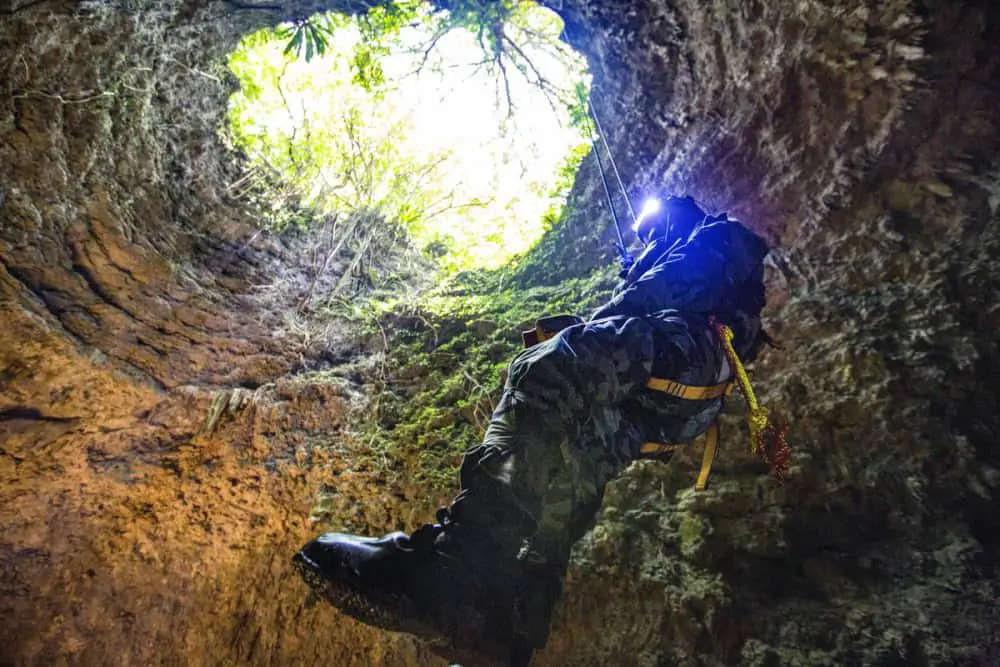 When do I need a caving permit?
Getting a permit to cave is something you should look in to when you're planning to go caving on your own, or in a group you put together (some parks provide package permits, making it cheaper to buy in bulk). Don't bother getting a permit if you're caving in a guided tour, the touring agency takes care of it.
What if I can't get a permit?
Although most known caving spots are located in national parks, hidden gems are often in a grey area when it comes down to needing a permit. If there's nowhere to go for a permit: read into the ecosystem, (extra) clean your gear and yell 'rope' before jumping in.
How much does a permit cost?
The price of a caving permit depends on the cave you are going to visit. Some are free, some cost a few bucks. Prices vary but anything around $50 usually goes a long way. However, if you are planning to go big, prepare to put your money where your mouth is. The price per permit for bigger, more populair caves easily go up to hundreds of dollars. For example, a 3 night permit in Son Doong cave, Vietnam = USD 700.
Useful Resources