Missouri is known as the "Cave State", for good reason. The state has almost 7,300 caves and it is a popular destination for cave tours and caving.
What are the different caves in Missouri? Show caves are caves open to the public and Missouri has many of them. Show caves usually offer guided tours and are generally safe for cavers. Wild caves are caves that do not offer guided tours, and many are considered risky for all but the most experienced caver.  Exploring show caves is an exciting way to see landscape unchanged for, perhaps, millennia.
Caving is an adventurous, exciting past time and it's a great way to get outdoors and get exercise. We'll tell you the best caves to explore in Missouri and give you their locations and coordinates in case you want to check some out for yourself.
Show Caves in Missouri
Show caves in Missouri are split into two categories: state/federal run caves and privately owned caves. All have various fees and some even offer guided tours. All are fun and educational.
The main difference between the two categories are that privately owned caves tend to cost more money per ticket, but they also have more on-site attractions.
Below find our picks for the best in both categories, along with some information on wild caves.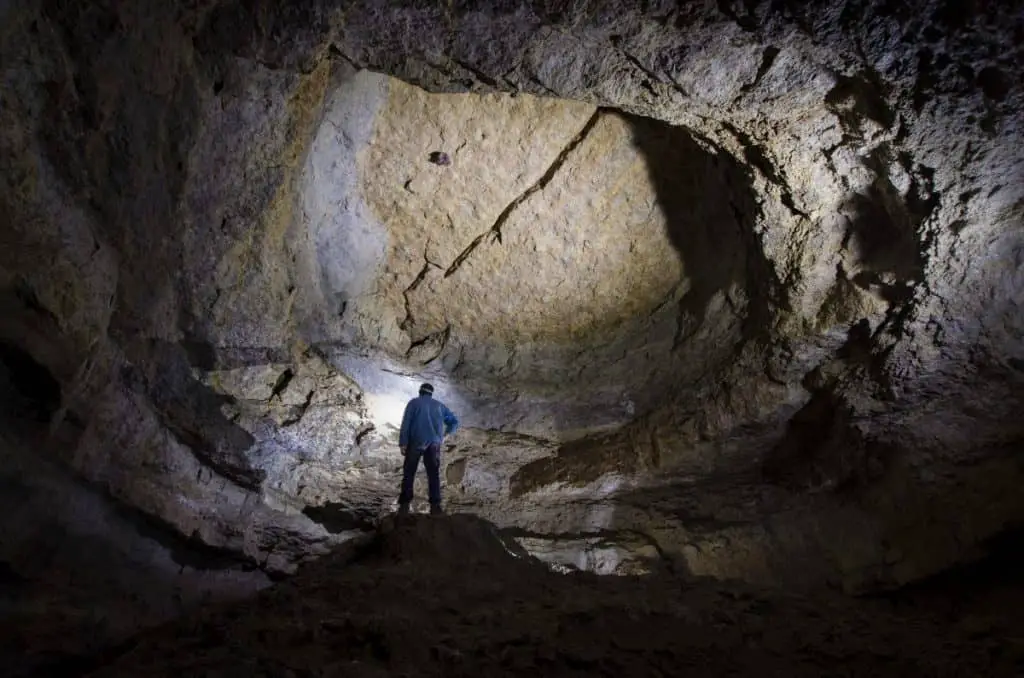 Best State Run Caves
State/federal run caves are generally less expensive but have less amenities. Below are our suggestions for the best state or federally run caves:
Onondaga Cave
Cathedral Cave
Fisher Cave
Ozark Caverns
Round Spring Cave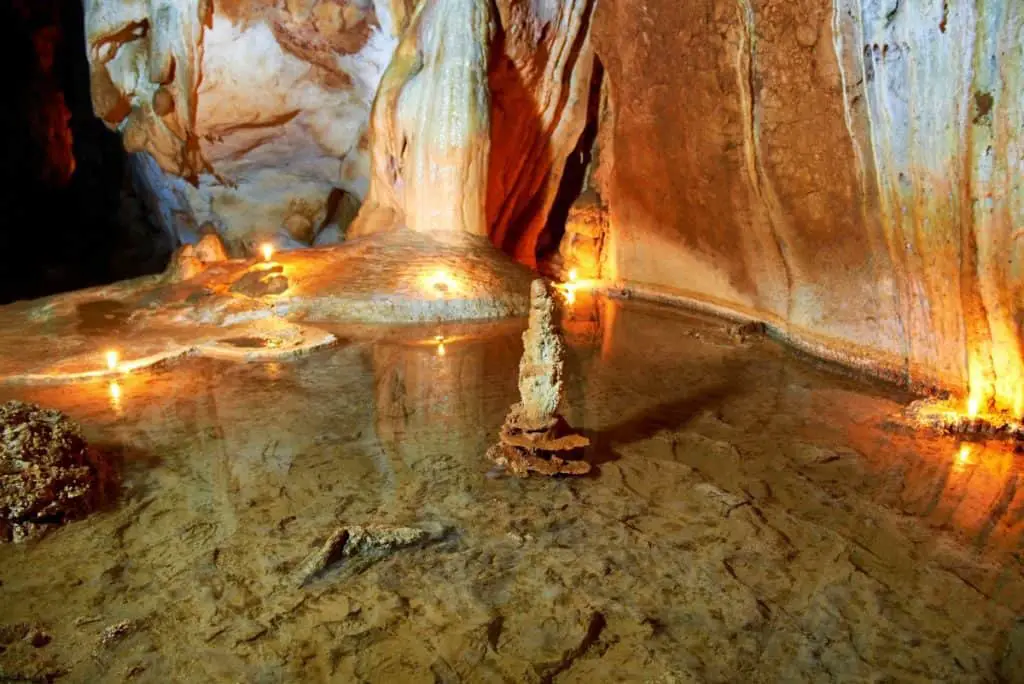 1.     Onondaga Cave – Leasbury, MO – 38.0620˚ N, 91.2362˚ W
A river flows through this National Natural Landmark but don't worry. Onondaga Cave has 1.5 miles of passages and is a very accessible cave for even novice cavers. Tours follow a paved walkway with a stainless steel railing. Lights illuminate the walkway so you can easily see the rooms around you.
Onondaga has features such as the Twins, the King's Canopy, the Lily Pad room, the Big Room and the Rock of Ages. Stalactites and stalagmites form incredible artwork and amaze the tourists that flock to this natural wonder.
Tours for Onondaga run from April to October. The guided walk is just shy of one mile and takes about an hour and 15 minutes. Tours are $15 for all over 13 and $9 for ages 6-12. Children under 6 are free. Onondaga, like most caves, stays a chilly 57 degrees year round so make sure to take a jacket.
2. Cathedral Cave – Leasbury, MO – 38.06083˚ N, 91.22722˚ W
Once you finish Onondaga Cave, check out Cathedral Cave, located in the same Onondaga Cave State Park on the Meramec River. The state park is about 5 miles southeast of Leasbury.
Cathedral offers a guided tour, beginning in the upper passage and ending at a large bell-shaped wall of flowstone called Cathedral Bell, from where the cave gets its name. This bell is 25 feet high and 15 feet wide, a stunning example of flowstone. The tour has a walkway and handrails.
You may also see an underground earthquake monitoring system set up by St. Louis University. Or, if you're feeling very adventurous, the site offers a once a month off-trail tour from Cathedral Bell to the original entrance. This path is not lit and is left in the natural state for a more primitive caving experience.
The Cathedral Cave tour is a lantern tour and lasts about two hours. It's about two miles round trip and is more strenuous than the Onondaga Cave tour. Prices are $10 for adults, $8 for ages 13-17 and $6 for ages 6-12. Children under 6 are free.
3. Fisher Cave – Meramec State Park, Sullivan, MO – 39.53389˚ N, 91.33806˚ W
Fisher Cave is a naturalist's dream. Low, narrow passages parallel the underground streams to huge underground rooms filled with up to 30 feet tall columns and helictites. Various wildlife make their home in the cave and you could see some of them. There are even bear claws on some walls.
This cave is great for first time explorers. It's located at Meramec State Park in Sullivan and guided tours are available from mid-May to mid-September. Tours are $10 for adults, $8 for teenagers 13-17, and $6 for kids 6-12. Children under 6 are free.
4. Ozark Caverns – Lake of the Ozarks State Park, Kaiser, MO – 38.054592˚ N, 92.583540˚ W
Ozark Cave is a great cave for those looking for a true caver's experience. The public portion of the cave is in its natural state and visitors must carry lanterns for the tour. There are plenty of bats and the state is very protective of the bat population, so follow safety precautions. You can also see salamanders and up to 16 species of invertebrates.
Ozark Caverns features "Angel Showers", a perpetual water shower dripping from above. Further along, there is a wall of clay with bear claw marks hundreds of years old.
Ozark Caverns is open from mid-May to mid-September. The tour is $10 for adults, $8 for teenagers 13-17, and $6 for kids 6-12. Children under 6 are free.
5. Round Spring Cave – Van Buren, MO – 37.1907˚ N, 91.2763˚ W
Round Spring Cave is an anomaly in that it is an open cave on federal land. Most federal caves are now closed to protect bats from white nose syndrome, a disease fatal to bats but harmless to humans. This is a strenuous hike through the underground and is not recommended for those with health problems.
But if you are up for some exercise, Round Spring Cave is a beautiful site. Park Rangers conduct two hour lantern tours, helping visitors explore a subterranean ecosystem of stalactites, stalagmites, cave salamanders and bats. It's a taste of real caving.
Be warned – park rangers only take the first 15 people to show up and reservations are not taken. The park accepts cash only and no change is given. Tours are $5 for adults and $2 for children. It is open from June to Labor Day.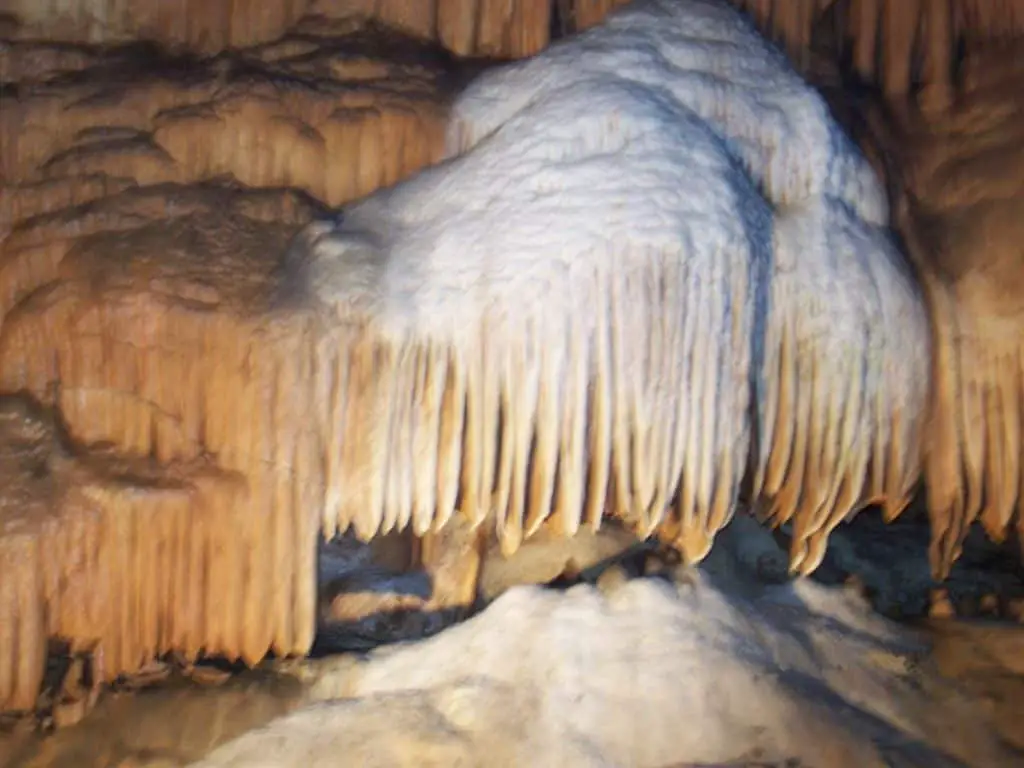 Best Privately Owned Caves
Privately owned caves in Missouri may be more expensive but they do offer more on-site attractions. At one site, you may find mini-golf and at the other, an entire theme park. Most have campsites available nearby.
The best privately owned caves in Missouri are:
Mark Twain Cave
Current River Cavern
Marvel Cave
Jacob's Cave
Bridal Cave
Fantastic Caverns
Talking Rocks Cavern
Bluff Dwellers Cave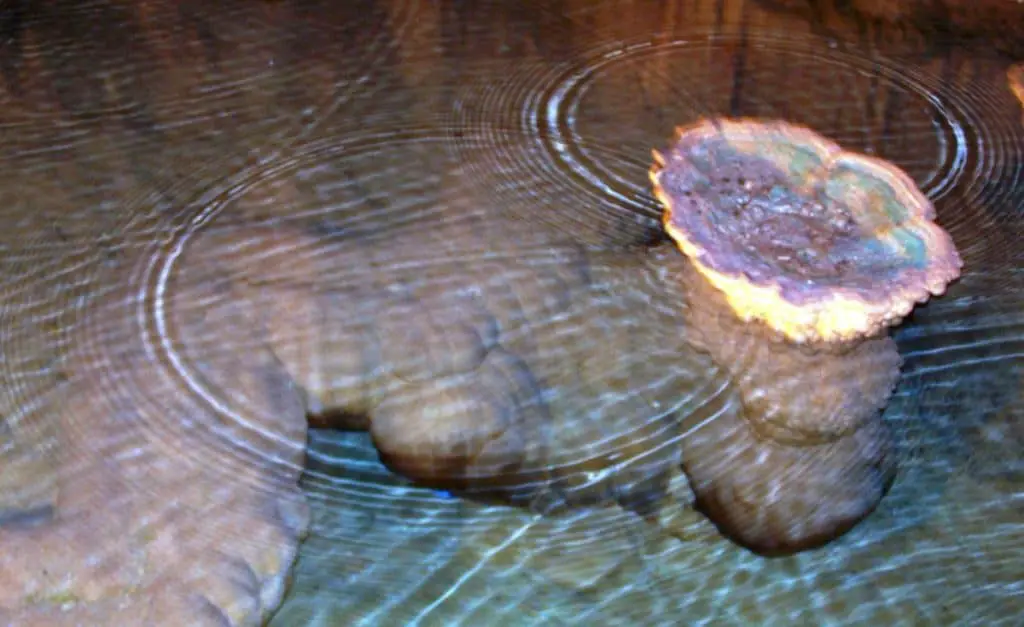 1.     Mark Twain Cave – Hannibal, MO – 39.4119˚ N, 91.1954˚ W
Missouri's oldest show cave is also the inspiration for some of Mark Twain's most famous stories. Legend has it that Samuel Clemens, Mark Twain's real name, played in the cave when he was younger and based his cave scene in The Adventures of Tom Sawyer on his adventuring.
Twain wasn't the only famous person to use the cave for adventures. Jesse James, the infamous young bank robber, allegedly used the cave as a hideout in 1879 after he robbed a train in nearby Saverton.
The Mark Twain cave is adjacent to Cameron Cave, which is the third largest maze cave in the Northern Hemisphere. Both the Mark Twain and the Cameron caves are good examples of maze caves – caves with multiple narrow, winding passages. Neither cave has the common features of stalagmites and stalactites in open areas found in the other caves on this list.
The tour of Mark Twain cave starts with a video of how the cave was created and also about the writings of Twain. Guides take visitors on a 60 minute lantern tour through the walkways. The Cameron Cave tour lasts about one hour and twenty minutes and offers visitors lanterns or flashlights to achieve a real cave experience.
The caves are open Memorial Day through Labor Day mark Twain costs $19 for adults, $10 for kids 6-12 and $4 for children 5 and under. Cameron Cave costs $2 more per category.
2. Current River Cavern – Van Buren, MO – 36.9777˚ N, 91.0359˚ W
Current River Cavern is a pretty show cave in Missouri, offering a year-round stream under the boardwalk running through the tour passage. A small waterfall can be viewed from a side passage after a heavy rain. It has a wide variety of natural cave formations.
The cavern has no lighting, relying instead on remote controlled, battery powered LED lights so as not to disturb the cave life or promote algae growth. Flashlights are available to borrow in the gift shop.
Cave tours are $16 per adult and $9 for children under 12. They are given all day and last about 30 minutes. Current River Cavern is open March 1st through September 7th.
3. Marvel Cave – Branson, MO – 36.6675˚ N, 93.3397˚ W
Marvel Cave is part of the Silver Dollar City theme park in Branson and prices are included in the theme park tickets. It is believed to have the largest cave entrance in the country.
This cave is the deepest in Missouri, at 505 feet, and 600 stairs take visitors far below the surface. Guests begin in the Cathedral room, a huge room 204 feet tall and 225 feet wide. A well lit concrete path leads people to the Waterfall room, one of the only illuminated features in the lantern tour of Marvel Cave. The cave also features a 55 foot stalagmite called The Liberty Bell, for the crack in the side of the formation. The Dungeon has iron oxide stained walls that make it look as if the walls are covered in blood.
Theme park tickets are $65 for ages 12-61 and $54 for children aged 4-11. Seniors over 61 pay $63. The theme park is open year-round.
4. Jacob's Cave – Versailles, MO – 38.346840˚ N, 92.835620˚ W
Jacob's Cave is a huge cave and one of the only handicapped accessible caves in Missouri. Strollers and electric wheelchairs are welcome. It features a boardwalk and handrails.
The cave offers reflective pools, prehistoric bones, and the world's largest geode. Massive stalactites and columns can be seen as part of the mile long tour.
Tours are $18 for adults and $9 for kids aged 5-12. Younger children are free. Tours are offered year-round.
5. Bridal Cave – Camdenton, MO – 38.060596˚ N, 92.793102˚ W
Bridal Cave is well named. Many couples use the cave for their wedding, due to the large, open rooms. Legend has it that a native couple was married in the cave hundreds of years ago and the tradition began. Over 3,000 couples have exchanged vows there.
Bridal Cave offers stunning beauty, adding to its charm. It has giant columns, stalagmites, stalactites, and fragile "soda straws", tiny cylinders of calcium carbonate. It also has a Mystery Lake, filled with cold, clear water.
Guided tours are $18 for adults and $9 for children 5-12. Children younger than 5 are free. Tours are offered year round.
6. Fantastic Caverns – Springfield, MO – 37.2880˚ N, 93.3596˚ W
For those who have mobility problems, Fantastic Caverns is the place for you. The caverns offer a ride-through tour in a Jeep drawn trailer, perfect for people who have trouble getting around.
The caverns are massive, and full of huge formations, "soda straws", cave "pearls", flowstone and massive columns. The Jeep follows a large, dry riverbed through the cave. You'll hear many stories during the tour, including how the caves were used as a Speakeasy during Prohibition.
Tours are offered year round and are $24 for adults and $17 for kids 6-12. Children 5 and younger are free with parents.
7. Talking Rocks Cavern – Branson West, MO – 36.67.955˚ N, 93.37.820˚ W
Talking Rocks Cavern was once called "Fairy Cave", because the early cave developer, Truman Powell, said it looked like "a subterranean fairy land".
The cave is not a very large one, but it is mostly vertical. Prepare for steep stairways and don't attempt if you have limited mobility. It is a lighted, guided tour with narrow passages. It has stunning formations.
Tours are year round and tickets are $19 for adults. Kids 4-12 pay $10 and children 3 and younger are free.
8. Bluff Dwellers Cave – Noel, MO – 36.51883˚ N, 94.48699˚ W
Bluff Dweller's Cave gets its name from the Paleo-Indians, called Bluff Dwellers, who lived in the caves around 12,000 years ago. They have about 4,000 feet of explored passages.
Highlights of the guided tour include a thick rimstone pool about 25 yards long and a formation called The Musical Chimes, hollow rock stalactites that produce a musical frequency like a xylophone. They have an attraction called The Ten Ton Balanced Rock, which rests on two pivots. You might also see some cave animals while you're there, including salamanders, bats and crayfish.
Bluff Dwellers is open year round and offers guided tours that take approximately one hour. Tours are first come, first serve. Tickets are $19 for adults and $10 for kids aged 4-11. Children 3 and under are free.
Wild Caves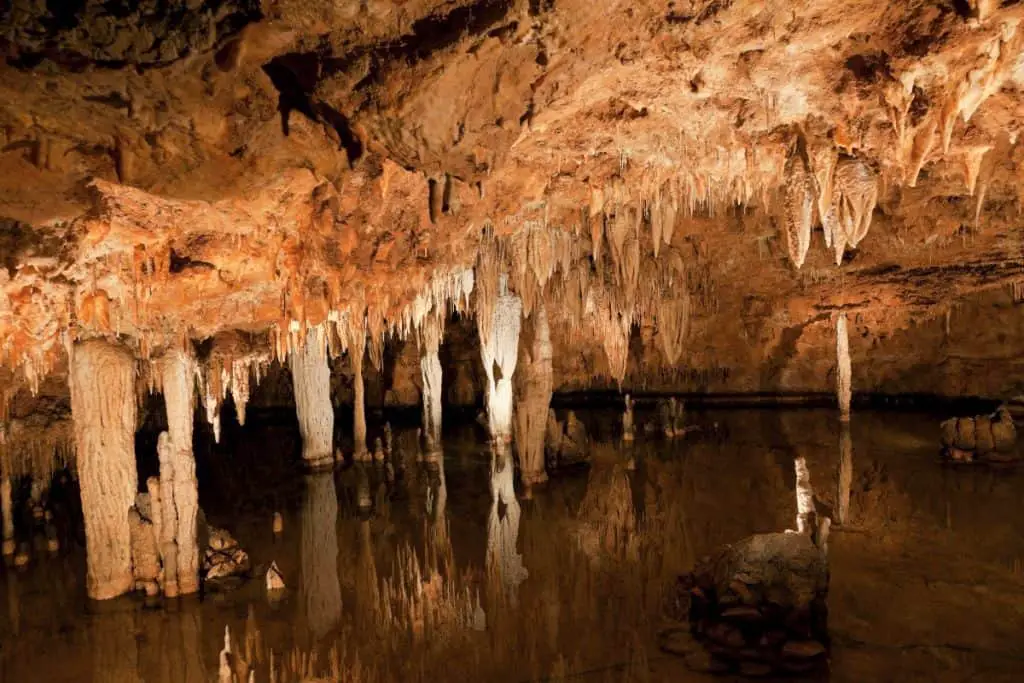 Of Missouri's over 7,000 caves, only about 20 are show caves, or caves open to the public. The vast majority of caves are privately owned and unavailable to the general public, either because owners don't want the public to harm the caves or they don't want the liability for any harm that may come to cavers.
This doesn't mean you can't explore caves that are off the beaten path. You just have to have experience and ask the owner's permission. The best way to get experience is to join a caving club, called a Grotto.There are plenty scattered all over Missouri, like the Meramec Valley Grotto or the Ozark Highlands Grotto. Once you join, you'll learn how to safely enter caves and learn which caves are off limits.
Caving is fun and exciting and a great way to get out and enjoy nature. However, caving can also be dangerous so it's good to have people you can count on to explain the safety measures cavers must take.
If you are hungry for more caving after visiting the ones on this list, we highly suggest you join a caving club.
Karst – Keeping It Healthy
Karst is a region of porous limestone containing sinkholes and deep fissures. It's the most common kind of geology found in Missouri. This is why Missouri is also known as "the Cave State". Geology like this makes it very easy for caves and caverns to form underground. Once underground springs meet the limestone, they form deep and long pockets, eating away at the natural rock. Once those springs subside, you have caves.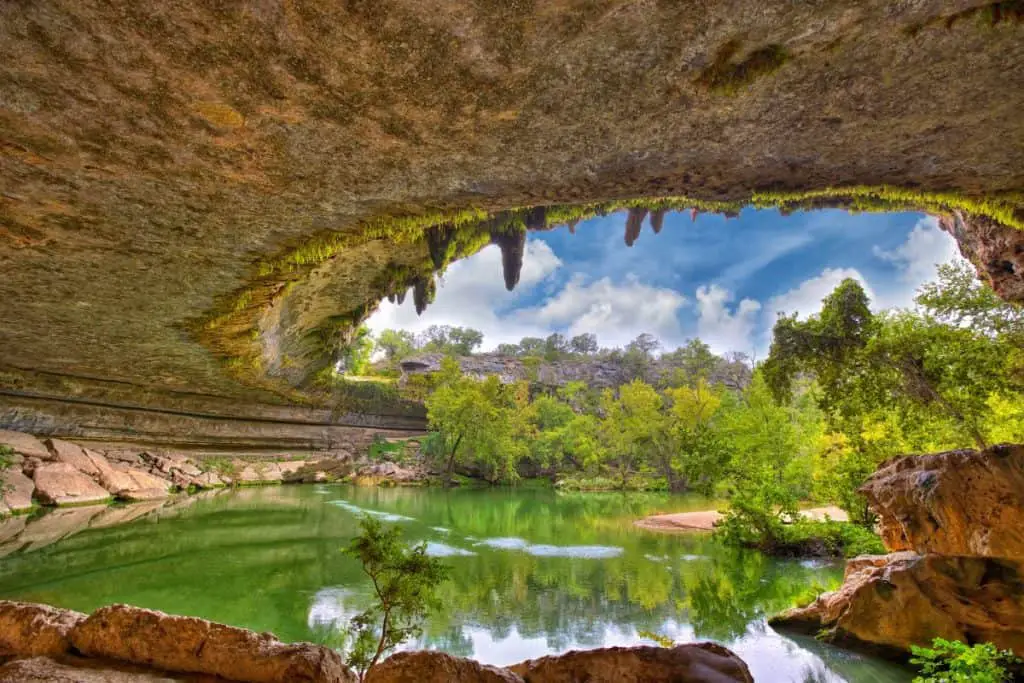 Conservation is an important part of keeping the karst and cave habitat healthy. Too frequently, humans can spread diseases and harmful bacteria to the native cave dwellers, with deadly results. One disease easily passed from humans to bats is white-nose syndrome. While harmless to people, it's disastrous for bats.
Towards that end, there are some things a caver should know, especially if you're a novice.
Avoid touching surfaces when you visit a cave

Always clean your clothes, shoes and gear between cave visits

Leave nothing in the cave

Take nothing out of the cave
Because of appearances of white-nose syndrome in 2010, almost all state run caves are now closed to the general public. The only exceptions are for:
Research
Survey
Monitoring
Mapping visits
Go Caving
If you're interested in caving, you should go to Missouri. With dry caves and aquatic caves, accessible caves and challenging caves, there's definitely one for you. Just follow the rules, remember to protect the natural environment and its inhabitants and be safe. Happy caving!
---
This is a tricky one since it's not a questions but I would say something like "Are there caves in Missouri? Or "What's it like to cave in Missouri?"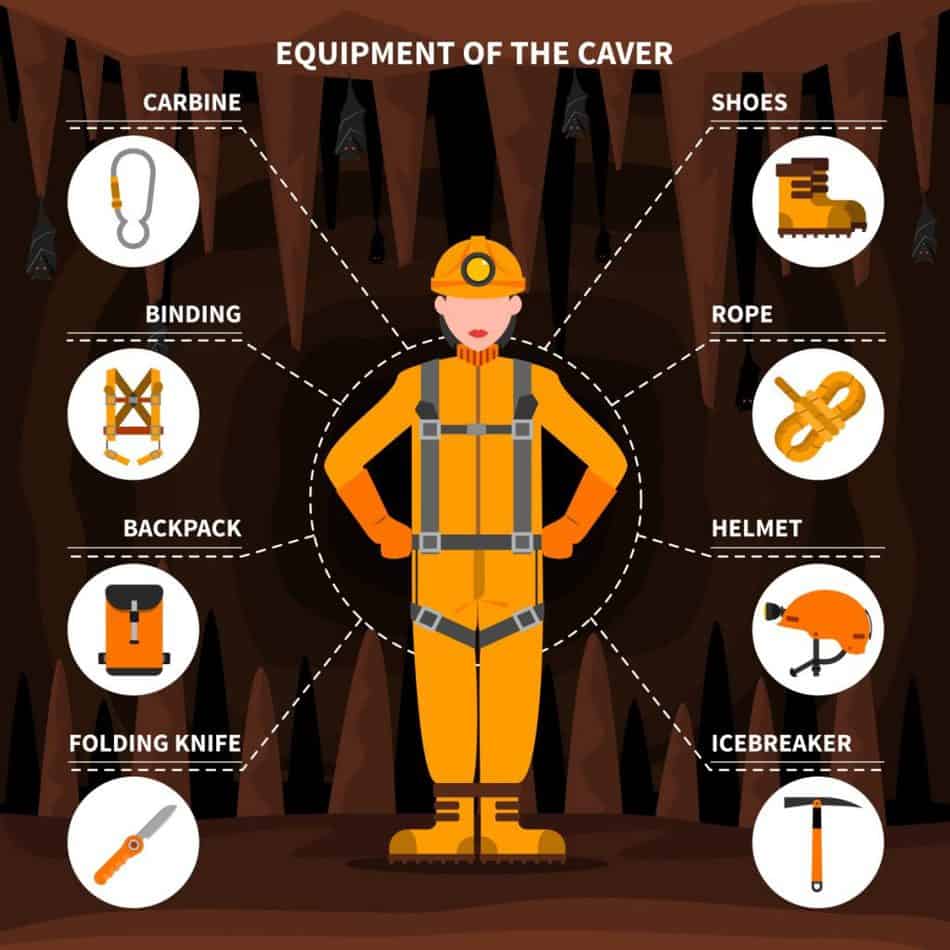 When you're ready to get started caving, be sure to read my Beginners Guide and check out my recommended gear section.