If you want to know where to go caving in India, look no further. You're in the right place. In this article I'll discuss India's secret caving paradise Meghalaya. Both for tourists, beginners, and experienced cavers, there's plenty for everyone.
Where to go caving in India? The Meghalaya region is the most cave-rich area on the Indian subcontinent. It offers suitable caves for tourists, beginners and especially for advanced cavers. There are dozens of (very) technical caves to be found, which involve SRT, swimming, and even diving. This region has the largest caving potential in India.
But this is unexplored territory, so you can't just fly out to Guhawati airport, book a hotel, rent a car, and get to your caving destination the next day. You have to get creative.
The article consists of four parts.
First, I discuss why Meghalaya is so great for caving.
Then I'll walk you through some great caves for beginners.
In the third section I'll list some great wild caves for more experienced cavers. These section also give the location and some instructions & tips for each cave.
In the fourth section, I talk a bit about how to get to each region and give some travel tips.
This is a long article, so I've added a table of contents to make it easier for you to navigate:
In this article:
List and Map of Meghalaya Caves
| Cave | Region | Difficulty | Location |
| --- | --- | --- | --- |
| Mawsmai Cave | Khasi Hills | beginner – show cave | 25.24457, 91.72408 |
| Krem Lawshynna | Khasi Hills | beginner – show cave | 25.29996, 91.72638 |
| Krem Lubon | Jaintia Hills | beginner | 25.1708, 92.2731 |
| Krem Lymput | Khasi Hills | beginner | near Nongjri Village |
| Krem Dam | Khasi Hills | beginner | 25.30693, 91.5923 |
| Krem Ri-Blai | Khasi Hills | intermediate | near Byrong Village |
| Krem Mawmluh Cave | Khasi Hills | intermediate – grade 2 | 25.25794, 91.70717 |
| Krem Umthloo | Jaintia Hills | intermediate – grade 2 | near Chiehruphi Village |
| Krem Liat Prah | Jaintia Hills | intermediate | 25.3505, 92.51669 |
| Krem Chympe | Jaintia Hills | intermediate | 25.16734, 92.44509 |
| Siju Cave | Garo Hills | intermediate | 25.35095, 90.68412 |
| Krem Iawe | Jaintia Hills | advanced | 25.359408, 92.381362 |
| Kotsati System | Jaintia Hills | advanced | 25.17886, 92.37395 |
| Tetengkol Balwokol | Garo Hills | advanced | 4 km north of Nenghkhong Village |
Meghalaya Is Caver's Paradise
If you're a real caving enthusiast, you should consider traveling to Meghalaya. Meghalaya is in the top 10 of caving destinations in the world, and many caves are still undiscovered.
Meghalaya is a northeastern state of India. Worth the money and time. It's really India's caver's paradise. The area has more than 1,200 caves, and has the most caves on the entire Indian sub-continent.
9 out of 10 of the longest or deepest caves in India are in Meghalaya. Those are convincing numbers.
The reason for this wealth of caves is the large amount of limestone deposits and the climate, which provides lots of acid water to carve out these caves over millions of years.
There's a huge underground system that's more than 300 km (185 miles) long. Most caves flood regularly or require swimming to enter. There are plenty of experienced caving guides that can help you explore the caves. Meghalaya is getting popular among cavers.
There are three main regions:
For cavers, there are basically three main areas of interest in Meghalaya:
Jaintia Hills – east Meghalaya, with some of the most cave-dense regions in India
Khasi Hills – central Meghalaya, has the most show caves, like Mawsmai cave
Garo Hills – western Meghalaya, has some very impressive river systems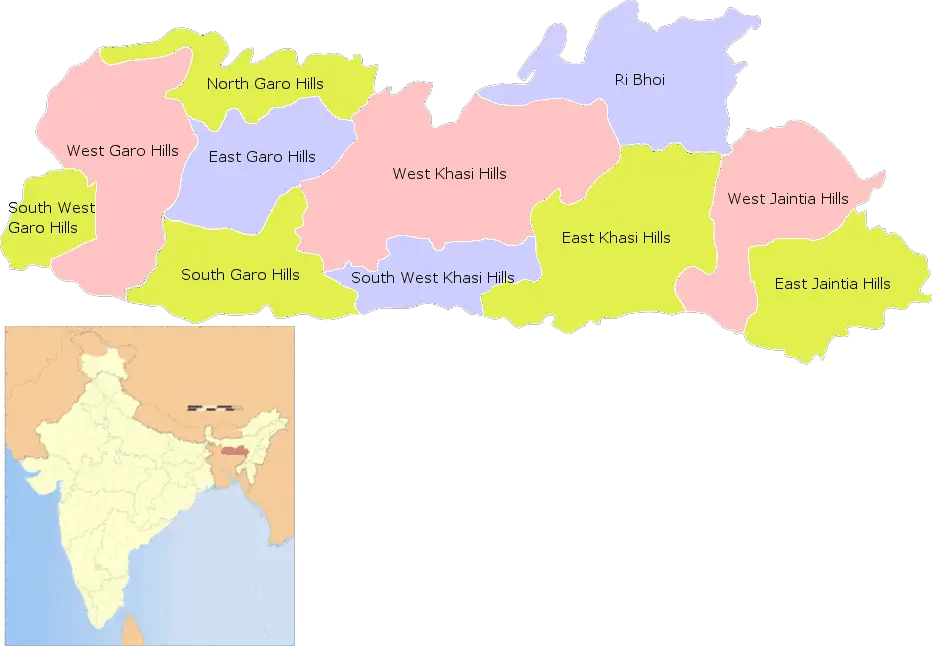 These regions are all part of the Meghalaya subtropical forests. This is one of the wettest places on Earth – it's raining about 80% of the time. That's exactly why there are so many caves here. There's plenty of acidic rainwater to carve out the most gorgeous cave systems.
The best region for advanced caving are the Jaintia Hills. The Shnongrim Ridge is the ultimate caving destination. It contains hundreds of caves.
The Khasi Hills have the most show caves and guided cave tours. This is a great caving destination if you're just starting out.
The Garo Hills contain some beautiful river cave systems, which are a bit more advanced but well worthwhile in my opinion.
There are a couple of ways to get about
There are some trip planners that provide full caving experiences there. I recommend contacting one of these following organizations if you want a hassle-free caving vacation. They take care of the guides, transport, gear, and so on.
If you are an experienced caver and want to plan your own trip, that's of course fine as well. Below I have a list with some cool caving destinations. I include their location and a short description as well. I hope this is a helpful resource for planning out your trip.
The people here are miners and farmers. They are not the friendliest, but they are real. If you are respectful, they are helpful. Most people are cheerful.
Beginner Cavers vs. Experienced Cavers
I want to say right of the bat that there are different types of caving. Some people mean they want to take a guided tour through a cave. But here at StartCaving, we mean business. Caving, for me, means to explore unknown territory.
If you're just getting into caving, that's fine, and you probably want to test the waters first.
I want to be helpful to everybody, so I will list a short summary of (guided) tourist caves below. These caves are also called show caves, and are well-maintained, are well-lit, and offer guided tours. If you're new to caving I suggest to start here and see if caving is for you.
If you're unsure what to wear on your caving tour, read my article here.
But if you're really into caving, after that first experience you'll probably want more – a lot more. So for people who are looking for a more advanced type of caving, I've listed some real adventurous experiences down below.
Special shoutout to the Bristol Exploration Club. They have explored many cave passages here in multiple trips. You can find one of their reports on exploring Meghalaya here.
Popular Caves for Beginners
If you just want to experience caving in a safe environment, your best bet is to go to one of many guided tours in the are. The great thing about this region is that many caves are still being explored, so the caves are a bit more adventurous than the show caves in for example the U.S.
The most popular and well-known cave tours here are these three:
1. Mawsmai Cave, Khasi Hills
Beautiful cave
Good beginner caving experience
Can be difficult to traverse
You have to be in good shape
Cave is lighted
Can get busy in tourist season
Location: 25.24457, 91.72408
This is the most popular tourist cave of the area. It's also the busiest, safest, and best maintained cave of the area. It's near Cherrapunji and Mawmluh Cave. The entire cave is lighted, so you don't need a headlamp (I always bring my own, no matter what). It's a great cave for beginners, but it has some difficult passages.
2. Krem Mawmluh Cave, Khasi Hills
One of the longest caves in India
Good intermediate caving experience – grade 2 cave
Has narrow passages, can be difficult if you're very tall or heavy
Passages are partially lighted
Involves crawling and squeezing and a bit of vertical caving
You have to be in good shape, it's a pretty demanding cave for beginners
Can get busy in tourist season
Location: 25.25794, 91.70717
Also called Krem Mawkhyrdop, this is a popular tourist cave. At 7,194 m (23,600 ft), it's one of the longest caves in India. The ceiling is low (0.75 meter – 2.5 feet) and it's a very wet cave, so prepare for a lot of wading. Because of the combination of low ceiling and water it can be a claustrophobia-enducing cave. It's a challenging one. Also has a large amount of bats, and is only partially lit.
If you're a beginner caver and are looking to challenge yourself, this is the perfect place for you. It's actually very close to Mawsmai Cave. Start off there, and if you like it, go to this one next.
Please note that you do need quality caving gear for this trip, and also a local caving guide.
If you want to know what clothing and equipment you need, I have an article that explains everything you need. You can learn more about Caving Equipment read it here.
3. Krem Lawshynna, Khasi Hills
Good beginner caving experience
Has narrow passages, and involves crawling and squeezing
This cave contains a lot of fossils
This cave system is still being explored
The system is about 3 km (2 miles) long
A quarter of the cave is lighted
There are guides – but there's an area you can explore on your own (ask the guide)
Location: 25.29996, 91.72638
Also called Arwah Lumshynna Cave, this cave contains a large amount of fossils. It offers a great caving experience for beginners and is still challenging enough. Located close to Krem Mawmluh and Mawsmai Cave, these three caves are the perfect three-day caving holiday for beginners.
What to wear on a caving trip
Mostly, you want to wear old and tough clothing. Rocks can be pretty sharp and they will catch onto your clothing. You want to wear a suspended safety helmet with a chin strap and a headlamp. Also, bring at least three independent light sources.
I like to wear good protection inside caves. The environment is rough. So what should you get? I've written an article that tells you exactly what to get, whether you're on a budget (who isn't?) or have plenty of money to spare. No worries: you can get yourself some pretty decent gear, even on a tight budget.
If you want to know more about what gear to get, I recommend reading my Ultimate Buyer's Guide for Cavers on a Budget.
The 11 Best Wild Caves
All of the following caves are 'wild' caves, which means there are no guide tours and no facilities at the locations. Most of these caves are largely unexplored. Exploring wild caves is one of the most thrilling experiences there is, but you need to be a competent caver to ensure safety.
If you don't have any experience, I really recommend to read my article about how to get started caving. It walks you through all the basic info you need to know and gear you need to have to get started.
Jaintia Hills
1. Krem Liat Prah
Longest cave in India, currently at 30,957 m (101,600 ft)
Has a large trunk passage, called the Aircraft Hangar, which is open to tourists
Requires wading, crawling, and walking
Wet cave with low ceilings
Quality caving gear is required
Cave can be unstable, due to heavy mining operations in the area
Beginner cavers should go with a tour guide
Location: 25.3505, 92.51669 (estimation)
Krem Liat Prah is the absolute Jewel of Meghalaya – if I may say so. Extremely daunting and exciting to explore. If you plan to travel for a real caving experience, go to this cave, while you still can.
The cave is part of the Above the Clouds Project (Meghalaya means 'above the clouds' in Sanskrit). This is a relatively new expedition project that has already explored more than 400 km (250 miles) of cave systems in the region. You can find them here.
Where is Krem Liat Prah? Krem Liat Prah is located on the Shnongrim ridge in the Eastern Jaintia Hills, Meghalaya, near 25.3505, 92.51669. It's near Shnongrim Village It's roughly a 2-hour drive from Shillong. The entrance is a large opening in the base of a cliff, where the river is flanked with high mud banks and boulders.
2. Krem Chympe
Cave is about 10.5 km long (6.5 miles)
You need to swim 200 meters to enter the cave
Has a river running through
Home to large bat colonies and cave fish
Location: 25.16734, 92.44509 (estimation)
How to get there: walking distance, roughly 3 kms (2 miles) north of the track from Khaddum to Sialkan. My guess is around Bishirnot.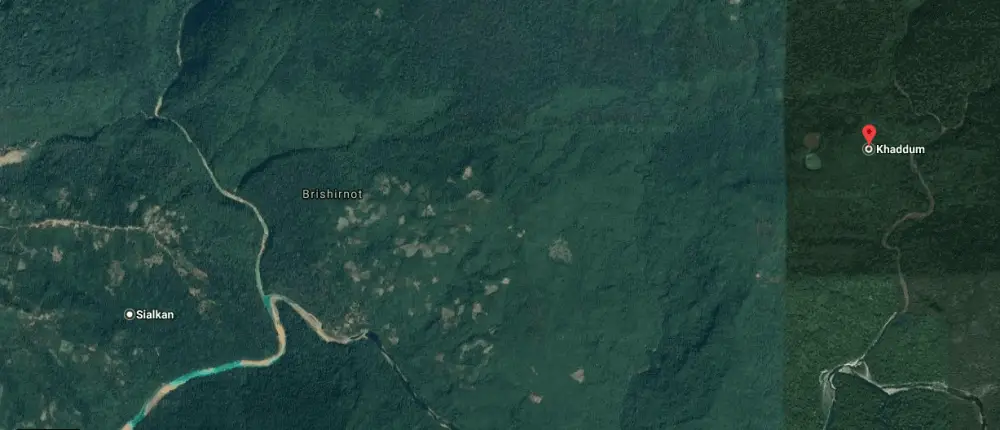 3. Krem Lubon
Impressive entrance (16x8m or 52×26 ft)
After entrance passage a lot of breakdown chambers
Ends in wet crawl
Location: 25.1708, 92.2731
Krem Lubon's entrance is hidden behind a 30m (100ft) waterfall, which is impressive. So it looks like 'the Phantom Cave'. It's a resurgence cave, so be prepared to get wet. It's only 687m (0.4m) long but is worth visiting. The difficulty of this cave is moderate: it contains a lot of breakdown with unstable boulders.
This cave requires good horizontal caving technique and the right gear. Definitely get the right wellies and helmet for this one.
4. Krem Umthloo
Grade 2 cave – moderately difficult
Lots of wet passages (waist deep)
Underground river cave of 18 km (11 miles) long
Multiple pothole entrances (Krem Myrliat, Krem Moolale) of 50 – 60 m deep
Great caving experience – beautiful cave formations
For advanced cavers – requires vertical caving and wet caving
Location: near Chiehruphi Village
How to get there: To get to the entrance, you walk down to the slope from Tongseng village. There you'll find a sink, which you can free climb. Here is a downward passage you can use to enter the system. The underground river resurges at Krem Ticha.
5. Krem Iawe
Pothole entrance – requires vertical caving
Wet cave
For experienced cavers
3.4 km (or just over 2 miles) long
Has some passages with fossils
Location: 25.359408, 92.381362
Located at the eastern flank of the Shnongrim-Tangnub ridge.
The cave has a 15 m (or 50 ft) deep pothole entrance (10×15 m or 30×50 ft wide). The entrance is daylit, making it a sight to behold. It's a complex maze of wet passages with orange rimstone passages.
You can either enter rappeling the pothole, or free climb a nook at the edge of the pothole.
6. Kotsati – Umlawan Cave System
Large cave system with 24 entrances
Great for advanced cavers and group expeditions
Requires swimming to enter
Entrances are both vertical and horizontal
2nd longest cave system in India
21,530 m (70,640 ft) long
Location: 25.17886, 92.37395
The entrance to Umlawan Cave System is right in the center of the village Lumshnong. They use the pond as a washing place. During the monsoon (wet season) the entrance is submerged and it's difficult to enter.
It's the second-longest known cave system on the Indian subcontinent, at 21,530 m (70,640 ft) long. Which is pretty impressive.
There are some facilities in the village, like a health center, ATM, hotel (2 km down the main road), post office, and stores.
Khasi Hills
7. Krem Lymput
Good cave for beginner cavers or tourists
Hard to find
6.5 km (4 miles) long
Impressive passages
Location: 6 km (3.7 miles) from Nongjri.
The entrance is hidden in the jungle, and also covered by boulders. So it's very hard to find. I haven't found a precise location for the entrance.
After a 1 km long passage you enter the passage 'Way to Heaven'. It leads you to the gigantic Mughal Room – 25x25m (80×80 ft) and 75m (250 ft) long.
8. Krem Dam
Good for beginner cavers
Large river cave
Short cave
Krem Dam is a beautiful cave and it does have some significance for cavers, but it's mostly a great place to take beautiful pictures. The main river passage ends in a roof collapse. You can still see daylight here. Apart from this passage, it has a maze of side passages that can be explored.
Location: 25.30693, 91.5923
9. Krem Ri-Blai
Mostly vertical
Great vertical caving experience for beginner to intermediate cavers
Contains lots of waterfalls
Deep potholes and shafts
Location:
How to get there: first drive to Wahlong Village, then trek to Byrong Village (about 30 minutes).
A mostly vertical cave, Krem Ri-Blai is a bit more technical and perfect for beginner cavers that want to acquire vertical experience. The vertical shafts are short, interspersed with chambers and horizontal passages. There are steel ladders for the entrance drop.
Garo Hills
10. Tetengkol Balwakol
Large cave system
Two sinkhole entrances
Dendritic river cave
5.7 km (3.5 miles) long
Intricate maze to explore
Location: 4 km (2.5 miles) north of Nengkhong village
How to get there: first, drive to Nengkhong, then hike up through the forest to the entrance
This cave has a small entrance but the system it leads to is huge. The passages are of standing height so it's pretty comfortable to explore.
Dendritic means it has many branches (tree-like). Since this is a complex river cave, please make sure to check flooding conditions before entering. Check water levels, but also ask local cavers. If you're inexperienced or new to the region, I definitely recommend finding a local guide.
The Bristol Exploration Club has explored this system in 1994.
11. Siju Cave
Among India's longest caves
Wet cave with wading and swimming
Beautiful river passages
Large stalagmites and stalagtites
4.8 km (3 miles) long
Unknown to tourists
No support available – make sure to carry your own quality gear
Location: 25.35095, 90.68412
Siju Cave is also called 'Bat Cave' (or 'dabokhol' in the local language). It has some of the most beautiful vadose river passages in the world.
This cave is not very well-known among tourists and the local village doesn't have a restaurant or hotel. So you have to reach out to the locals if you wish to stay there. There are guest houses of the Forest and Tourism Department.
If you wish to explore this cave, it's important you plan your trip right. Do not enter the cave alone and without informing someone on the outside. Also, make sure you bring the right equipment. I recommend finding a local guide to be safe.
Tip: nearby are the Rongdong Falls, which are very beautiful also.
How To Get To There
If you're excited to go, what is the best way to get there? Unless you're from the area, your best bet is to go by plane.
The nearest international airport to all three regions is Lokpriya Gopinath Bordoloi International Airport in Guwahati. The nearest railway station is Guwahati Railway Station, at about 190 km (120 miles).
From here you could take a bus, sumo, or car deeper into the hills.
You could also hop from Lokpriya Airport to the small Shilllong Airport. Shillong is the capital of Meghalaya. This gets you a lot closer to Jaintia and Khasi Hills, but not to Garo Hills.
Jaintia Hills
From Guwahati – Jaintia Hills: 170 km (105 miles) or 4-hour drive
From Shillong – Jaintia Hills: 80 km (50 miles) or 2-hour drive
The most logical base camp for the Jaintia Hills is Nongjrong, or Khliehriat (for East Jaintia Hills).
Khasi Hills
From Guwahati – Khasi Hills: it's about a 150 km (95 miles) or 3.5-hour drive
From Shillong – Khasi Hills: it's roughly a 50 km (30 miles) or 1.3-hour drive
The most logical base camp for the East Khasi Hills is Cherrapunji Village, which is about 15 km out. It's a well-known city, the wettest town on Earth. They say it always rains in Cherrapunji (80% of the time – but mostly at night). Cherrapunji is also called Sohra. It's a small town with basic facilities like restaurants and hotels. To get to Cherrapunji you could get a bus or sumo from Guwahati or Shillong (58 km or 36 miles).
For West Khasi Hills, the most logical base camp would be Mairang, which is about 50 km (30 miles) out.
Garo Hills
From Guwahati – Garo Hills: it's about a 210 km (130 miles) or 5-hour drive
From Shillong – Garo Hills: it's about a 315 km (195 miles) or 7-hour drive
The West Garo Hills are about 79 km (50 miles) from Songsak, so this would be the most logical base camp. The Garo Hills are remote – it's a tribal area with little transportation. Smaller towns with hotels (closer by) are Tura and Rongram.
Best time to go
The best time to visit is November to March. This is the dry season, so the water levels in the caves are at their lowest then.
Trivia about this region
Kids here take there name from their mothers' side – its a matrilineage
It's the wettest place on Earth
Most locals don't speak English or Hindi, but guides and officials do
It's the most biodiverse place on Earth
For the most part you will be served rice with pork, but there are vegetarian options as well
Additional Resources
If you're excited to get started and want to know more about the gear you need, I've written an article on it. Check it out here.
If you're looking for quality caving gear, I've got recommendations on most important caving gear, like helmets, headlamps and boots. Before rushing out and buying the best-looking helmet, I encourage you to check out my recommended gear section.
If you want more information on these caves, please contact the local government. You can also find more information on the Meghalaya Tourism website here.
I've already mentioned the Bristol Exploration Club. They have some good reports on their journeys (they're at least amusing to read). And they provide a wealth of insight into the caves and what to expect on this type of expedition. If you're interested, check out their trips on their website.
Related Question
How many cave are there in Meghalaya? The Meghalaya region has more than 1,200 known caves. It's the most cave-rich region of the entire Indian subcontinent. The main regions are the Jaintia, Khasi, and Garo Hills. The Shnongrim Ridge has a large caving potential and contains hundreds of caves. Some of the caves here are among the longest in the world.
Is Meghalaya safe for tourists? Meghalaya is one of the safest places in India for tourists. It's a peaceful farmer's and miner's community at high altitude. The region has many small villages and only few larger towns. Most people are Christian, and women and men have equal rights.
Photo Attribution
Thanks to the following people for letting me use their images and pictures: