While European caves ruled the depth-hit-charts for a long time, from 2001 onwards Georgia has been the unbeatable champion. Four out of five of the deepest caves in the world are located in Georgia – two of them being over 1.24 m (or 2 km) deep. Impressive.
However, the charts change often. Cavers and speleologists regularly explore these cave systems further, setting new record highs (or lows). Especially in the last decades a lot of progress has been made, with cavers going deeper evermore. But for now, these are the numbers.
The 5 Deepest Caves in the World
Veryovkina – At 2,212 m or 7,257 ft, this is the deepest cave in the world. It's located in Abkhazia, Georgia.
Krubera – For a moment, the Krubera was the deepest known cave, at 2,198 m or 7,208 ft. Can be also found in Abkhazia, Georgia.
Sarma – The Sarma cave is 1,830 m or 6,004 ft deep. Also situated in the southwestern Caucasus Mountains, Georgia.
Snezhnaya – Georgia truly seems to be the deepest country on earth. The 'snow cave' is 1,760 m or 5,774 ft deep.
Gouffre Mirolda – This French cave is the deepest European cave. It's 1,733 m or 5,686 ft deep.
Locations of the caves
The three deepest caves in the world (Veryovkina, Krubera, Sarma) are all located in the Arabika Massif in Georgia. If you want to learn more on this special region, I encourage you to read my previous article on caves in Georgia.
I've compiled all the data in the table below. I wasn't able to find the GPS coordinates of the Snezhnaya cave. I hope to update it later.
| Cave | depth (m) | depth (ft) | country | location (GPS) |
| --- | --- | --- | --- | --- |
| Veryovkina | 2212 | 7257 | Abkhazia/Georgia | 43°24′56″N 40°21′23″E |
| Krubera / Voronya / Sibirskaya | 2197 | 7208 | Abkhazia/Georgia | 43°24′35″N 40°21′44″E |
| Sarma | 1830 | 6004 | Abkhazia/Georgia | 43°24′0″N 40°21′0″E |
| Snezhnaya | 1760 | 5774 | Abkhazia/Georgia | |
| Gouffre Mirolda | 1733 | 5686 | France | 46°05′21″N 6°46′15″E |
Let's Put Them on a Map
On this map, you'll find the 10 deepest caves on Earth. The five deepest (actually, four) are in blue. Number 5 – 10 are in yellow.
More About Each Cave
1. Veryovkina
Discovered in 1968, the Veryovkina cave is the deepest cave of the world. It's one of two known caves deeper than 2,000 m. It's actually 2,212 m, or 7,257 ft deep, and runs for 13,500 m. It's located in Georgia, or Abkhazia (see map). It's part of the Arabika Massif in the Greater Caucasus Mountains. This area has amazing speleological potential. In fact, it's home to three of the deepest caves on earth.
The Veryovkina shaft leads to a massive underground system, of at least 6 km long. The entire cave is accessible without diving.
Unfortunately, there are no good photos available, but I've found this expedition video. You can turn on English auto-captions (skip to the middle for an impression of the cave):
Exploration
The full exploration and mapping of Veryovkina were done by the Perovo-speleo team from Moscow. Initially, they explored the cave from 1983 – 1986 up to a depth of 1,444 ft (440 meters). From 2000 – 2015, they did not succeed to discover new shafts. In 2015 however, they uncovered a new shaft, which led the way to a series of discoveries. In February of 2017 the cave became the second deepest in the world; in August 2017 the Veryovkina cave became the deepest in the world, at 7,203 ft (2,204 m).
2. Krubera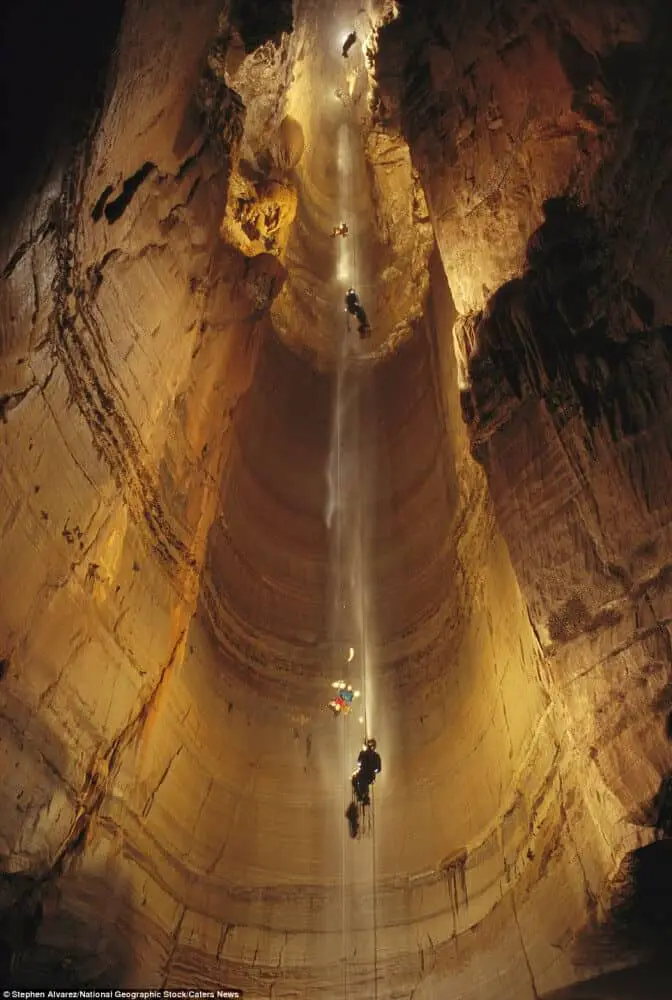 The Krubera Cave actually was the deepest cave from 2004 – 2017. It extends for 16 km. It is named after Alexander Krubera, who studied the cave in 1909. Before, it was called Voronya cave. This is the second known cave that reaches beneath 2 km. The cave was explored in the 1960s but never surpassed the 1,444 ft (440 m) mark, until the late 2000s. In 2010, the deepest point was 5,610 ft (1,710 meters). In 2012 the explorations passed the 6,562 ft (2,000 m) mark, making it the first cave deeper than 2 km.
The expedition beyond the 2,000 m marks was led by the Ukrainian Speleological Association. They are responsible for the majority of the explorations in the last decades.
3. Sarma
Sarma cave is the third deepest cave in the world at 1,830 m or 6,004 ft. It's about 19 km long. The current depth originates from 2012 when a team led by Pavel Rudko measured it. It's also located in the Gagra District, Georgia.
4. Snezhnaya
The Snezhnaya shaft reaches up to 1,760 m or 5,774 ft deep. Apart from being deep, it's also the longest cave on this list: 32 km (or 20 miles). Snezh is Russian for 'snow' – so this cave is actually called 'Snowy shaft'. It's part of the Snezhnaya-Mezhennogo-Illyuziya cave system, a large underground water system that also contains a cave river. This huge system is still to be explored further.
5. Gouffre Mirolda
This French cave is 1,733 m or 5,686 ft deep. It's located in Samoëns, France, and is part of the Giffre limestone massif. For about a year (from early 2003 – 2004), the cave was the deepest known in the world. Then it lost its title to the Krubera cave in Georgia, which is currently the second deepest. It was originally discovered in 1971 by a young shepherd (Marc Degrinis).
Other Impressive Caves
Lamprechtsofen-Vogelschacht – To make it easier, this cave is also called Lamprechtsofen. This Austrian cave was the deepest cave on Earth from 1998 to 2001, at 1,632 m or 5,345 ft.
Gouffre Jean-Bernard – Close to the Gouffre Mirolda, 1,602 m.
Torca del Cerro del Cuevon – Spain, 1,589 m.
The Problem With Exploring Deep Caves
Deep caves like these are in another ballpark. It's just a different kind of cave from the large chambers you can leisurely stroll through. Our mental image of caves is way off base here. Usually, a very deep cave consists of long (vertical) shafts, with very narrow passages, that will in some case be prone to flooding, or underwater altogether.
So they are not easy to explore. This is another kind of caving. Exploring these caves involves a lot of squeezes, crawling, and heroic, claustrophobia-inducing maneuvers. The Krubera, for example, was impossible to explore without the help of very experienced cave divers. They needed to squeeze their bodies through passages – underwater! Risking to damage their equipment. So it's very dangerous.
Why Does the Longest Cave Change So Often?
We find new caves every day. It's estimated that we have explored about 1% of all caves on Earth. So it's no wonder longer and deeper caves are discovered regularly. But it also has to do with new explorations in existing caves.
Each expedition tries to find new passages and then push through. You never know what to expect on the other side of a new passage. Sometimes, a long shaft all of a sudden connects to a massive system. This is what makes caving so exciting.
Sometimes, a new exploration finds that two long caves are actually one, making it the new champion. This happened with the Lamprechtsofen-Vogelschacht cave when explorers discovered a connection between a known vertical shaft and a known horizontal shaft.
If you take a close look at the exploration timeline of the current champion Veryovkina, you see that it sometimes takes decades to connect the dots.
In Conclusion
There are still large underground systems left to explore. There are even some areas where cavers expect these systems, but they are not yet accessible.
We will find longer, deeper, and larger caves as we continue to explore new passages and systems. There is plenty left to explore. It's unlikely that we have penetrated the Earth's crust to the deepest point; we have probably only just started to scratch the surface.
New to caving, and want to know what to expect? I encourage you to check out our Beginner's Guide here.
If you are interested in finding new caves yourself, I encourage you to read my beginner's guide. It's about how to locate good areas to start, and then how to scout them.
Related Questions
What are the largest caves in the world? The largest caves in the world are currently: Hang Son Doong Cave, Vietnam; Mammoth Cave, Kentucky, U.S.A.; Mulu Caves, Borneo; Sistema Sac Actun, Mexico; New Athos Cave, Georgia.
Where are the most caves in the world? Most caves are undiscovered, so it's impossible to say. Some of the most karst-rich areas are the TAG area in the U.S.A. (Tennessee, Alabama, Georgia), with over 14,000 known caves; Central Eurasia (including Georgia); South-East Asia; North-Africa; and the European Alps and Pyrenees.