Alabama truly is a caving hotspot. With over 4,800 discovered caves, it's one of the highest density cave areas in the US. It's home to millions of endangered gray bats and endemic species.
About two-thirds of all caves are located in the northeastern region, making it the best area to go caving. Jackson County holds the most caves. Alabama is also home to the National Speleological Society, with their headquarters on top of Shelta Cave. Lauderdale County is home to perhaps the rarest fish in the world – the Alabama cavefish – which is endemic to Key Cave.
Among many wild caves, Alabama also has several show caves with guided tours, which I'll list below (check the show caves here). In this article, you'll also find a complete list of caves and a map with all locations.
Where to Go Caving?
If you're new to caving, you want to visit the Tumbling Rock Cave. They offer a safe but wild cave-like experience. Also consider going to Manitou cave, which offers real guided caving trips.
For experienced cavers, some great caves are Cathedral Caverns (off-trail) and Fern Cave (most beautiful cave of the US).
New to caving, and want to know what to expect? I encourage you to check out our Beginner's Guide here.
List of Well-Known Caves
Show caves:
Cathedral Caverns State Park – 34°34′24″N 86°13′20″W
DeSoto Caverns – 33.29681°N 86.30639°W
Rickwood Caverns State Park – 33°52′57″N 86°51′45″W
Russell Cave National Monument – 34°58′35.83″N 85°48′51.30″W
Rattlesnake Saloon Cave
Noccalula Falls Park (closed due to cave in)
Sequoyah Caverns (closed to the public)
Crystal Cavern (closed by owner)
Preservations:
Dust Cave, 34°46′41″N 87°43′26″W
Fern Cave National Wildlife Refuge (closed), 34.648982°N 86.297865°W
Sauta Cave National Wildlife Refuge (no caving allowed due to preservation), 34°58′35.83″N 85°48′51.30″W
Tumbling Rock Cave
Key Cave National Wildlife Refuge, 34.75205°N 87.782478°W

Key Cave (closed due to the preservation of gray bats and wildlife), home to the Alabama cavefish
Collier Cave
Wild caves:
Bangor Cave – N 33° 59.142 W 086° 45.013
Cold Springs Caverns – N 34° 44.939 W 086° 31.722
Manitou Cave (closed, access via tour) – 34°25′44.0394″N 85°43′26.04″W
Shelta Cave – open to NSS members, NSS HQ – 34°45′13″N 86°36′38″W
Stephens Gap – remarkably beautiful cave, accessible on foot – 34.67064, -86.21776
Three Caves (closed to public) – old Saltpeter mines
Neversink Cave Preserve – requires a permit
Caves of Alabama on a Map
How Many Caves Are in Alabama?
Currently, there are over 4,800 discovered caves in Alabama. Especially the northeast is rich with caves: it holds an estimated two-thirds of all caves. It's the most important region for cave fauna, and one of the highest density cave regions in the entire US.
More on the Area (TAG)
The northeast of Alabama is part of the TAG area (the region where Tennessee, Alabama, and Georgia meet). It's notorious for the vast amount of caves, and also for the true cavers spirit among its inhabitants. Combined, the TAG area contains more than 14,000 caves (9,200 in Tennessee and 600 in Georgia). The reason there are all these caves is the limestone belt which was put there when the entire area was covered with a shallow, ancient sea.
Popular Caves with Guided Tours
If you want to know what to wear to one of these basic guided cave tours, I recommend reading my article 'What to Wear on a Cave Tour?'.
More Info on the Caves
Fern Cave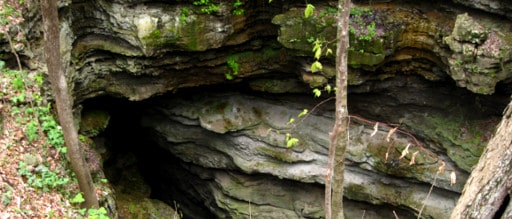 Fern Cave is considered to be one of the most beautiful caves in the US. It's closed to the general public, but if you're an experienced caver, you might get a permit. Though it's important to follow caving best practices, as it is home to the largest colony of gray bats in the US. Over one million bats use the cave for hibernation.
The cave has five hidden entrances. It's a wild cave that you should only enter if you're a very experienced caver. Accessing the cave is difficult, and can be dangerous.
True Adventure at Manitou Cave
This used to be a show cave, but it's long since closed to the general public. So I guess we can call it a wild cave now.
You can, however, go on a guided caving trip with the folks at True Adventure which is a great way to get into caving. The caverns aren't lit, and the tour requires you to do rappelling, crawling, squeezing, climbing – your everyday caving experience.
A wild cave tour including all gear will cost you about $42, making it perfect for new cavers that want to try it before committing. I highly recommend checking out the Wild Cave Tour at True Adventures, and if you're considering getting into caving, to book a trip right away.
Stephens Gap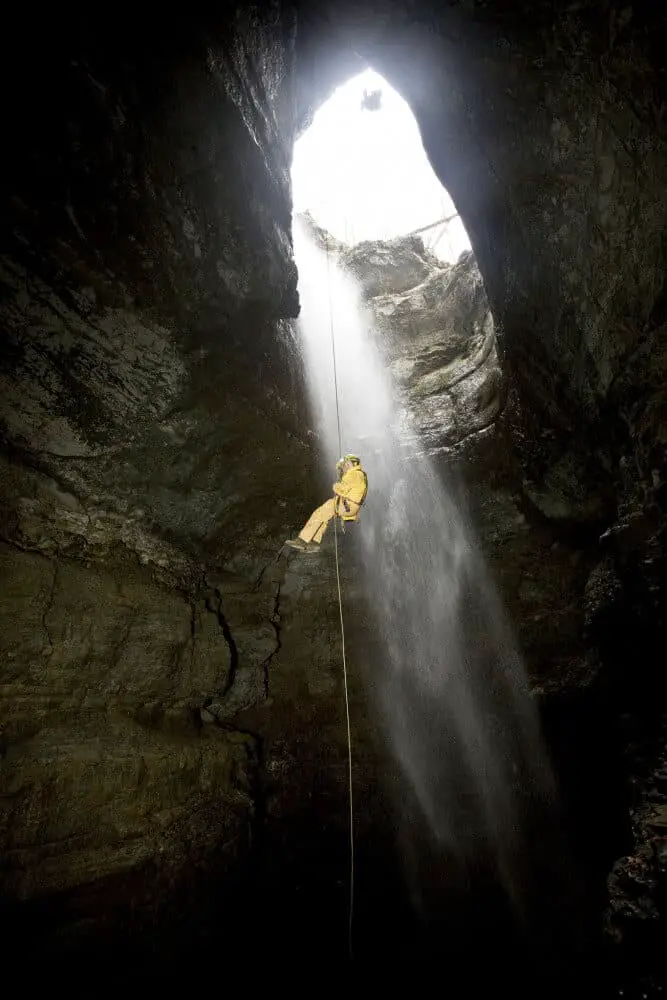 Stephens Gap is a wild pit cavern, which consists of a vertical hole in a hillside. It's 143 feet (43.6 m deep). It takes about a 2-mile hike to get to this cave, which is only accessible on foot. But it's very much worth it. A remarkable cave, with beautiful natural lighting and a waterfall. It's possible to descend on foot using the second, smaller entrance to the left. Experienced cavers can also rappel via the large entrance. You'll need to request a permit at SCCi to enter (link to SCCi permit website).
It gets slippery inside, so wear decent shoes or wellies. Want to know what the right shoes are? Read my recommendation here.
Cathedral Caverns State Park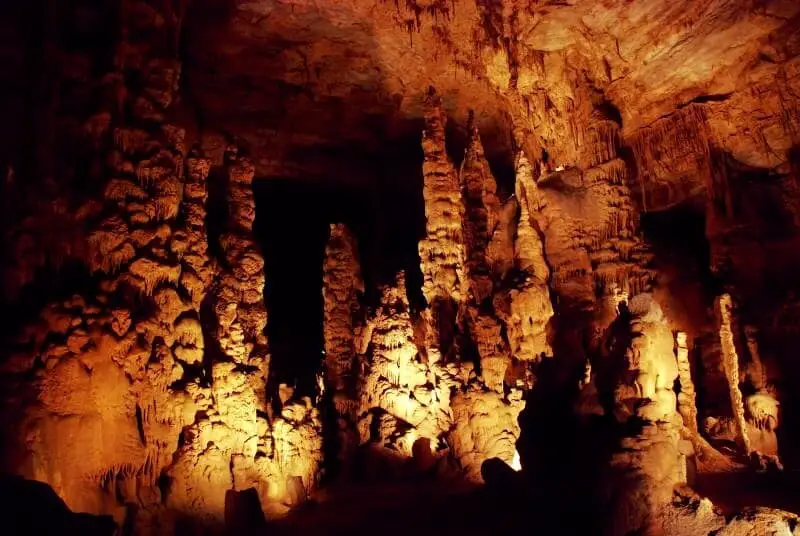 This publicly-owned cave was originally called 'The Bat Cave', and has some remarkable features. It's supposed to have the widest entrance (128 feet or 39 m) of any commercial cave in the world. It contains one of the largest stalagmites in the world (45 feet or 14 m tall – 243 feet or 74 m circumference), appropriately named 'Goliath'. Its largest chamber, the Big Room, is about 792 feet or 241 m long and 200 feet or 61 m wide.
The best part?
You are allowed to go beyond the developed trail if you're an experienced caver.
Shelta Cave, Huntsville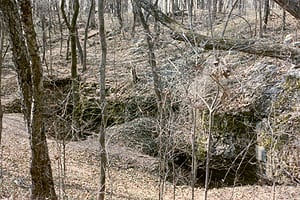 Shelta Cave in Huntsville used to be a site for hosting parties during the Prohibition and was used for underground boating as well (it has a river, obviously). The cave is now owned by the NSS, and if you're a member, you can get access to it. Their offices are very nearby.
DeSoto Caverns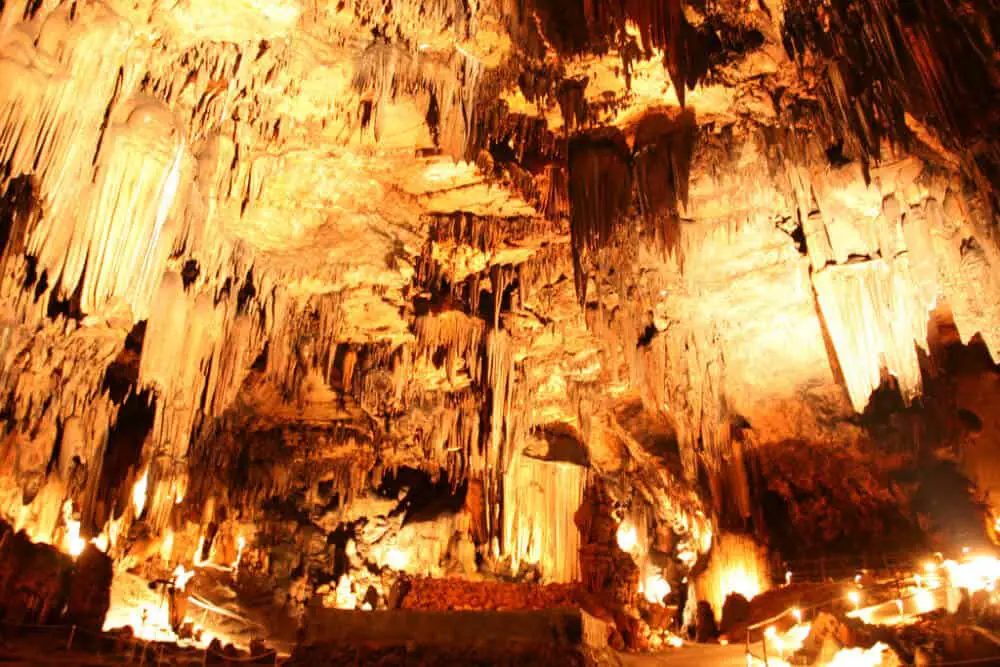 DeSoto (also called Alabama's Big Cave and formerly known as Kymulga Cave) is a beautiful show cave near Birmingham. Historically the caverns were used by Native Indians. In 1975 the Mathis family build a series of attractions and shows around the caves, so if you want to, you can plan your entire holiday around these caverns. They offer a laser show, great lighting, meals, a labyrinth, gemstone panning, golf, and so on.
Not the best for cavers, but definitely the best for families.
Rickwood Caverns State Park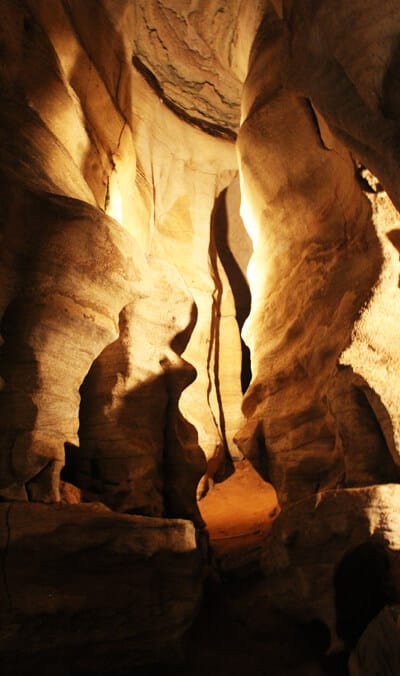 A large system of caverns that are interconnected, with underground pools, rare species of fish and large rock formations. Only accessible with a guide.
Why Are Cave Locations Secret?
Alabama has many hidden caves. Many new cavers want to jump right in (I did as well) and visit all known caves right away. So you type in 'cave locations in Alabama' in Google. Nothing. Why?
In the US, cave locations are usually not shared with the public. The reason is that cavers want to protect caves from abuse. Not that you are a bad person or anything. But caves are fragile ecosystems, and it takes some skill and knowledge to treat them the right way.
Grottos are aware of the location of most caves in their area, and they are perfectly willing to share it with you. But only in person, because the community likes to make sure you understand how to preserve the natural state of the cave. That's why it's not common to share locations openly on the internet.
The general assumption is that if you're skilled enough to find caves by yourself, you're also likely to know how to do them right.
If you want to learn on how to find them yourself, make sure to read my beginner's guide on scouting for caves here. And if you do: make sure to preserve anything you find. 
Good Resources on Alabama Caves
Related Questions
What do you wear to a cave? With guided cave tours you only need to wear the right basic outfit and proper footwear. The basic outfit consists of multiple layers of thin clothing that are warm and lightweight, and that dry quickly. Polyester and neoprene fabrics are perfect. The right footwear is generally a pair of rubber boots. For wild caves, you need to wear a helmet with headlamp on Amazon.