Creating and reading cave maps is one of the most important skills for cavers and speleologists. But how to read one? In this article, I'll explain how to do it step by step.
How to read a cave map? A cave map gives you an outline and general description of a cave. To read a cave map, you need to understand the contents of the map: how the general outline is drawn, what the different symbols mean, what the orientation is – and understand any additional notes the surveyor has left you.
Generally, most cave maps will use NSS symbol or UIS symbols (there are more, such as MSS, AFS, and so on – but I won't go into them in this article). There is a lot of overlap in map symbols between each organization. These are the two organizations that are responsible for determining universal cave map symbols:
UIS: Union Internationale de Spéléologie (International Union of Speleology) – Founded in Europe, international organization
NSS: National Speleological Society – Founded in the US, national organization
What's the point of a cave map?
A cave map gives you a general description of the cave. This helps you to navigate it more successfully and learn any potential points of interest. It can also help you understand the hydrology and possible surface connections.
Having a cave map may help you to spot potential dangers in advance, ensuring you are one step ahead.
In this article
Most Used Cave Map Symbols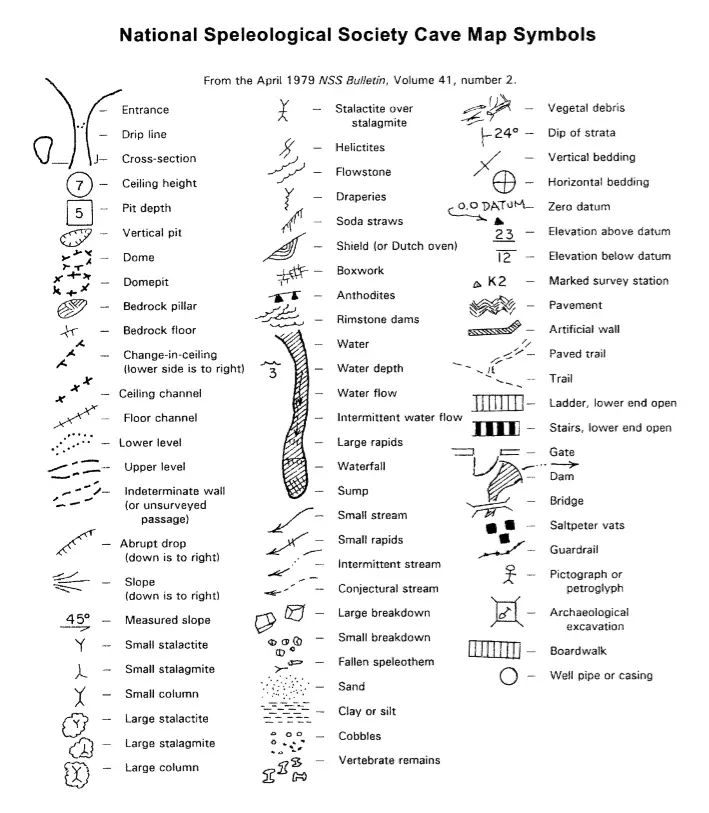 Components of a Cave Map
Plan / Outline of the cave – walls and boundaries of the cave, usually in heavy line
Cross-sections – drawings that give you an idea of the shape of passages
Projections or long-profile – side-view-drawing to give a general idea of the levels of the cave, and how different levels relate to one another
Topographic details – any slopes, floor and roof channels, drops, etc.
Contents of the cave – any water, sediments, and so on
Surface features – entrance, any stalactites and stalagmites, columns, flowstone, streams, and so on
Special features – such as stairs, steps, paths, archaeological excavations, etc.
Navigational and rigging – marked trails, comments
Other

scale bar and orientation
cave name, number, and area name
survey date
draftsman & date
(Taken from this excellent source on drawing cave maps)
Example of a Good Cave Map
The following map is from the Hotbox Cave in Rockcastle, Kentucky, US. It was taken from a great online cave map resource called cavecartography.com. Below is a low-resolution version. I encourage you to download a hi-res version of the map to study it in detail (link to pdf).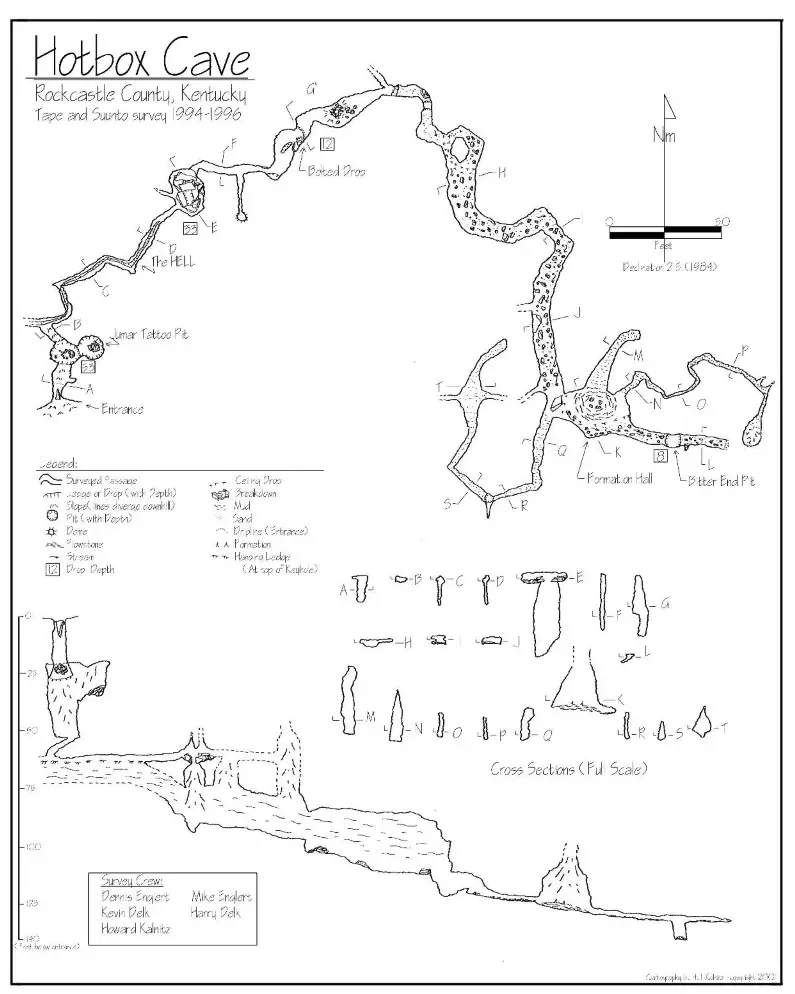 Details: As you can see, this map starts right away with the cave and area name and survey name and date. At the bottom, we find the survey crew, draftsman, and date of the draft. In the right-hand corner we see a large direction and scale marker. It also has a legend of the symbols that are used, which is convenient.
Plan: At the top, we will find a detailed plan, which gives us a good idea of the length, shape, and layout of the cave. The map contains markers for special passages, and then gives cross-sections for each of the passages. This gives me a great impression of what to expect.
Projection: At the bottom, the cartographer gives us a long-profile, including a scale of depth at the left-hand side. This gives us a general idea of the slope and ceiling heights. We can see straight away that the entrance to this cave is a vertical pit, which the plan confirms (but it isn't as easy to tell from the top view angle). The end of the tunnels has an 8 feet pit.
Features: The draftsman gives us detailed notes (both in the plan and long-profile) on the topographic details, contents of the cave, and any interesting surface features and paths. He (I've checked) makes good use of symbols to show us any ceiling drops, hanging ledges, and breakdown (lots of breakdown in the mid-section).
If you want to map a cave yourself, you need some equipment: a compass, clinometer, measuring instrument, and notebook. I've written an article on the equipment and also have a recommendation. You can read it here.
NSS Cave Map Symbols
Below you'll find all the official NSS Cave map symbols with their description. Hopefully it's a helpful resource.
Symbol
Meaning
Entrance
Drip line
Cross-section
Ceiling height
Pit depth
Vertical pit
Dome
Domepit
Bedrock pillar
Bedrock floor
Change-in-ceiling (lower side is to right)
Ceiling channel
Floor channel
Lower level
Upper level
Unsurveyed passage
Abrupt drop
(down is to right)
Slope
(down is to right)
Measured slope
Small stalactite
Small stalagmite
Small column
Large stalactite
Large stalagmite
Small column
Stalactite over stalagmite
Helictites
Flowstone
Draperies
Soda straws
Shield (or Dutch oven)
Boxwork
Anthodites
Rimstone dams
Water
Water flow
Intermittent water flow
Large rapid
Waterfall
Sump
Water depth
Sump
Small stream
Small rapids
Intermittent stream
Conjectural stream
Large breakdown
Small breakdown
Fallen speleothem
Sand
Clay or silt
Cobbles
Vertebrate remains
Vegetal debris
Dip of strata
Vertical bedding
Horizontal bedding
Zero datum
Elevation above datum
Elevation below datum
Marked survey station
Pavement
Artificial wall
Paved trail
Trail
Ladder
(lower end open)
Stairs
(lower end open)
Gate
Dam
Bridge
Saltpeter vats
Guardrail
Pictograph or petroglyph
Archaeological excavation
Boardwalk
Well pipe or casing
(Taken from this great one-page overview of NSS map symbol meanings)
UIS Cave Map Symbols
How Do You Determine the Accuracy of a Map?
The accuracy of a cave map can greatly differ. To indicate the accuracy we use the BCRA (British Cave Research Association) grading system. This is a combination of a number and a letter, for example: 3C, 5C, etc. The number is the grade for the accuracy of cave linings. The letter is the grade for the accuracy of cave passage details.
Cave linings
The BCRA categorizes the accuracy of map linings into one of six grades:
Grade 1 – sketch, low accuracy; map was made without taking any measurements
Grade 2 – higher accuracy sketch; may be only used for maps that should be grade 3, but circumstances prevented from taking complete measurements and prevent from resurveying
Grade 3 – a rough survey with a measurement error margin for distances of 50cm and for angles of 2.5 °
Grade 4 – higher accuracy rough map; may be used for maps that should be grade 5, but didn't meet requirements, but still is more accurate than grade 3
Grade 5 – magnetic survey – all angles measured up to 1 °, distances measured within 1cm
Grade 6 – more accurate magnetic survey than grade 5
Grade X – special accuracy grade for surveys done with a Theodolite/total station
Cave passage details accuracy
The BCRA categorizes the accuracy of passage details in one of four classes:
Class A – all details based on memory
Class B – details estimated and recorded in the cave
Class C – measurements made at station
Class D – additional measurements made (apart from station)
Related Questions
How do you map a cave? You need to do a complete survey of the cave. Start by measuring the overall length and width of a passage. Roughly outline the passage and the passage shapes. During the survey, just sketch, and write down all details of the cave. Draw up the detailed map afterward.