Kentucky, cave capital of the US Home of the world-famous Mammoth Cave, the longest cave on the planet (more than 400 miles or 640 km long) and a UNESCO World Heritage Site. Besides Mammoth, Kentucky has plenty of wild caves left to explore. Yes, cavers can feel quite at home here.
Rockcastle County is known for its many caves, most of which are already surveyed and mapped. If you prefer real exploration, Jackson County has a large cave potential that is still largely unexplored. Wayne County is currently being surveyed intensively, closing the gap with Rockcastle.
Below you'll find a list of well-known (show) caves, but also a long list of wild caves, according to local grottos and cavers.
If you want to know what to wear to a guided cave tour, I recommend reading my article 'What to Wear on a Cave Tour?'.
List of Well-Known Caves and Preserves
Most of the following caves offer guided tours and trails and stairs. These caves are suitable for families and non-cavers. If you want to go for a relaxed afternoon of enjoying Earth's spectacle, you should visit these. If you're looking for the caving adventure, however, I suggest checking out some of the wild caves below.
Bat Cave and Cascade Caverns State Nature Preserves (closed), 38°21′21″N 83°06′41″W
Carter Caves State Resort Park, 38°22′26″N 83°07′20″W
Colossal Cavern, 37.1875°N 86.0739°W
Diamond Caverns, 37°6′57.6″N, 86°3′43.2″W
Eleven Jones Cave (do not enter), 38°13′19″N 85°43′27″W
Fisher Ridge Cave System
Glover's Cave
Goochland Cave (closed)
Great Onyx Cave, 37°13′7″N 86°4′44″W
Crystal Onyx Cave, 37.11074, -85.97474
Great Saltpetre Cave, 37°22′01″N 84°17′15″W
Horse Cave, 37°10′34″N 85°54′22″W
Lost River Cave, 36°57′10.20″N 86°28′17.99″W
Mammoth Cave National Park, 37°11′13″N 86°06′04″W
Martin Ridge Cave System, 37.1196°N 86.1279°W
Mega Cavern, 38.201585°N 85.704127°W
Oligo-Nunk Cave System
Kentucky Caves Put on a Map
To give you an idea of the different locations of caves, I've put the entrance location of well-known caves on the map in blue. I've created blue zones for areas that are known to have a lot of caves or good potential.
List of Wild Caves
Wild caves are caves that aren't managed like the tourist show caves. Generally, there's no human infrastructure build around them, meaning they can be dangerous. You should never go in alone.
Also, it means that bats will use them to hibernate. Therefore most of these caves are closed from September 15 – April 15. Please respect the seasonal closure. Also, please leave any cave you find bats in during this period. Disturbing their rest will harm them.
FYI: I won't give any exact locations (roads or GPS) for these caves, as this goes against the Cavers Code of Conduct (meaning: you should try and find them yourself – that's the sport). It will, however, give you an idea of how many caves there are and what to look for.
The reasoning for this is that cavers that are able to find these caves themselves probably know how to treat them. So it's a kind of selection process in which the 'worthy' cavers gain access to these caves, and people that aren't as serious or involved don't. This helps to protect them.
If you want to know more about how to find new caves read my article on cave exploration here.
Rockcastle County
Across The Road Cave
Angel Pit
Arthur Singletons Cave
Artesian Well Cave (and Annex Cave) – closed by land owner
Barnett Valley Cave
Bighola Cave
Blue Grass Grotto Cave
Blue Hole
Bo Dodds Cave (and Annex Cave)
Cedar Grove Cave
Climax Cave
Cooksburg Cave
Deweys Drop
Drummers Pit
Endless Cave
Eureka Cave
Hard Baker Cave – closed by landowner
Humongous Canyon Cave
Hotbox Cave
Lassie Cave
Mullins Spring Cave
Millers Cave
Millers Pit I
Millers Pit II
Monolith Cave
P-11 Cave
Pebble
Pine Hill Cave
(Little) Goochland Cave
Waterfall Cave
Sheriffs Pit
Sextons Cave
Shelter Cave
Teamers Cave
Tims' 500ft Cave
Car Parts Alley
Highwater Cave
Lloyd Mullins Cave
Lost Deer Cave
Crooked Creek Ice Cave (CCIC) – closed by landowner
Hardin Baker – closed by landowner
To get cave maps, please visit cavecartography.com.
Jackson County
Bowman Saltpetre Cave
Coffey Cave
John Griffin Cave (Saltpeter Cave)
John Henry Cave
Wind Cave
1813 Cave
Murphys' Cave 1 and 2
Misty Cave
Smokey Caverns
Horselick Cemetery Cave
Horselick Hell Cave
Homestead Cave
Flatrock Cave
River Styx
Splitpit Cave
String Cave
Skull Cave
Rainshelter
Fletchers Bucket Pit
Fletcher Jones Pit and Canyon Cave
To get maps of these caves, visit cavecartography.com.
Wayne County
Pulaski County
Wells Cave
Sloan's Valley Cave, Minton Hollow entrance
Wind Cave
Blowing Cave
Stykes Cave
Great Rock Sink – closed by landowner
More Info on the Caves
Mammoth Cave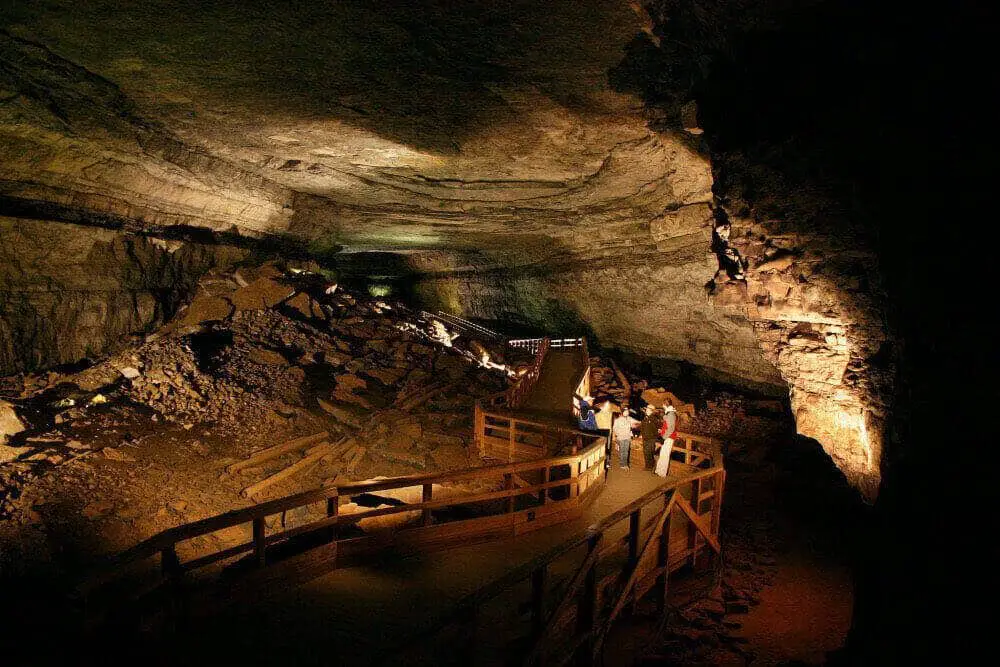 Perhaps the most famous cave on the planet, Mammoth Cave is the longest cave on Earth, consisting of 400 miles (or 640 km) of passageways. It's mainly located in Edmonson County, central Kentucky. The Mammoth system is a very stable limestone system, attracting over half a million visitors each year. It's almost twice as long as its underwater contender, Sac Actun, in Mexico. It consists of very large chambers and long passageways and covers over nearly 53,000 acres (21,000 ha).
Louisville Mega Cavern
The Mega Cavern is actually a building, not a cavern. Situated right in the center of Louisville (at 1841 Talor Ave.), the Mega Cavern used to be a limestone mine. Nowadays you can have a tram-tour of the place, but it's also used for mountain biking, rope courses, and once a year the holiday lights are displayed there.
Diamond Caverns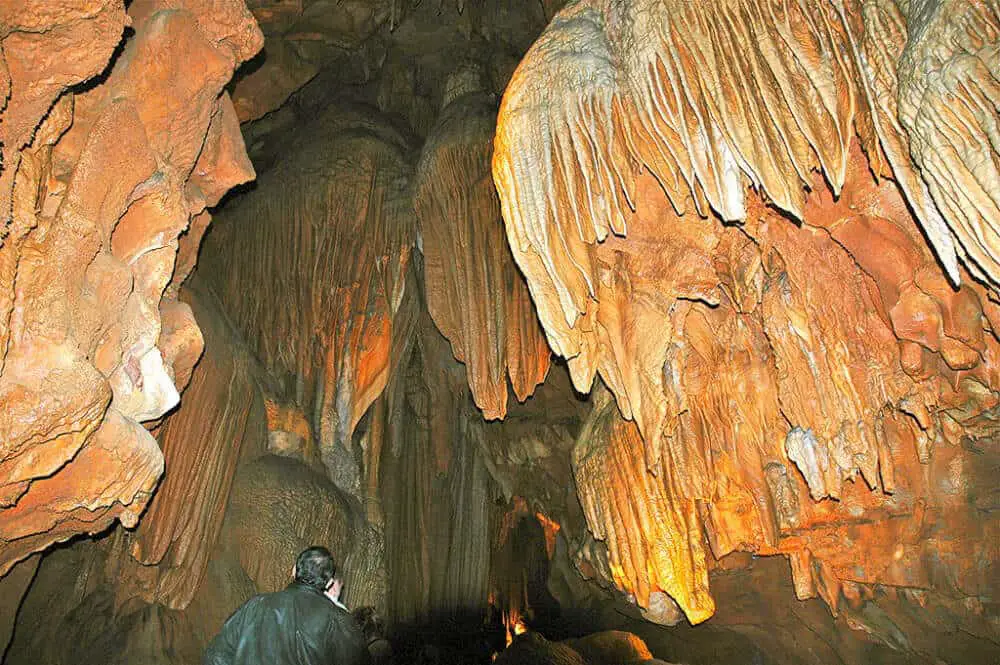 Very beautiful wet cave, just outside of Mammoth National Park. Worth the extra mile if you like to take a guided tour. Smaller groups and less crowded than its Mammoth siblings, this is a really great tip for people that like it easy. However, the caves are not accessible without a guide, so definitely not for cavers.
Colossal Cavern
Honoring its name, the Colossal Dome is the largest chamber of this cavern, which is 147 ft (or 44 m) high. The dome is amazingly symmetrical, creating an especially interesting reverb. This cavern consists of many large caverns and halls and is very impressive overall.
Eleven Jones Cave (do not enter)
Eleven Jones Cave is located in the center of Louisville, at the back of the Calvary Cemetery (it's closed off now). Do not enter Eleven Jones Cave, for it has very high levels of CO2, resulting in oxygen deprivation and death. The chance of passing out within minutes is severe. With the last exploration (done in 1967), the cavers needed oxygen tanks to breathe.
More Resources on These Caves
Related Questions
What do you need for spelunking? This is the proper spelunking gear – Safety gear: a good helmet with suspension and a reliable headlamp. Clothing: multiple layers of thin, warm clothes that dry quickly and a coverall. A long-sleeve shirt with full-length pants. Footwear: rubber rain boots. You also need a first aid kit, water, food, and spare light sources.