If you're planning a trip to California, and you want to find some of the most amazing caves to explore, be prepared to have to make some choices. With so many caves, where do you go? Where do you start? That is why we developed this guide to Caving in California.
Where should I go caving in California? We recommend the following caves for your caving explorations in California:
| Location | Coordinates |
| --- | --- |
| Lava Beds National Monument | 41° 42′ 50″ N, 121° 30′ 30″ W |
| Black Chasm Caverns | 38° 43′ 22″ N, 120° 62′ 62″ W |
| California Caverns | 38° 12′ 10.34″ N, 120° 30′ 31.85″ W |
| Lake Shasta Caverns | 40° 48′ 16.2″ N, 122° 18′ 15.98″ W |
| Mercer Caverns | 38° 9′ 5″ N, 120° 28′ 42″ W |
| Moaning Cave | 38° 4′ 8.44″ N, 120° 27′ 57.7″ W |
| Pinnacles National Monument | 36° 29′ 13″ N, 121° 10′ 1″ W |
If you're interested in getting into caving, be sure to check out my Beginners Guide and recommended gear section. We'll help you select your adventure and give you lives to get there. The rest is up to you.
Caving in California
Spelunking is a California adventure that occurs in the Sierra Nevada Mountains. There are several caves from the Northern Tip of the Sierra Nevada's down to the southern border in Los Angeles, Ca. That is over 400 miles of mountainous areas for exploration. With a width of 70 miles on average between the western and eastern Sierra Nevada Borders, that means that there are over 28,000 Square miles of deep trench mountains to explore for caves.
Aside from those caves in the Sierra Nevada Mountain regions, there are the caves in the coastal mountains. The Santa Cruz area is home to some famous caves such as the Mystery Spot (Where gravity is defied) as well as some other great adventures for cave dwellers.
This map shows ten good caves in California and locations. However, California has over one 1,000 known caves, so for some of them, you will have to ask around for directions. There are undoubtedly other caves that have yet to be discovered.
Types of Caves in California
California has the most major kinds of cave systems, with Lava Tube and Solution caves being the most prevalent. 
Some of the cave types you might run across include:
Lava Tubes—created by lava flowing through rocks
Boulder Caves—boulder caves are not a type so much as a description of where they can be found.  The Talus Caves are an example of a boulder cave.
Solution caves.  These are formed in rocks such as limestone or other carbonate rocks by the water.
Sea Caves.  These occur when waves crash against a rocky wall and create an opening in the earth's plate.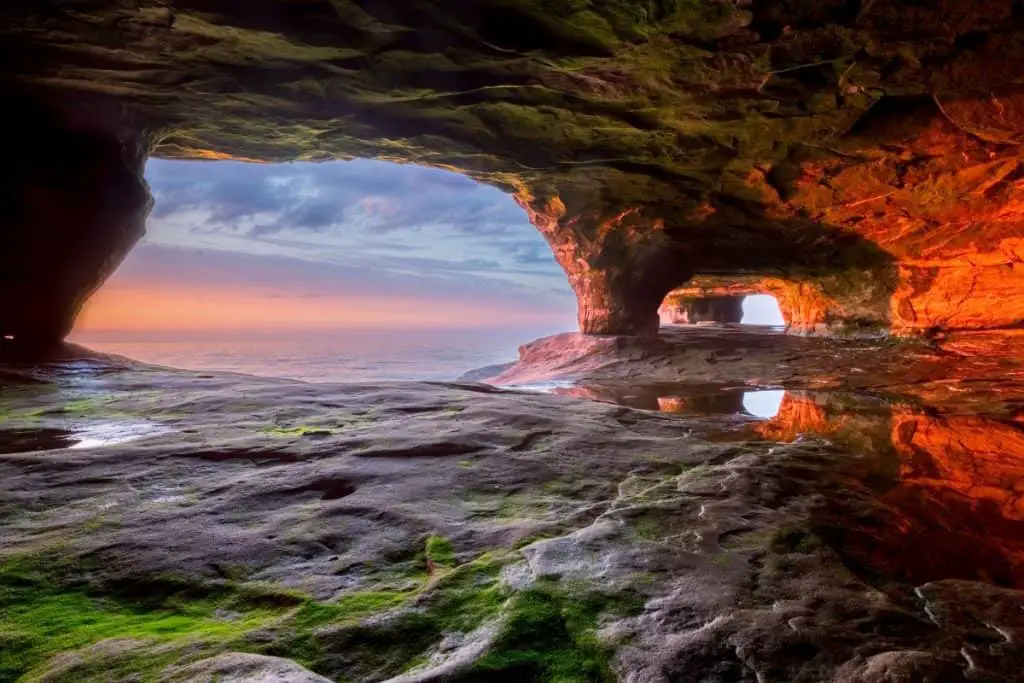 These are the caves we recommend
Lava Beds National Monument  
The lava Beds National Monument is probably one of the more well-known cave parks in California. It is home to 800+ Lava caves in California. Regardless of your experience level, you can find a cave to explore here.  
The Medicine Shield Volcano formed the Lave beds. The ava cools, and the outside of the rock formation stays while the inside of the lava tube empties, creating a lava tube or cave. Over time water can then get into these lave tubes and cause further erosion.
When Visiting the Lava Beds National Monument, keep in mind that many of these caves already have trails in them. They are all maintained by the National Park Service, and the trails are there for a reason (mainly your safety).
The Lava bed National Monument is located between Siskiyou and Modoc counties in Northern California. It covers 46,692 acres of land, which is approximately 73 square miles.  You can view the location on the map at these coordinates 41°42′50″N 121°30′30″W
These are some caves in the park. 
| Easy | Medium | Hard |
| --- | --- | --- |
| Mushpot | Golden Dome | Labyrinth |
| Sentinel | Sunshine | Lava Brook |
| Valentine | Indian Well | Hopkins Chocolate |
| Skull | Balcony | Juniper |
| Merrill | Blue Grotto | Catacombs |
| Heppe | | Thunderbolt |
| Ovis |   | Hercules Leg |
If you want to see how lava tubes are formed, check out this video.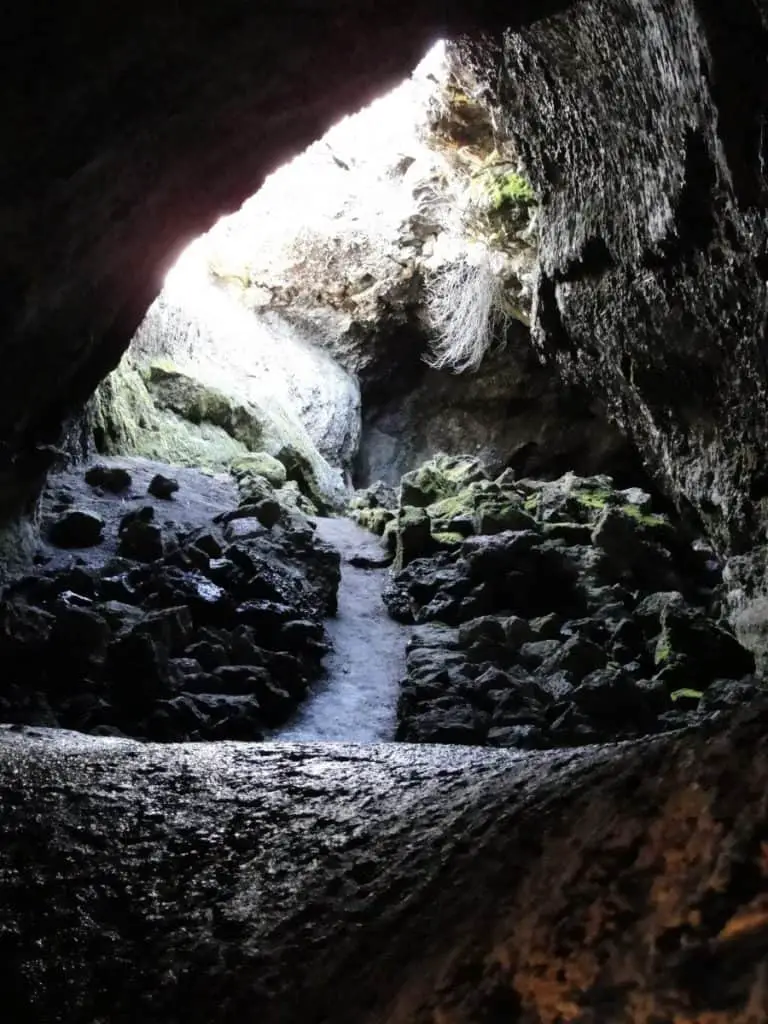 Black Chasm Caverns
The tour only covers three rooms, but for the price, it is a fantastic cavern to visit.  The Black Chasm Cavern is one of the few caves that grow helictites. The view is excellent, and it is a must-see on your California trip.
The Black Chasm is located at GPS coordinates 38.43226 N 120.62625 W. in Amador County. It is an excellent stop on the way to Lake Tahoe.  This set of Caves brings out the historical value of the caves and the gold rush.
On the main tour, you cannot bring any food or drinks (Including Water), or excess camera equipment. Pets are also not allowed (including emotional support animals) or walking sticks. The park will not let you take the tour if you need those.
The 50-minute tour is guided. You get to explore three sections of the massive cave dwelling. There are a ton of stairs on this tour, so you wouldn't be able to bring a wheelchair either. One thing to remember is that the temperature inside this cave is always 58 degrees regardless of the outside temperature.
If you're interested in visiting, you can check out this video.
California Caverns
The Famous California Caverns have the longest stretch of caverns to explore. There are over two and a half miles of underground caverns to explore in the California caverns.  These caves offer a variety of tours, depending on what time of year it is. They do close for some part of the year as the caves are not accessible due to the weather in Calaveras County.
On tour itself, you will see different colored formations and shapes. There are even some musical rocks in the cave on tour. Located at  38° 12′ 10.34″ N, 120° 30′ 31.85″ W in Calaveras county it is easy to spend an entire week in this area alone!
The area is Pet-Friendly, so you can bring your pets to the cabins but not on the cave tours themselves. These tours are kid-friendly, and they even have tours specially designed for children. The two-hour Mammoth Cave tour is intended for ages eight and up.
There is a four hour "Middle Earth Expedition." The Middle earth tour digs in and lets your natural explorer shine. If you are afraid to get dirty, then stay away from this tour.  All in all, you will weave through eight separate chambers in total for an experience that will last a lifetime.
Check out this video highlighting the best features of the California Caverns.
Lake Shasta Caverns
If you like boat rides, good.  That's the only way to get to the Lake Shasta Caverns. Your first step is to hop on a boat and take the short journey across the lake, followed up with a pleasant bus ride to the top of the mountain.
Shasta County, California, is home to a volcano located atop of Mount Shasta.  The Caverns at Lake Shasta are over 200 million years old and was at one point an entrance-less cave.
The area was explored by locals up until 2012 when it was declared a national natural landmark. The location of the Lake Shasta Caverns is 40° 48′ 16.2″ N, 122° 18′ 15.98″ W; you will not be disappointed on this tour. The Caverns have many preserved finds, such as fossils from 270 million years ago.  
The tour is more modern, meaning that they offer more amenities than other trips, such as dinner on the lake for groups of 50 people with Tables. The Lake Shasta Caverns are home to flowstones, which naturally occur in solution caves.
Here is a neat video about the Lake Shasta Caverns.
Mercer Caverns
These caverns are also located in Calaveras County, close to the town of Murphy. The Caves were names after a Gold Prospector named Mercer.  The caverns have beautiful formations, including aragonite in the lower levels of the caves.
The Caves have an exciting history dating back thousands of years and has been known for their exciting finds. There were six skeletons discovered that are believed to belong to the Mi-Wuk Tribe of Native Americans from almost 2,000 years prior.
The Cave was believed to have started as a result of an earthquake causing a rupture in the ground. Then over time, water could form unique formations such as the "Cave Twins" that look almost human.  The Cave twins are touchable, so you can feel how a stalagmite would feel without damaging the interior of the cave.
The Mercer Caverns are located at the coordinates:  38° 9′ 5″ N, 120° 28′ 42″ W for a quick map view. If you want to view the map of the Caverns themselves, you can see it here.  You may want to bring your headlamp for this tour, especially if you plan on doing any exploring on your own.  
Here is a neat Video of Mercer Caverns.
Moaning Cave
The Deepest Cave in California is a fun adventure to go on. You will climb down a sixteen-story spiral staircase to the bottom. The cave was named because of its unique capability to create sounds when water drips into "Moaning Holes." The Moaning Cave should be on your stop, especially if you are close by at Mercer Caverns.
You can go on an expedition tour that will take you through the adverse areas of the cave. You are equipped with only a headlamp and a rope, and this adventure is only available for ages 12 and up.  They do have "early exits" if you run into problems in this cave, and you can make reservations for up to eight people on this expedition.
If you have young children, there is a gemstone mining and Gold Panning event where the kids can screen the flume for gemstones and gold. You can also purchase them at the Gift shop (We think it's more fun to find them though).
It is just a short drive away from the Mercer Caverns in Murphy. If you wanted to view the Moaning Cave on a map, the coordinates are 38° 4′ 8.44″ N, 120° 27′ 57.7″ W.  One of the best attractions at this cave site is the zip line and rock-climbing exhibit outside.
Check out the Moaning Cavern Adventure Park.
Pinnacles National Monument
The Pinnacles National Monument is a perfect stop for a central coast trip. It was formed by a volcano that moved out! The original volcano moved over two hundred miles away after forming these massive pinnacles.
The Talus caves are rare and unique as you wind and weave through the fantastic maze only to arrive at towering pinnacles. You will see a plethora of wildlife in this park, from condors to thirteen different species of bats.  The best times to visit this site are the spring and fall seasons, as the weather is mildly perfect.
The national park service runs the Pinnacles National Monument, so the general rules apply there when exploring.  You can always check the status of the cave openings on their website. You will need a flashlight even in the daytime to explore this cave. There are several stairs that you will have to climb using only your flashlight.  
There is a lot to do in this park if you are planning a camping trip. You don't want to forget your Tent on this trip. One day is not enough time to explore everything. You can get a sneak peek at the Pinnacles National Monument on a map with these coordinates 36° 29′ 13″ N, 121° 10′ 1″ W.
You can watch the exploration video here.
Crystal Cave
There are five distinguishable caves tours to go on in the Crystal Caves. You are going to want to book the tour you want to go on in advance. The spots fill up rather quickly, and most weekends are full. July and August are the best months to visit, especially for the Candlelight Tour. You cannot buy any tickets at the cave; you must purchase them either online or at the Foothills Visitors center.
There is no Flash photography or tripod photography allowed, you can take personal photos with your cellphone, but you cannot use any accessories to take the pictures (Including Selfie Sticks).  The Drive up is excellent as you will get to see the Large Sequoia trees that are thousands of years old.
There are a few lodges and restaurants in the park as well, so you can make a day of it. There are over 200 caves in the Sequoia National Park, and this is the one to see. The marble ceiling and the "crystals" hanging from them are just a sight never to forget.
Don't forget your Flashlight on this journey, although it is guided, there are minimal cave lights inside the cave.  You can get a glimpse of the cave on a map by using the coordinates 36° 35′ 22.03″ N, 118° 49′ 32.29″ W.
You can get a pre-glimpse here.
Boyden Cavern
The Deepest Canyon in the United States is located right in the Golden State. The King's Gate, as it is known, is a set of two towering 2,000-foot high marble walls. They are astonished to view; the underground cavern is a 50-minute tour suitable for all ages. This Cave is a mild tour and not too extensive, but it is a good steep hike.
The Boyden Cavern is managed by the Forestry service and not the National Park Service.  You do not need to make any reservations for this tour, and it is open most days between 10 am and 5 pm.  You can book a trip through the touring company if you like here.  They only give tours on the last Friday in April through mid-November.
What is unique about the Boyden Cave is the shield and pendant formations of the flowstones. Boyden cavern is also one of the few caves that have Helictites inside. Along with a variety of other Flowstones in what is known as the Drapery room.
You can Find Boyden Cavern in the Central valley not too far away from Crystal Caves. If you wanted to grab a look on a map beforehand, the coordinates are 36° 48′ 53.8″ N, 118° 49′ 5.37″ W.  The Forestry Service is usually pet-friendly if they are on a leash.
This video will give you an idea of what Boyden Cavern looks Like.
Mitchell Caverns
These Caverns are in the very hot Mojave Desert in California. They are in the middle of the desert, which is what makes them so amazing. You don't want to enter the caves without a guide as it can be easy to get turned around. There are some narrow passages in this cave as well, so having a guide would also help ensure your safety.
This tour is hard to get, so you want to check in advance to make sure that you can acquire tickets. They are open year-round; however, don't fret if you forgot. You can still try to get in on a tour that is not fully booked.  You can either call them or book your tickets online here.
The best times to visit this cavern are October and November; The temperature will generally be in the 60's at this time of year. You will also encounter some unique desert plants, such as Juniper, Yucca, and Barrell Cactus.
You want to wear long jeans in this part of the country and high boots, as this area of California is home to Rattlesnakes. You can preview the mountain area on a map by entering the Coordinates: 34° 56′ 26.97″ N, 115° 30′ 51.97″ W . It is a long and windy road to the camp, and you may even feel lost, but you will get there eventually.
You can get a preview here.
Sunny Jim's Cave
This Cave is an Honorable Mention on the cave stop. There are two entrances to the Caves; if you go into the store, there is a small entrance that allows you to enter one of the Chambers. They are easy to enter than most other caves. You don't need much experience or even Physical fitness to be able to climb down the Stairs.
It is about 140 steps to the bottom, and because it is a sea cave, there is water at the bottom of the steps. If you go to the caves by sea, you get to explore all eight chambers with a Canoe, which can be mighty fascinating. The historical tale is that this was an old Bootleggers cave carved out to smuggle Alcohol.  
You may be able to get a nice preview by viewing these Coordinates 32.8497° N, 117.2699° W; however, the best visit Is the one you take in person. Encyclopedia Americana Listed this stop as a must-see for any Californian trip.
This Cave expedition is on the lighter side, it can be a little narrow going down, but it's not bad. The stairs are well lit, and there is usually always someone else nearby. Just be careful not to slip on the wet stairs.
You can get an idea of what the shop and journey down is like here.
The Subway Cave
This Lava Tube Cave is close to the Shasta area. The Subway cave was formed by a volcanic eruption and is in an area that was known to have volcanic activity less than 20,000 years ago. The Hat Creek Flow had erupted and left large lava tubes on the earth.
This attraction is inside the Lassen national forest and is less than a half-mile hike through the lava tube. The half-domed shape is consistent throughout the entire walk, and after leaving the stairs, you will need a flashlight.
The Subway Cave would be considered an easy hike and is not for someone looking for anything seriously underground. The Subway Cave is an excellent stop to say that you have been there. It is also the perfect adventure for smaller children being introduced to caving.
Lassen park can be located on the map at 40.6228° N, 121.3959° W
The Millerton Caves
This guide would not be complete without at least one non-touristy cave. The Millerton caves are a local favorite in the central valley.  They are on a closed system, and there is no tour guide for this adventure. You are going to need more than a headband light and a first aid kit. You may want to bring all your gear for this one. This adventure is for experienced cavers only, there is no rescue guide, and help is miles away.
The Millerton caves were carved out of the granite from the San Juaquin River and rain flow. The narrow passages are not accessible in the winter season because the rain is busy carving out more of the rock. You can view pictures of the inside of the cave here.
The Exact Coordinates are unknown for this specific cave entrance; however, it is rumored to be around this area: 37° 5′ 28.5600″ N 119° 33′ 25.1399″ W. The most likely spot is  37.083129, -119.543615. It is a bit of a hike. However, Mr. Rayholt points to a place located here: 37.065950, -119.557879. Both sites are relatively close to each other. You can check out Rays' directions here and map it out for yourself.
Not only is this a non-touristy cave, but it is a rare cave as well. Granite caves are smooth and created solely by water erosion.  The cave has three main chambers that are about a mile and a half long in total.  KVPR did a beautiful story on this cave system in the central valley here.
Here is a neat video of the Millerton Caves.
Caving Softly
Caving Softly has more to do with respecting mother nature than footsteps.   It means making sure that we minimize our impact on the caves.
Wildlife such as bats, as well as insects, call those caves home.  Leaving food crumbs behind can create an imbalance in the food chain of a cave.  Since there are fewer animals that make caves their homes, it doesn't take as much to have a negative impact on the wildlife that lives there. 
Along with not leaving your trash behind, don't leave your waste either.   Use the restrooms provided by the national parks.   If you are exploring a cave without facilities, try to use some before you arrive.  You can also look into camping gear such as a Travel John or a Biffy Bag. These items are entirely sanitary and have little to no impact on the environment. 
Finally, don't disturb closed off areas in the caves.  They can either be dangerous, have wildlife that needs to be protected, or contains artifacts that should not be disturbed.  Also, you want to operate in a manner that protects the cave and wildlife. It's refreshing to take pictures, but that is all you should take out of a cave.
You can read more about Caving Softly here. 
Final Thoughts/Conclusion
Spelunking is a fun and adventurous hobby that is different every time you go. No matter how many times you have explored a cave, there is always something new to find, whether it be a new stalactite or a nook you swear wasn't there last time.
There is nothing that can beat a good spelunking trip in California.  With over 800 Lava Tubes to explore in the Lava Beds National Park. You could spend a good part of a decade in that park alone and still not see everything. Some of the larger cave systems are fun to see and explore. No matter what area you choose to visit, you can find a cave nearby.  Happy Spelunking!
"Everywhere You Hang Your Hat is Home. Home is The Bright Cave Under the Hat."

Lance Morrow
When you're ready to get started caving, be sure to read my Beginners Guide and check out my recommended gear section.